Overview:
This article will walk you through the process of initiating a remote connection to a customer Mac device using Splashtop Remote Connection.
Time estimate to complete this procedure:
It should only take a couple of minutes to initiate the remote connection. This is a rough estimate based on our experience with several customers.
1. From the Agent Dashboard click Connect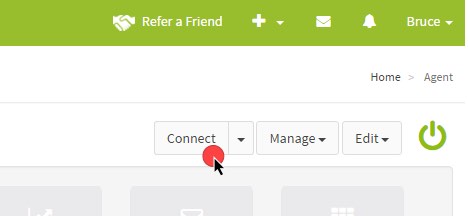 (i) The connect button is also available in the Device view.
The Connect to a device popup window displays.
You must download and install the Splashtop RMM client on the machine you are using to initiate the connection to a remote device.
2. Click the Splashtop RMM Client hyperlink
3. Follow the prompts to install Splashtop RMM Client
4. When Splashtop installation is complete click Connect
A confirmation popup displays.
5. Click Allow
You only need to click Allow once.
The Splashtop extension will be enabled in the default browser, and will run automatically the next time you initiate a remote connection.
The remote Server / Mac will now be available for remote connection.