You see the message below when you try to initiate a remote connection, what's happening?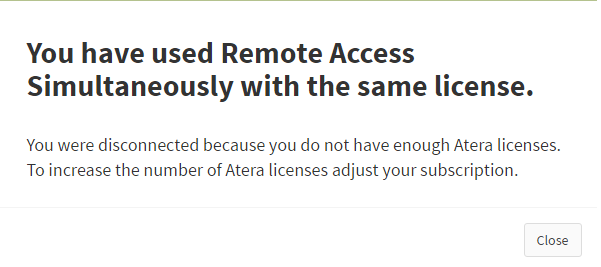 When this message displays, you are being directed to upgrade your Atera plan due to being logged into the Atera app from TWO different locations, with the SAME user ID.
So what do you need to do?
That depends on the reason for the double login. It may just be that you forgot you were logged into a machine and logged into a different one.
In this scenario, we will let you connect, but the pop-up message above will display on the PC where you left the login session to Atera open, and any remote connection established on that machine will be closed.
Do you need to buy another license?
If you need more than one concurrent user (Technician) to access the Atera app then, yes, you will need to purchase an additional user license.
How do you add another technician to your license plan?
To add another check out the article: Add technicians to Atera