This report displays specific software installed on specified customer agents, which can be filtered by Customer, Name or Publisher, Version and Agent Type.
You can search for agents which have specified software installed. You can also search for installed software using Customer, Publisher, and Version parameters.
This report functions across all Customers. If, for instance, we searched for software that contains the string 'Office365', the results would show us ALL Agents with software installed that has 'Office365' in the name, regardless of which Customer the Agent belongs to.
Possible Use Cases
 Some examples for use cases are presented below:
Report on what software published by a specific vendor is installed on a specific customer's Agents.

Report on which PC Agents have a specific version of a specific software product installed.
To run the Software Query report:
1. From the left-hand panel click Reports > Software Query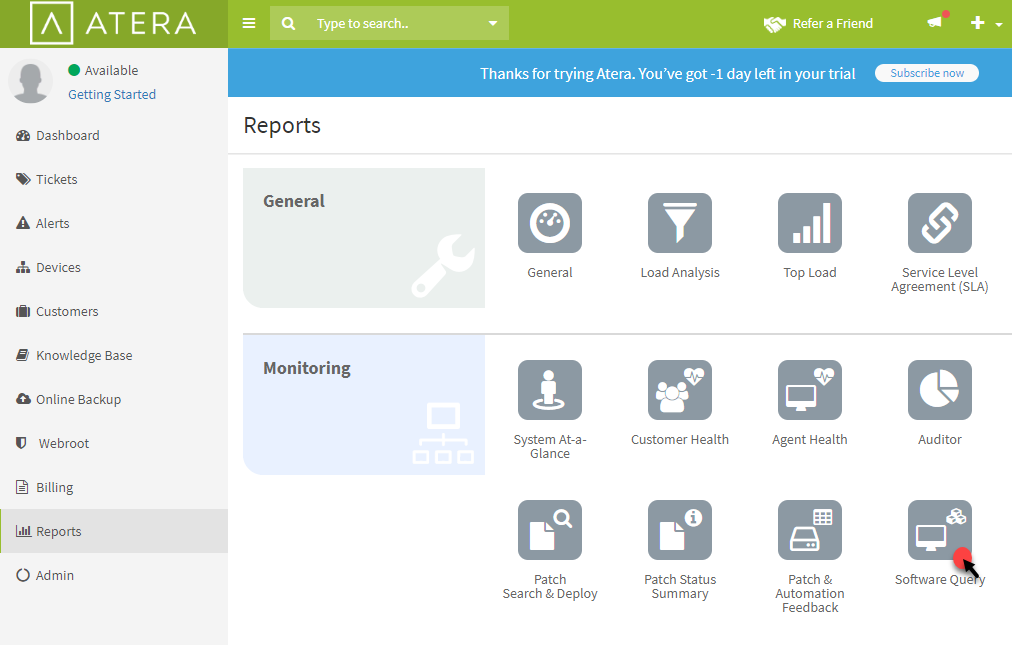 The Report page displays.
2. Enter the report parameters:
Select Customer: Click the dropdown to activate Customer search box, or select All.
Filter By: You can filter by the Software Name or the Software Publisher, the field below changes depending on what you select here.
Name / Publisher:

Name: Begin typing a string used in the Software Name e.g. 'visual'. This field uses auto-complete to make searching very fast and easy. 
Note: The auto complete field returns ONLY software that has been installed on at least one endpoint. It is not a vendor catalog based list.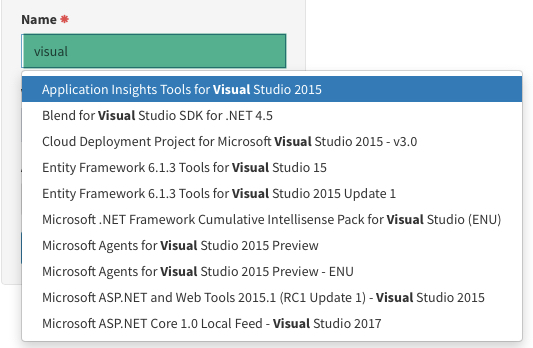 Publisher: Begin typing a string used in the Publisher Name e.g. 'Adobe'. This field uses auto-complete to make searching very fast and easy. 

Version: To search for a specific software version e.g Office365 Version 1701, in your PC in Office Settings, click File > Office Account and review the Version number as shown in the image below.

Add t

his version number to the Version field.

Agent Types: Select from All, Desktop, Server, or Mac.
3. Click Generate
The Software Query report displays. The Total Software summary is shown at the top. Below this are the details of the query results in table format.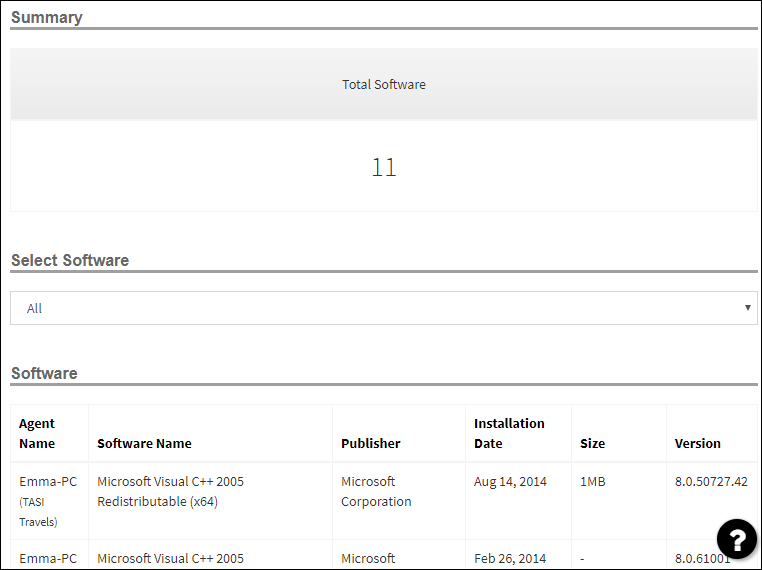 4. To view more detailed information on a specific software click the Select Software dropdown.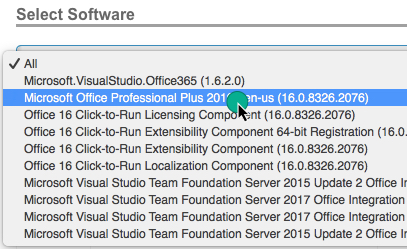 5. Select the required software.
The details of the selected software are displayed.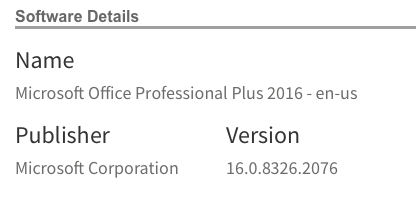 You can export a PDF or Excel version of the report results by clicking the Export button in the top right-hand corner.
End of article.