The Agent Dashboard provides detailed information and statistics related to the agent device.
To view the agent dashboard, follow the steps given below:
1.  Navigate to Devices.
2.  Select the required agent to view.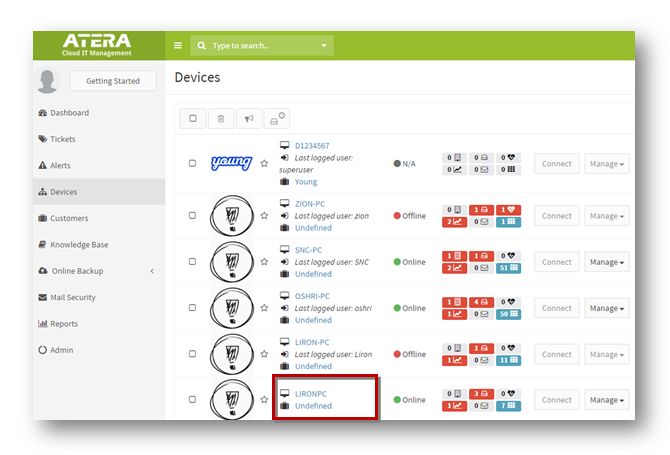 The agent device details are displayed.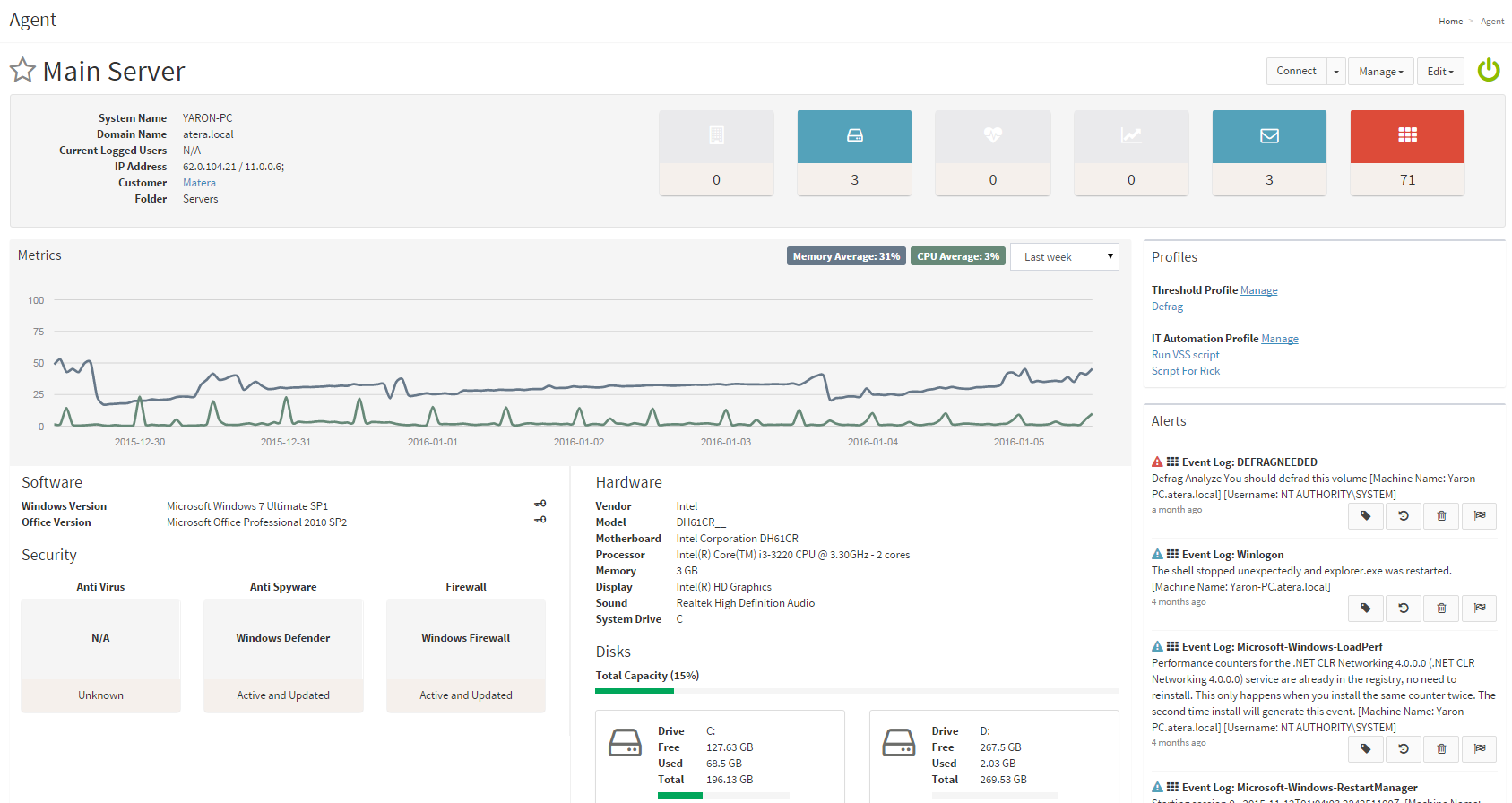 The Agent Dashboard includes several sections:
Section

Description

General Information

Allows you to view machine name, domain/workgroup, last seen (last sync/communication with agent), last logged user, last reboot time, IP address and customer information.

Online Alerts

Shows the statistics of various types of alerts such as:

For each type of alert, it shows the number of alerts available.

  A.    Hardware Alerts

  B.    Disk Alerts

  C.    Availability Alerts

  D.    Performance Alerts

  E.    Exchange Alerts

  F.    General Alerts 

Metrics

Shows the percentage of memory average and CPU average based on a selected period. The available period options are Last 24 hours, Last Week and Last Month

Agent Profiles

Shows which profiles are assigned to the Agent and allows you to make changes. You can only have one Threshold Profile attached. 

Alerts

Shows the list of all recent alerts specific to the agent. You can create a ticket for an alert, snooze, delete or resolve an alert.

Software

Shows the Windows and Office versions and serial keys.

Security

Shows the details of Anti-virus, Anti-Spyware and Firewall status.

Hardware

Shows the hardware details of the agent device such as Vendor, Model, Serial Number, Motherboard, Processor, Memory, Display, Sound and System Drive.

Disks

Shows the disk information such as total disk capacity, how much is used and how much is free.

Connect

Located in the top right section above the agent dashboard, this button allows you to remotely connect to the agent device.

Manage

The Manage menu, allows you to access various commands to manage the agent device. You can access Service Manager, Task Manager, Program Manager, Patch Management, Event Viewer, User Activity, Command Prompt, Run Script, HelpDesk Agent and Webroot functions. You can also shut down the agent device.

Edit

Allows you to edit agent details, customer and folders. You can manage passwords and monitor devices, attach files to a device (e.g. configuration info or instructions etc.), as well as clear device alerts. You can also delete an agent device.

Machine Availability

Shows availability of the agent device, either online or offline.