In addition to monitoring Servers and Workstations, You can also monitor a wide range of devices that do not have a agent such as; Printers, RAID's, Virtual Machines, UPS systems, websites and more.
To monitor devices, follow the steps given below.
1.  At the top right-hand corner of the page go to the (

) > Required Option.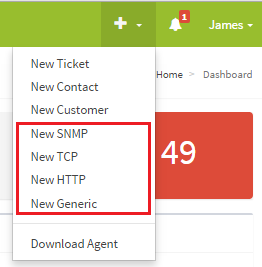 From here choose the type of device you want to monitor:
SNMP
TCP
HTTP Sites
Generic Devices
After choosing the specific device, refer to the relevant section on how to configure the device: