You can add, edit or customize the threshold profile of an agent. To customize the threshold profile, follow the steps below.
1. From the left hand panel click Admin.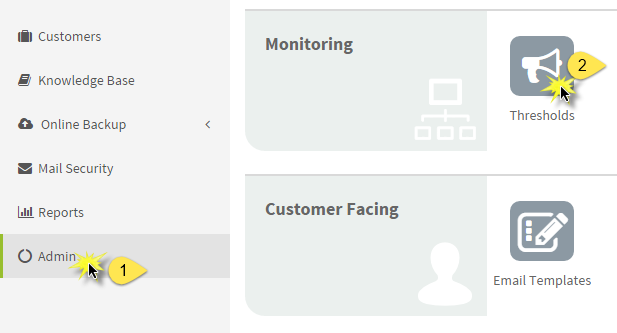 2. Then click Thresholds.
The Threshold Profiles page displays.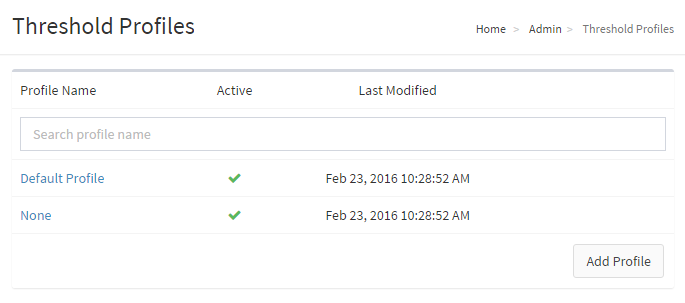 3. Select the threshold profile you want to edit. In this example, Default Profile is selected by clicking the Hyperlink

The Threshold Profiles page displays. This page is divided into three regions.
Edit Threshold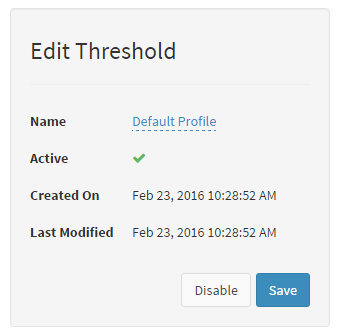 Here you can disable or rename the threshold profile. Use the Save button here to save any changes you make to the profile in any of the three regions.
Threshold Items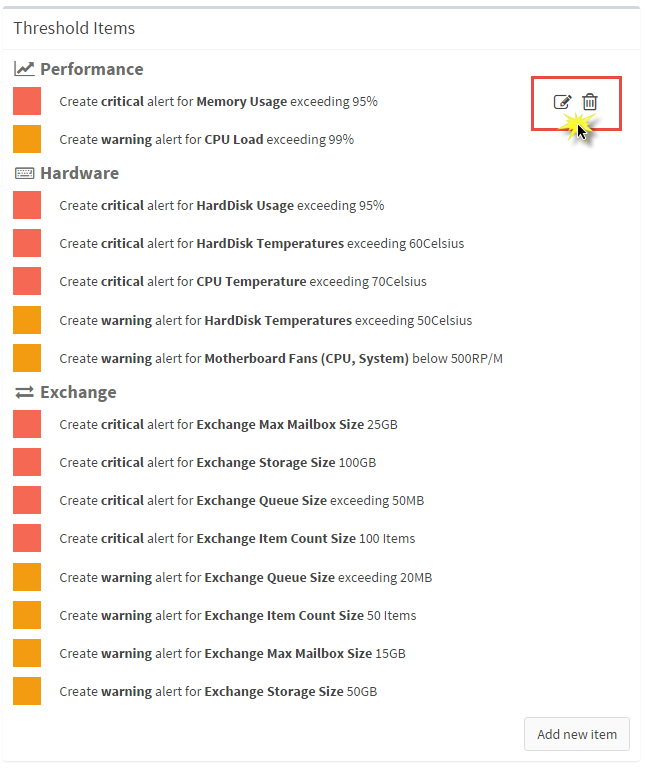 Here you can view a snapshot of Threshold Items currently being monitored. You can quickly edit threshold parameters such as the memory usage Alert threshold and add new items to be monitored. Hover your mouse over a threshold Item, and Edit and Delete icons appear.
Presets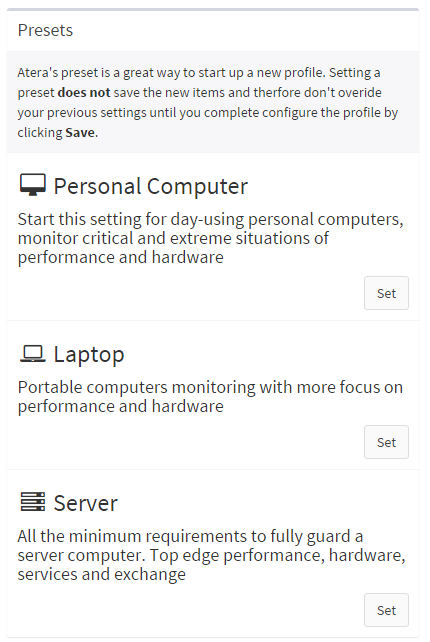 Here you can select Atera presets, which is a great way to set up a new profile.
Adding a New Threshold Item
1. Click Add New Item.

The Threshold Item dialog appears.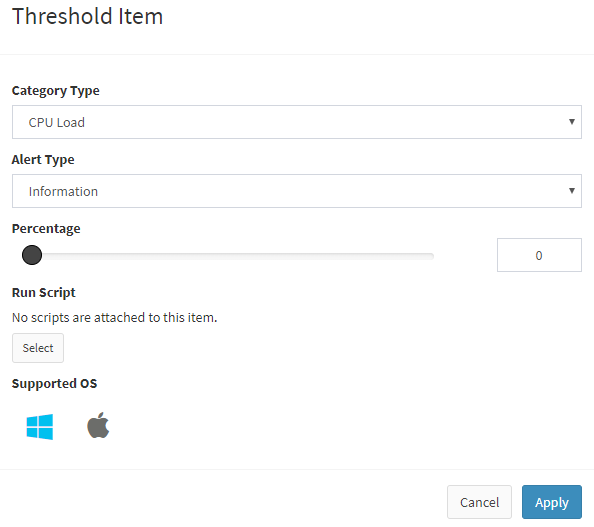 2.  Select the type of alert from the Alert Type drop down list

3. Select the type of category from the Category Type drop down list

4. Adjust the percentage of the threshold profile by dragging and adjusting the slider button in the Percentage field and the percentage will appear as a number in the next text entry box.

5. Click Apply.
The new threshold item is added.
Example: How to monitor a Service State:
Add new

Item > Service State

Copy the

Service name

field from the computer.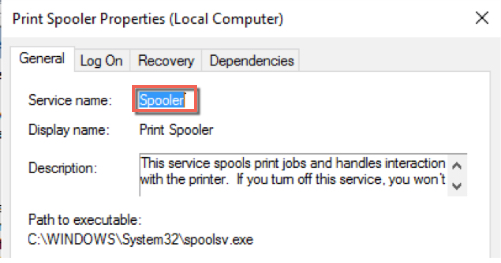 Paste into the Service Name field in the Threshold Item form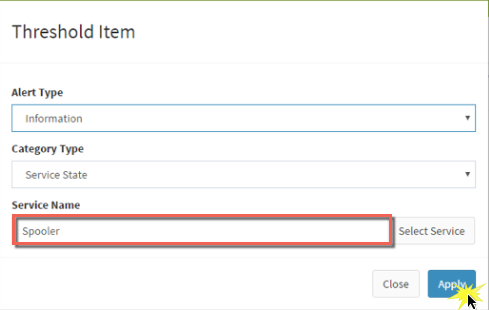 Example: How to monitor a particular Event ID:
Add new

Item
Select Category Type Event By Source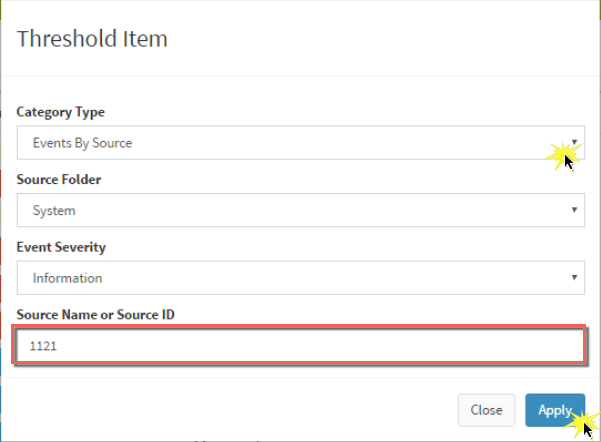 Type the Event ID into the "Source Name or Source ID" field.
Click Apply.

 The alert severity in Atera will be registered based on the Microsoft event level. The Event Severity should correspond to the Microsoft event Level.
Event Severity Types: Atera vs. Microsoft:
Information : Information

Warning : Warning

Critical : Error & Critical

In addition, you can also click on Select Service and choose one of the custom services in the list.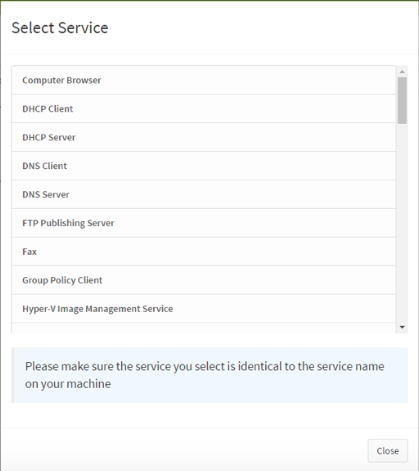 6. To edit the threshold item, click the Edit button in the corresponding row.

The selected Threshold Item will appear in edit mode.
7. Make any changes required and click Apply.
The Threshold Profile for the selected device is updated.

Edit Threshold Name
1. Click the Name in the Edit Threshold region.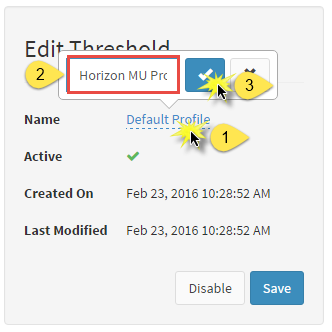 2. Enter the new Name for the Threshold.
3. Click the

 button
The Name of the selected Threshold is updated.