This article will show you how to create a Standard Retainer  / Flat Fee retainer contract in Atera.
This contract can be used when you want to charge the customer a flat periodic fee that includes a predefined set of activities. The customer will pay in advance or in arrears on an agreed billing cycle date.
Note: This is the basic/standard MSP contract.
Required fields:
Contract Type
Quantity
Rate
To create a Retainer Contract follow the steps below:
1. From the left hand panel click Customers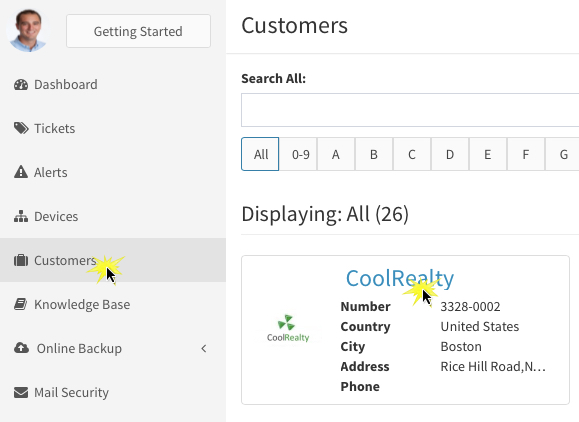 2. Then select the required customer
The Customer page displays.

3. Click Create Contract
The Add Contract Page Displays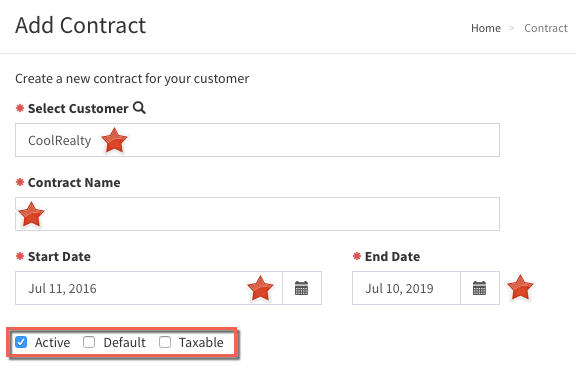 4. Enter the contract header details:
Select Customer

(only if change from previously selected customer required)

Enter Contract Name
Select Start Date

Select

End Date

Note:

Atera will automatically calculate Today's date  + 3 years ahead
Optional to check:
Active

 (This must be selected to enable the contract)

Set this contract to 

Default

 contract (Select if you wish this contract to be the default contract type for this customer)

Set this contract as 

Taxable

 (Select if you need tax to automatically be added to the contract)
5. Select the Contract Type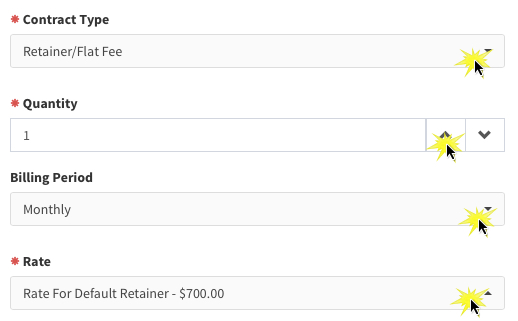 6. Enter the Quantity 
For a Retainer contract the quantity should be typically left at 1

For a Flat fee (Office365 for example) the quantity should represent the number of mailboxes
7. Select the Billing Period
8. Select the Rate
For at retainer the rate will typically be the monthly recurring retainer

For a Flat Fee (Office365 for example) the rate will the price per mailbox
Note: If you have not yet setup the rate type required you can do this now by clicking Add Rate

9. Select the SLA Plan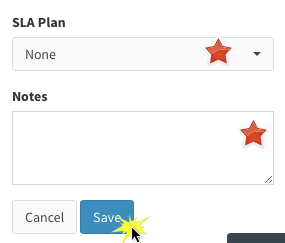 10. Enter any contract Notes as required
11. Click Save
Example of Office365 Pricing:
The customer purchased 10 x O365 mailboxes for $15 each per month.

We need to charge the customer a flat monthly fee  for 10 mailboxes 10 x $15 = $150.
Option number 1
Use a quantity of 10 with a rate of $15
Option number 2
Use a quantity of 1 with the rate of $150
Option 1 is recommended, use this rate as a generic rate.