This article explains what can be found in Atera Billing.
The Billing page includes:
The Benchmark
Latest Invoice Batches
Latest Invoices
What is a 'Batch'?
A batch is a group of financial units (in this case Invoices) that are actioned at the same time rather than immediately.
Batch Billing
The Atera billing system allows you to bill some or all of your customers at the same time, and select or remove items from specific contracts and periods, saving hours of your time.
Detailed Invoices
See all of your service items, tickets, time entries, and expenses on the invoice. Then export them directly to your favorite accounting software.
Integrates with your Accounting Software
Export individual invoices or entire batches directly to your accounting software with a single click.
Atera now integrates directly with:
QuickBooks Online
QuickBooks Desktop
Xero CSV
CSV
Note: Tickets are already listed in each batch. This means after you choose them and click on "Save As" they are changed to a 'Billed' status. Once in a 'Billed' status, tickets cannot be re-billed and are not available to edit i.e. the status of the ticket cannot be changed from closed to open.
The Benchmark
Inside the billing system is a Business Intelligence mechanism that takes your hourly rate contracts and compares them to the industry standard.
Let's take a look at the Billing page.
From the left-hand panel, click Billing.
The Billing Page appears.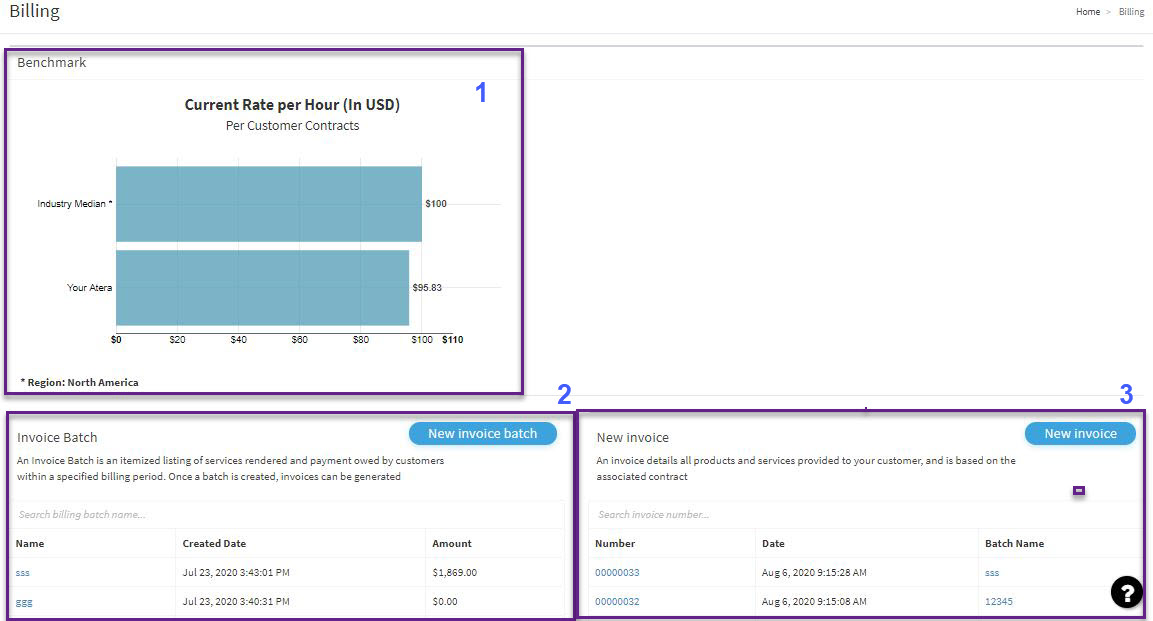 Billing Page Explained:
1. The Benchmark
Compares hourly rate - As contracts are closed, see the effective hourly rate and compare it to the industry median
Compare actual invoices and bills to actual industry invoices and bills
Data is based on region
Update is in real-time
The currency will display in $US * We use an automatic currency conversion
Are there other metrics you would like to see in the Benchmark? We value your feedback and ideas so feel free to contact us with any suggestions.
2. Recent Invoice Batches
A snapshot of your most recent Invoice Batches.
See at a glance key information about the batch:
Invoice Number
Date
Batch Name
Note: You can also find other batches by using the Search box.
Learn how to create an Invoice Batch.
3. Recent Invoices
A snapshot of your most recent invoices.
See at a glance key information about recent invoices:
Batch Name
Created Date
Amount
Note: You can also find other invoices by using the Search box.