Introduction
Atera is set up to automate as many features as possible, including automatically sending emails to a customer upon ticket creation or update. These emails are generated and sent to the end user informing them of ticket status, and other useful information.
It is possible to create a ticket without an automated email being triggered to the customer.
Use Case
This feature may be useful in scenarios where you want to work on a task for a customer and they do not need to be alerted. e.g. a backend fix to a server performed out of hours.
To achieve this, an Automation rule must be created to disable the automated email sent to the customer when a ticket is created.
Follow the two part process below to create this rule:
Create a Custom Field
1. Go to Admin > Custom fields > Add New field for Checkbox type:
Note: Ensure that the field is created under the Ticket tab.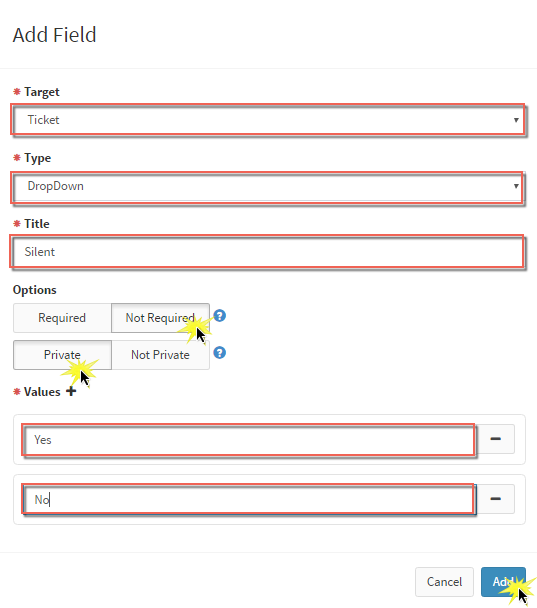 2. Set the field options:
Target = Ticket

Type = Dropdown

Title = Silent

Options = Not Required & Private

Values = Yes / No
Note: This button should be set to private to ensure it will not be viewable by the customer.

3. Click Apply
Create an Automation Rule
Create a rule in the Automation Rules area defining that when 'Silent' is checked an email will not be sent.
1. Go to Admin > Automation Rules
2. In the Default 'Send an email to contact when new ticket is created' rule add another condition:
Ticket Field = Silent (The dropdown just created)

Operator = Equals

Expected Value = False

Tick = Must Match.

3. Click Add