If you already have a Webroot account, you can ask Webroot to migrate it to Atera. This will allow you to install the AV on your managed endpoints in just 1-click and have the billing managed through Atera.
Pricing Model:
Webroot Antivirus costs $1.20 per endpoint.
Webroot Antivirus plus DNS Protection: All endpoints in your site will be covered under the DNS Protection feature - even those without Webroot specifically installed on them - as it is set up through the central router. However, billing will be carried out based on the number of Webroot endpoint licenses actually installed. The price is an extra $1.20 per license (in addition to the cost of the Webroot AV license itself).
Webroot products are billed on a separate billing cycle from your regular Atera subscription, every 30 days from activation of the endpoints.
You can find more details on the billing process for Webroot and the other integrated add-ons here.
In order to migrate your account, the following steps need to be followed:
1. Activate Webroot through Atera
You will need to activate a new Webroot account through Atera as shown in this guide.
Once the account is activated, copy the parent keycode from the Webroot management console under the Settings tab > Account Information: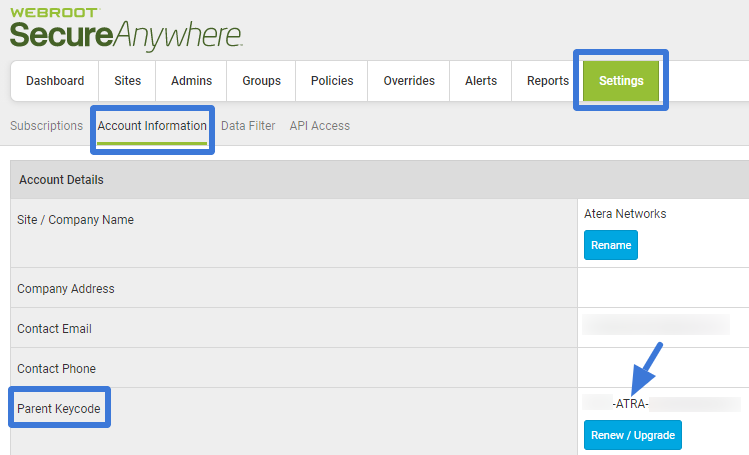 Note: The keycode should have this format: XXXX-ATRA-XXXX-XXXX-XXXX
2. Contact Webroot support to assist further with the migration process
The next step is contacting Webroot support team to request the account migration. You will need to provide them with the parent keycode of the account you just activated at the previous step.
Webroot Support can be reached at:
United States:
Tel: 1-866-254-8400
Australia:
Tel: 1 800 848 307
Local: +61 2 8071 1903
United Kingdom:
Tel: +44 (0) 808 101 7260
Ireland:
Tel: 1 800 902 213
Local: +44 (0) 808 101 7260