You can filter tickets with a range of filters, and create 'Views' for commonly used filters.
Filter Tickets
Filter tickets to see only the tickets you need.
To filter tickets:
1. From the side panel, click Tickets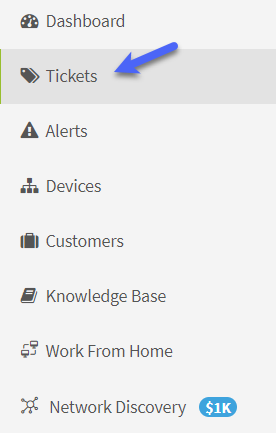 The Tickets page appears.
2. Locate Filters, on the right, and set your desired parameters.

Filter options are described below:
Sort - Filter by Last Modified, Date Created, Customer Rank, Priority, and SLA
Tags - Filter by ticket tags. Learn more
Status - Filter by Open, Pending, Resolved, Closed, and/or Deleted.
Activity Status - Filter by Unread, Read, Awaiting Customer Response, and/or Awaiting Technician Response.
Technicians - Filter by assigned technician, or by Unassigned
Customers - Filter by one, some or all of your customers
Ticket Creation Date - Filter by when the ticket was created
Products - You can filter by products
Fetch Amount - Select the amount of tickets to view at once
Due By - Filter by Overdue, Today, Next Hour, and/or Tomorrow
Priority - Filter by Critical, High, Medium and/or Low
Business Impact - Filter by No Impact, Minor, Major, Server Issue, Site Down, and/or Crisis
Customer Rank - Filter by Gold, Silver, and/or Blocked
Type - Filter by Problem, Bug, Question, Request, and/or Other
Source - Filter by how the ticket was created: Alert, Email, Phone, Portal, and/or Chat
Custom Field - Add a Custom Fields filter. Learn more about custom fields
3. After setting your filter parameters, Click Go to display your filtered tickets.
To clear the filter:
1. Click Clear
2. Then click Go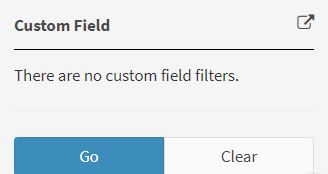 The filters are cleared, and all tickets are displayed.
Create Views
Save time by creating 'Views' for commonly used filters. Once you have set up a filter, you can choose to save the filter search as a View.
To create a View:
1. Once you have set up your filter(s), go to the Views section at the top, and click Save as

The Add View dialog box appears.
2. Enter a name (and optional category) for the View.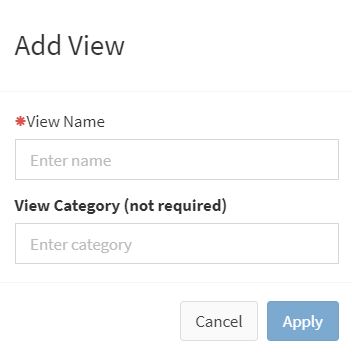 3. Click Apply
The View name will be saved, and will appear in the dropdown list. It can be clicked on at any time to filter the tickets by the set parameters.