This article describes how to deactivate Webroot-protected endpoints when these are no longer in use.
The article will include how to:
Deactivate endpoints
To deactivate a protected device in Webroot, please follow the below steps:
1. Log into Webroot management console from Atera > Add-Ons > AntiVirus > Webroot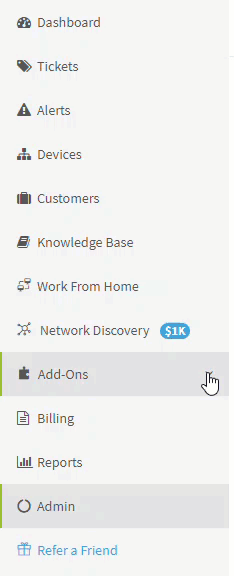 2. Enter your Email/Phone, Password and Security Code when prompted.
3. Under Manage > Entities, click on the relevant Customer Site.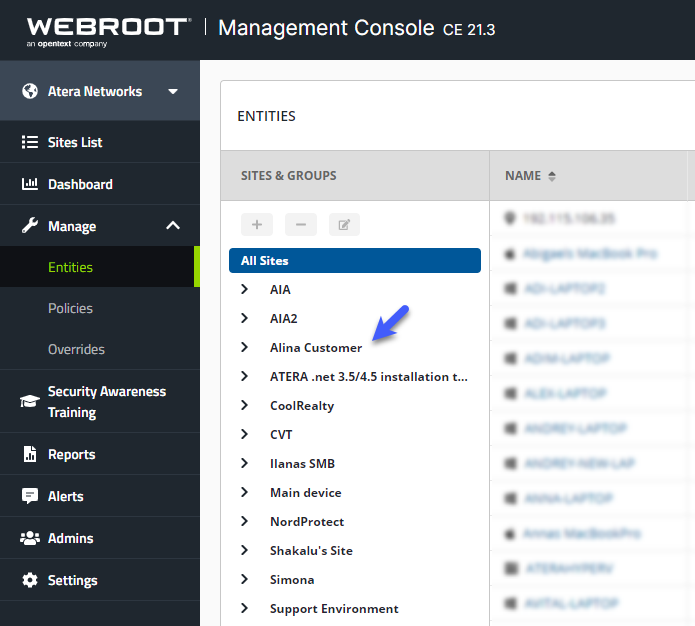 4. Select the endpoints you wish to deactivate from the list, then under Agent Commands drop-down menu, select Deactivate Device.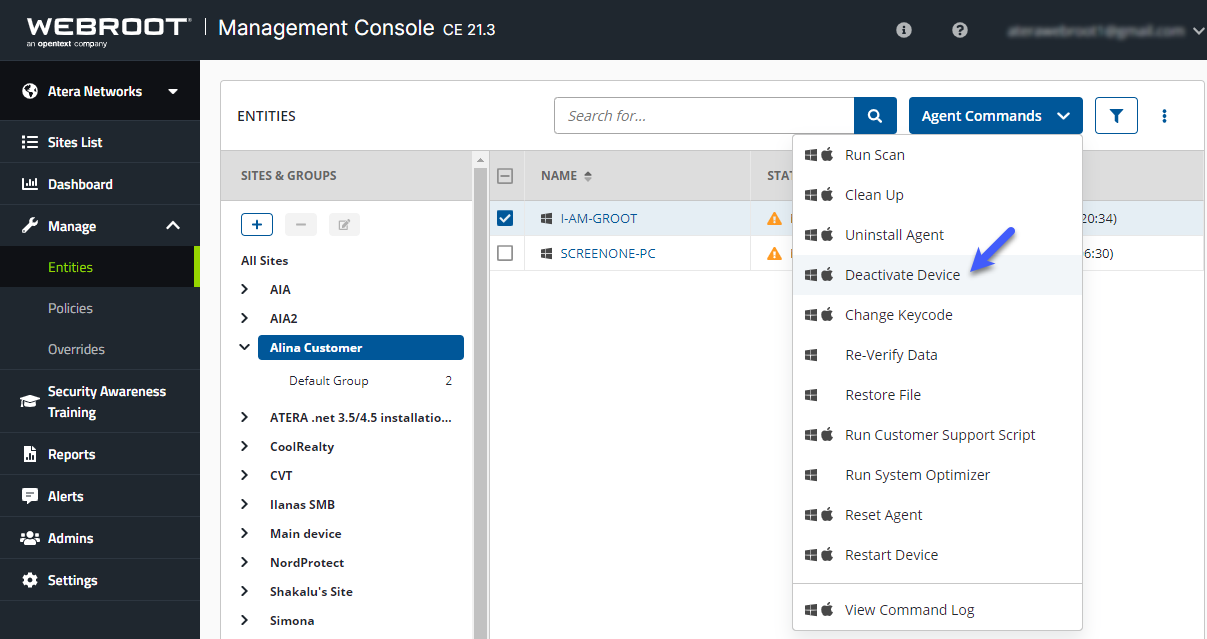 Note: If you don't want to remove the endpoint from the Management Portal but still want to uninstall the agent software, you can send an Uninstall Agent command instead. This action retains the endpoint entry in the Webroot Management console (although it displays a status of "Not Seen" after 7 days).
5. A warning message displays, indicating that an uninstall command will be sent to the selected device.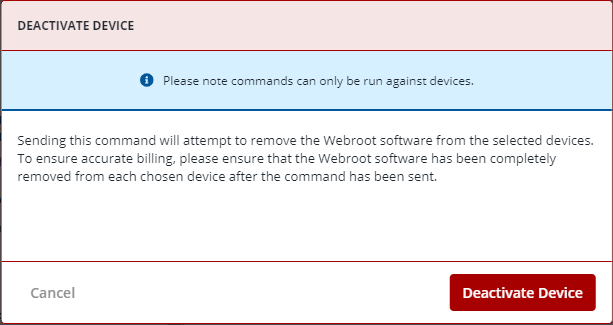 6. Click on Deactivate Device to confirm the command and proceed with the deactivation.
The agent will be uninstalled from the device when the device checks in. Deactivated devices are moved to the Deactivated Endpoints Group accessible via the Endpoint Protection console.
Note: For accurate billing, please ensure that the Webroot software has been completely removed from each chosen device after the command has been sent.
Uninstall Webroot through Atera
In case the uninstall command does not reach the endpoint, there are two options for removing Webroot SecureAnywhere through Atera.
If the AntiVirus was installed through Atera, you can uninstall it from the Device page > Manage > Webroot > Uninstall: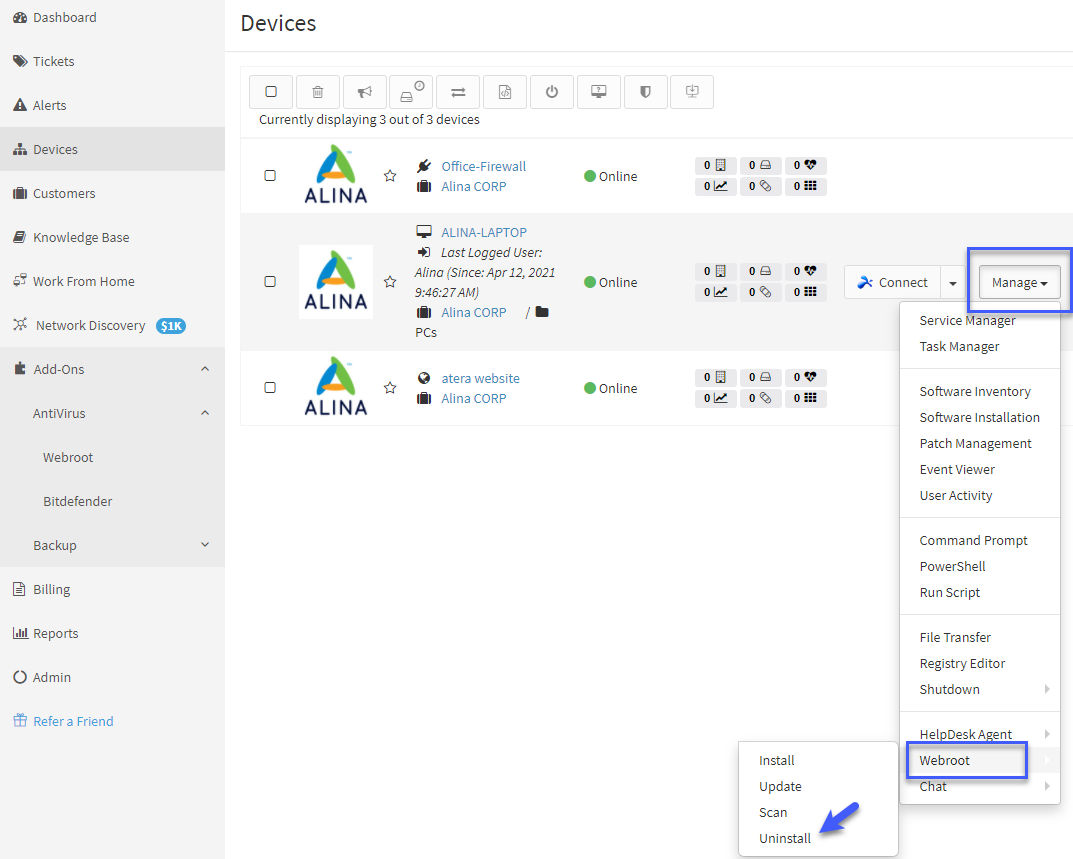 Otherwise, you can uninstall Webroot directly on the local machine from Programs & Features, or by using the Uninstall Webroot script that you can find in Atera's Shared Script Library:

You can run the script immediately or automatically through an IT Automation profile.
Reactivate Webroot SecureAnywhere on endpoints
If you deactivate an endpoint by mistake and wish to reinstate it, you can reactivate it from the Deactivated Endpoints Group accessible via the Endpoint Protection console.
To reactivate:
1. Open Webroot management console and on the left navigation bar select Sites List and find and click the Site where you want to reactivate a device.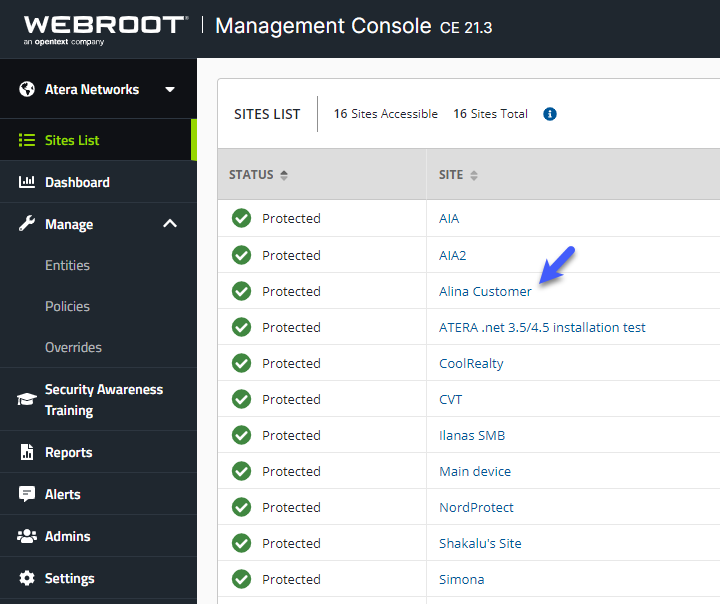 2. Go to the Endpoint Protection tab and click on Go to Endpoint Protection Console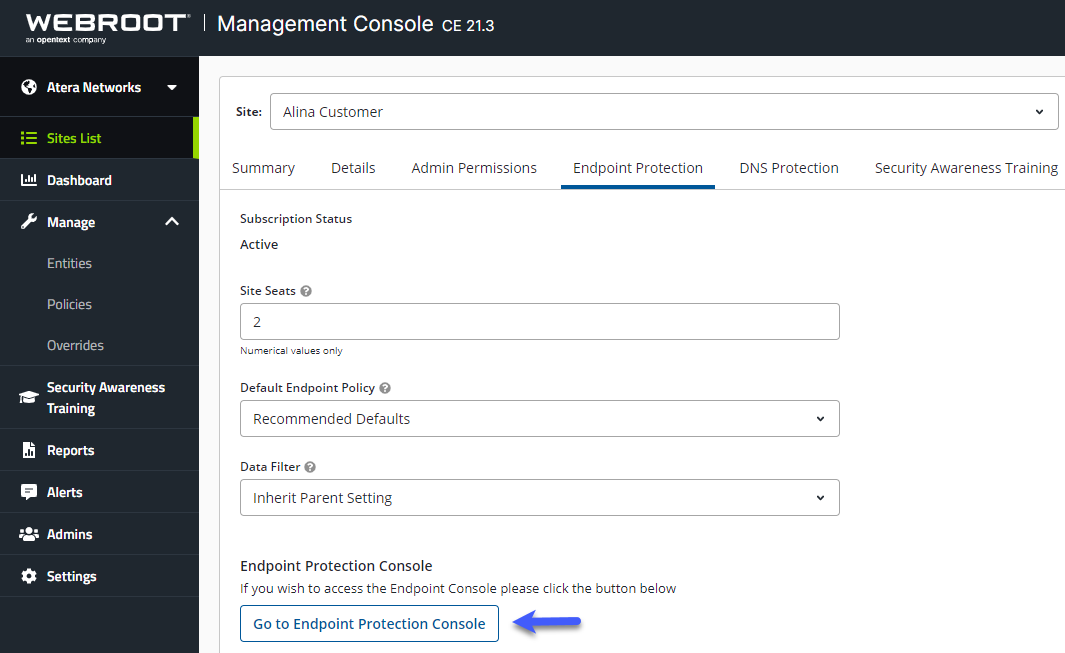 3. In the Endpoint Protection console, click the Group Management tab, then click the Deactivated Endpoints group to display the list of deactivated devices.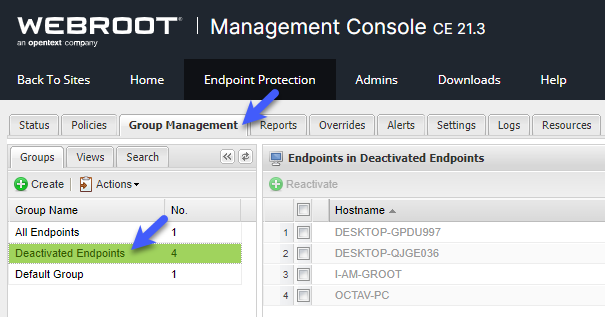 4. Check the box for the devices to reactivate, then click Reactivate.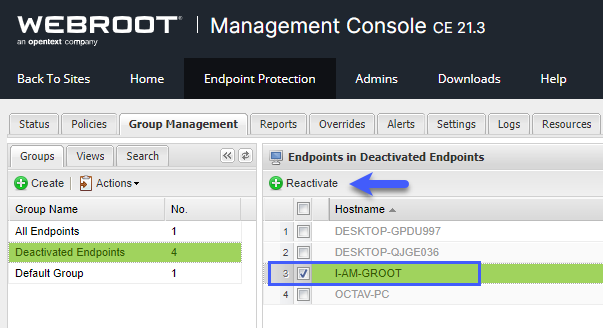 5. Once the endpoints are reactivated, you need to reinstall the Webroot agent to get them to report into the console and be fully protected.
Note: If you need to permanently remove endpoints from the Deactivated Endpoints group, please contact Webroot Technical Support.