By default, the Splashtop Streamer is automatically installed together with the AteraAgent.
If for any reason you wish to uninstall Splashtop on specific devices, the console provides an option that would uninstall it from all machines.
This setting is located under the Admin panel > Settings > Remote access > Splashtop tab: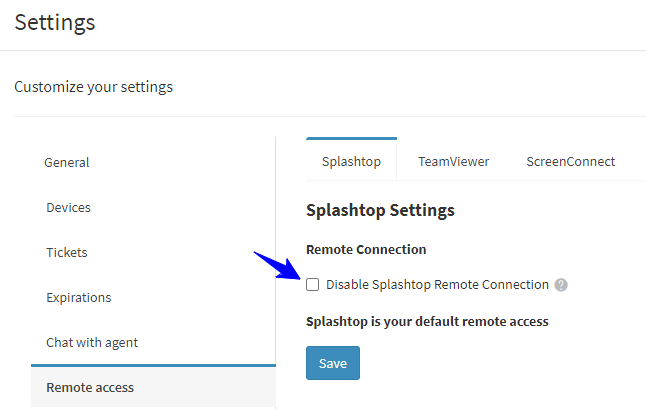 However, you can follow the below workaround to disable the remote connection and remove Splashtop on selected machines by tweaking the "DisableRemote" registry key located under Computer\HKEY_LOCAL_MACHINE\SOFTWARE\ATERA Networks\AlphaAgent
You can change the key's value manually or execute the following commands in an elevated instance of CMD:
REG ADD "HKEY_LOCAL_MACHINE\SOFTWARE\ATERA Networks\AlphaAgent" /v DisableRemote /d True /t REG_SZ /f



sc stop AteraAgent && sc start AteraAgent
Notes:
The Streamer will be removed within 24 hours after running the above commands.
As long as the value is set to True, Splashtop will not be reinstalled again on the respective machine.