Atera's Patch Management and IT Automation enables you to perform a variety of crucial support tasks including patching, software bundle installation, Windows version upgrades, disk management, maintenance, and automated scripting.
The automation profile containing any (or all) of the above-mentioned tasks can be scheduled as multiple, flexible, one-time, weekly and/or monthly automations. This article explains how to:
Create an Automation Profile
The first step is to create an automation profile.
To create a profile:
1. From Admin, click on Patch Management and IT Automation

The Patch Management and IT Automation page appears.
2. Click Add Profile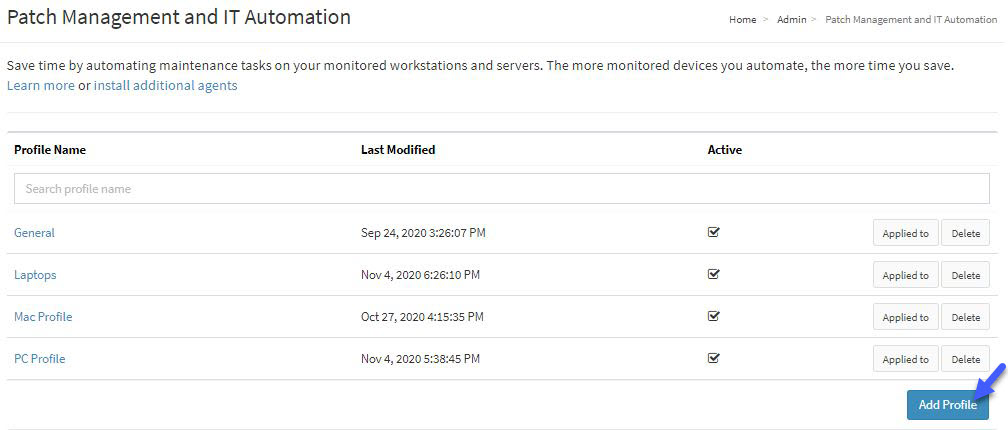 3. Enter a name for the profile, and click Apply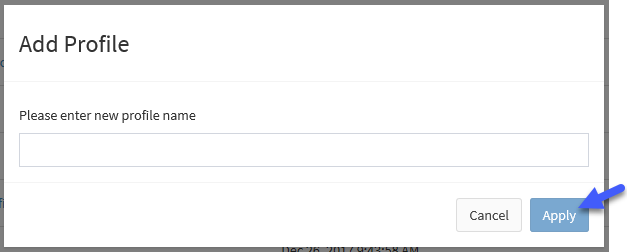 The profile has been created, and the Edit Automation Profile page appears.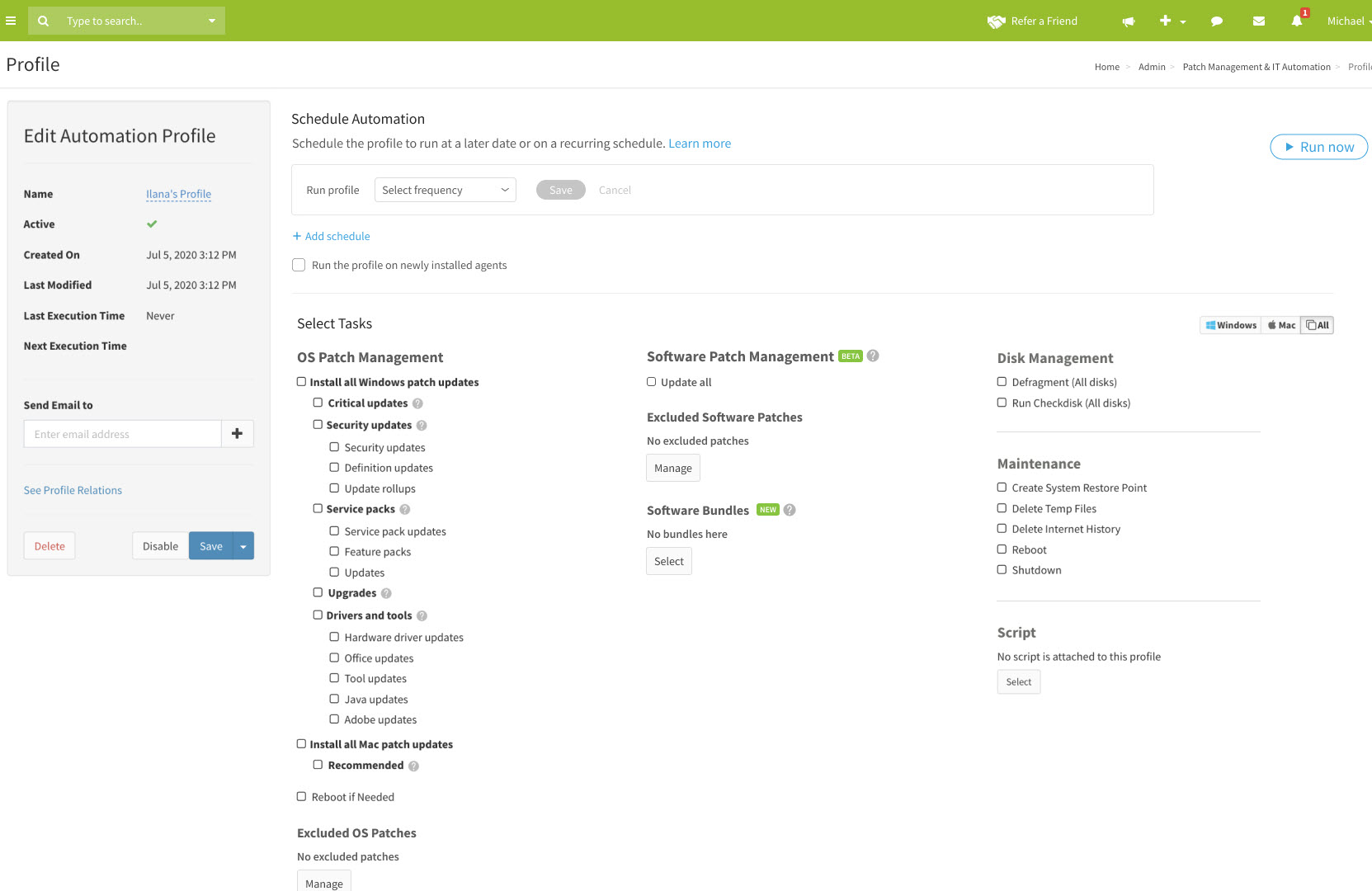 Schedule the Automation Profile
The next step is to add the desired automation schedule(s).
Note: The following scheduling instructions apply to the creation of new automation profiles only. Existing profiles retain the older scheduling design.
To schedule: Set the frequency and applicable day/date/time, then click Save (next to the schedule).

Notes:
You can add as many schedules to the automation profile as you wish to add.
A schedule can be edited by clicking on the icon, or deleted by clicking the icon next to the schedule.
A schedule can be run immediately by clicking Run Now, at the upper, right of the screen.
To automatically run the profile upon new agent installation:
Check the checkbox next to Run the profile on newly installed agents

Select Patch and Automation Tasks
Next, you'll need to select your desired patch and automation tasks.
To select:
1. Select the patches you wish to install and the automations you wish to include.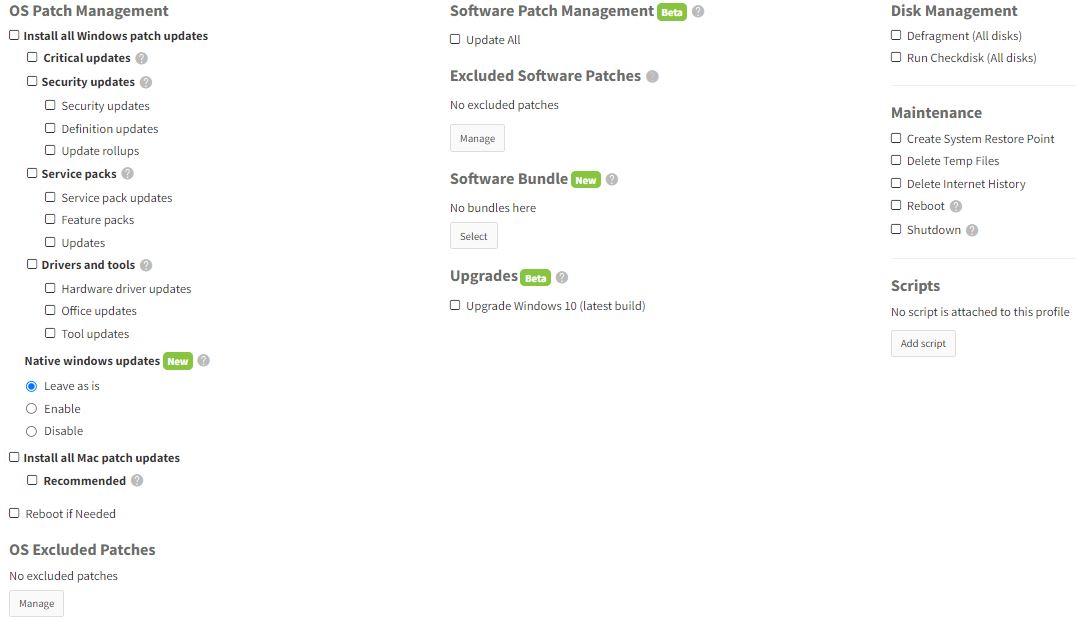 Categories include:
OS Patch Management (Includes critical, security, service packs, drivers and tools, native Windows updates, and Mac OS updates).
OS Excluded Patches (You can exclude certain OS patches). Learn more
Software Patch Management (Software patches are installed via Chocolatey for Windows and Homebrew for Mac package managers. Learn more)
Software Excluded Patches (You can exclude certain software patches).
Software Bundle (You can attach a software bundle, for automated installation. Learn more)
Upgrades (upgrades to the latest Windows 10 version).
Disk Management (Defragment or run Checkdisk).
Maintenance (Create a system restore point, delete temp files or internet history, reboot, or shutdown).
Scripts (You can attach scripts, to have them run with the automation profile. Additionally, you can edit variable values (when applicable), enabling you to run the same script with different variables).
Notes:
If you wish to schedule the automated Reboot or Shutdown (under Maintenance), we strongly recommend creating separate automation profiles for these, as they may disrupt other selected actions on a profile.
You can exclude certain patches. It can be used for excluding problematic patches after trying them out on a demo or test environment for several days. For more information, refer to the article, How Can I Exclude Patches From The Automation Profile
2. Optionally, you can add email addresses (technician's/customer's) to receive detailed reports of patch installation success (or failure), each time, after an automation runs.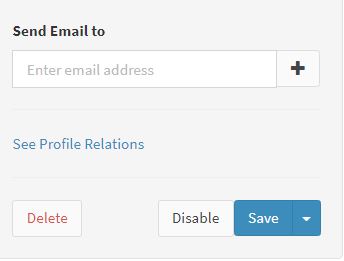 3. Select Save to save your newly updated automation profile.
Note: Patch automation will run at the time setup in Atera under Admin > Settings > General >Time zone.
Apply Automation Profile
Once you've completed the IT Automation profile, you'll need to apply it to your customer(s) or a specific agent in order for it to take effect.
To apply the automation profile to customers:
1. From within the automation profile itself, click on Applied to, in the gray box.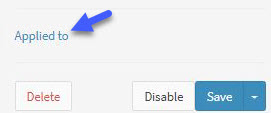 The Profile Relations screen appears.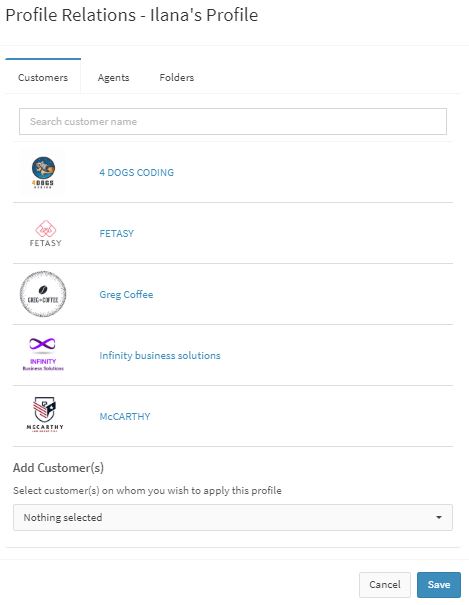 2. Under Add Customer(s), select the customers you wish to apply the profile to. You can select all or some of your customers.
3. When done with your selections, click Save.
The profile is now applied to the selected customer(s).
The profile can also be applied to specific devices (agents) and can be removed from customers and agents as well. Learn more about applying and removing profile assignments.
See a report on the most recently-run profile
You can see the Patch and Automation Feedback report on the latest-run automation profile by clicking the

icon on automation profile pages.