This article provides instructions for the Atera for IT Departments platform.
The Service Portal is your users' unique and personalized support site where they can open tickets, track the status of tickets, access knowledge base articles, and view all tickets ('main contacts' only).
You can customize the experience for your users by configuring your own Service Portal URL, automatically sending out a personalized welcome email, as well as selecting the kinds of tickets they can view. This article explains how to:
View or configure your Service Portal
Atera automatically generates a Service Portal URL for your company. You can provide it to your users as is, or create your own subdomain for brand consistency.
To access your Service Portal URL:
From Admin (on the side panel), click Service Portal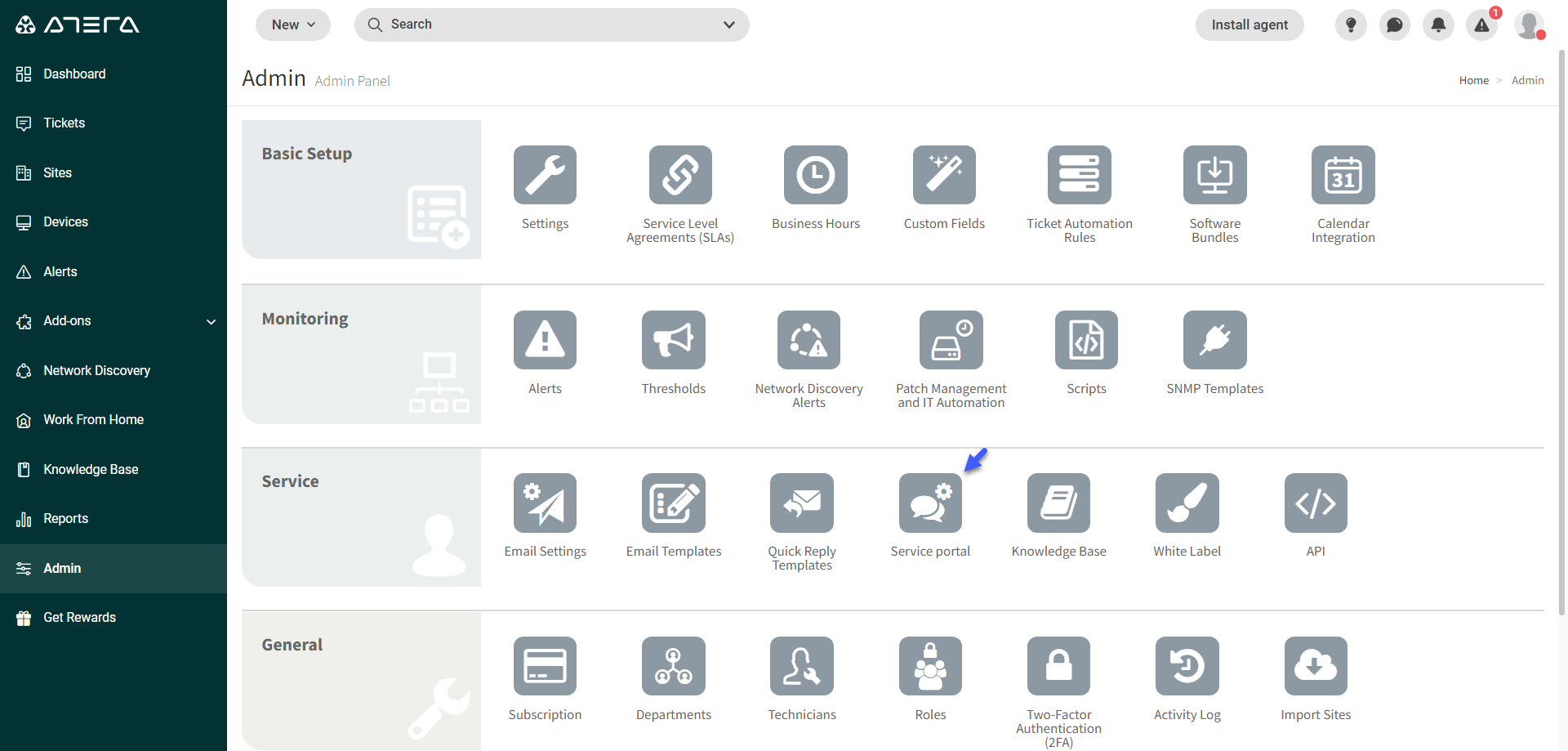 The Service Portal screen appears.
Notes:
You can define your own sub-domain by creating a CNAME record in your DNS settings and redirecting it to 'servicedesk.atera.com' (the URL can look like this http://yourcompanyname.com).
In order to have SSL (Secure Sockets Layer) enabled automatically on the Service Portal URL, the following URL pattern should be used: https://yourcompanyname.servicedesk.atera.com
When done, enter the new Portal Domain Name on the Service Portal page, and click Update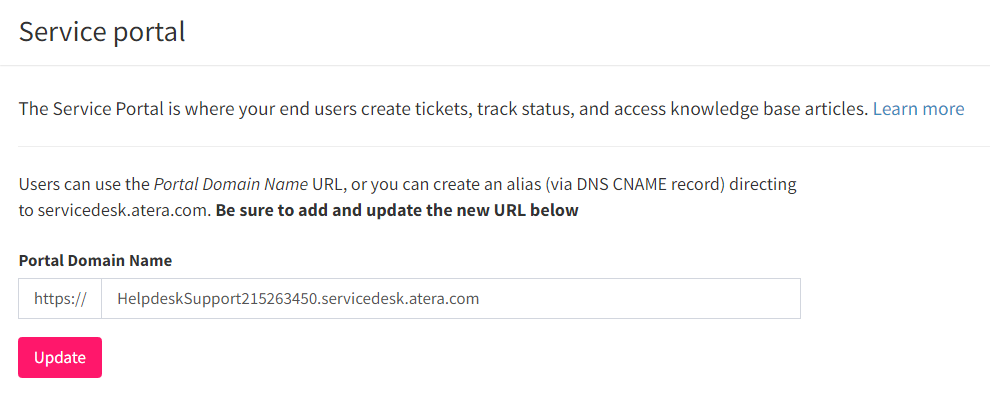 In order for your user to access the Service Portal, they must receive a username and password from you. A unique username/password can be found on each user's page (they are automatically generated upon contact creation).
Additionally, you can automatically generate an email welcoming new users and providing them with the Service Portal URL, as well as their username and password. This provides them with everything they need to access the portal (See instructions below).
Note: A user will be added automatically to the system and assigned to their company based on the domain name, the first time that contact opens a ticket (provided the company exists in the system).
Generate automatic 'Welcome email' for new users
You can automatically generate a welcome email to all new users, containing the Service Portal URL as well as the user's personal username and password.
To generate an automatic welcome email:
1. From Admin (on the side panel), click Email Settings

2. Enable the 'Send an email to a newly added user' option.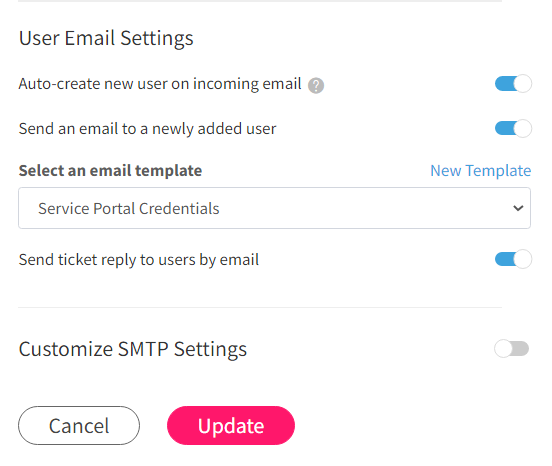 3. Select or create a welcome email template (Make sure that the template includes the 'Portal Username' and 'Portal Password' snippets, from the snippets list. Learn more about email templates.
4. Click Update to save your settings.
Specify tickets for viewing on the Service Portal
You can specify which tickets (by 'Ticket Status') your users can view on the Customer Portal.
To specify:
1. From Admin, click on Settings. The Settings page appears.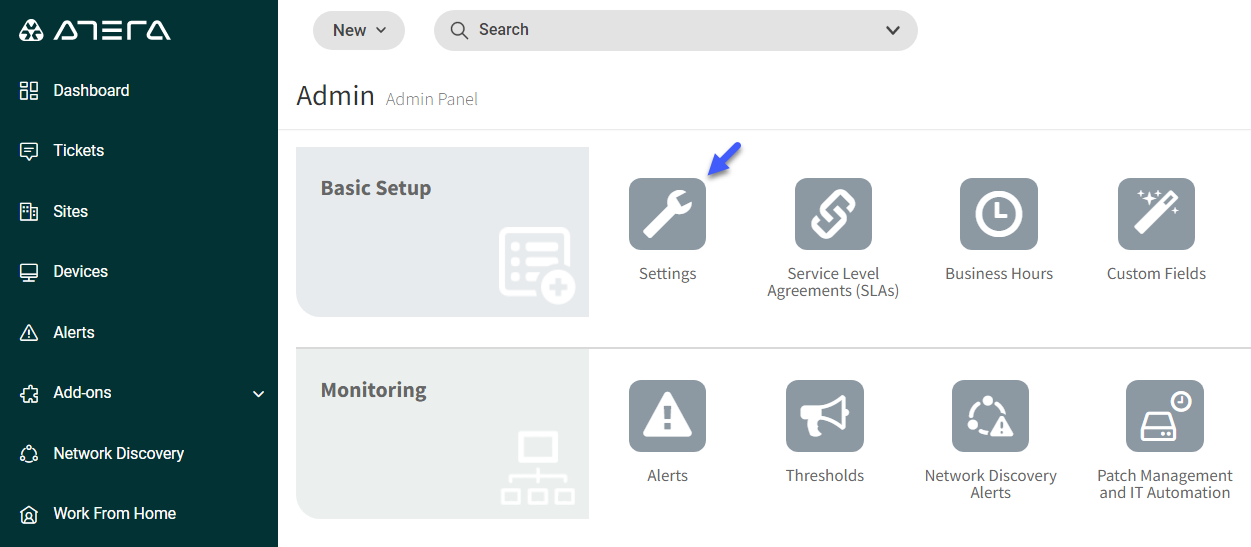 2. On the Settings page, click the Tickets tab.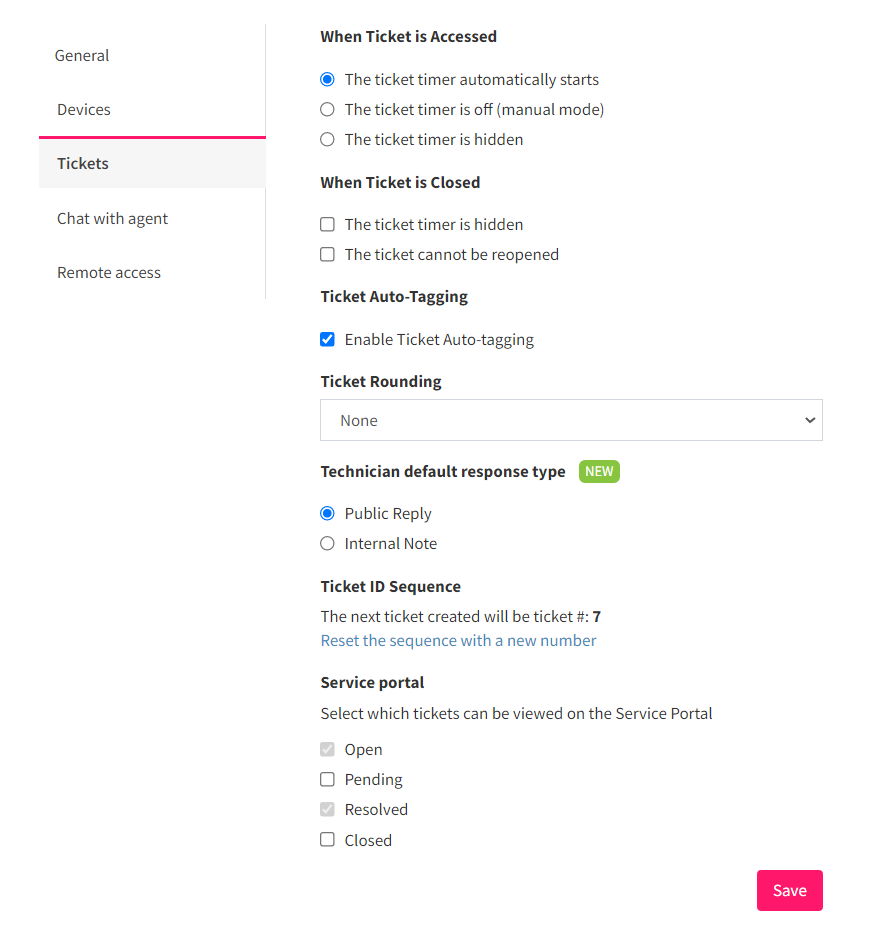 3. Under the Service Portal heading, check the boxes next to the tickets you'd like your users to view.
4. Click Save. Your users can now view the tickets you've specified.
Notes:
Selecting "The ticket cannot be reopened" from Admin > Settings > Tickets will block users from reopening tickets in the Customer Portal.
Billed tickets cannot be updated by the users within the Service Portal; in this case, the Update button is greyed out.


Select Service Portal language
Users can select their preferred language after logging into the Service Portal.
Once they receive the Service Portal URL + username + password and they log in successfully to the Service facing portal, they can click on their name in the upper-right corner > Select language (Currently, Atera supports English, French, Deutsch, Danish, Dutch, Hebrew, Portuguese, Spanish, and Thai).