This article provides instructions for the Atera for IT Departments platform.
AnyDesk provides secure and reliable remote access for supporting your users anywhere, anytime. No prior AnyDesk account is required. AnyDesk can be used on Windows or Mac OS devices to connect to all your users' Windows and Mac devices and is available, free-of-charge, to Atera Expert and Master plan users. The integration is with AnyDesk's Performance package*. See the full list of AnyDesk Performance features.
This article explains how to:
Set up AnyDesk in Atera
You can set AnyDesk as your default remote access within Atera. By doing so, AnyDesk will automatically install on all your existing agents and any agents you install in the future. AnyDesk can still be used without setting it as default—it will simply install on specific agents when remote access is first initiated on them.
To set AnyDesk remote access as the default:
1. From Admin, on the side panel, click Settings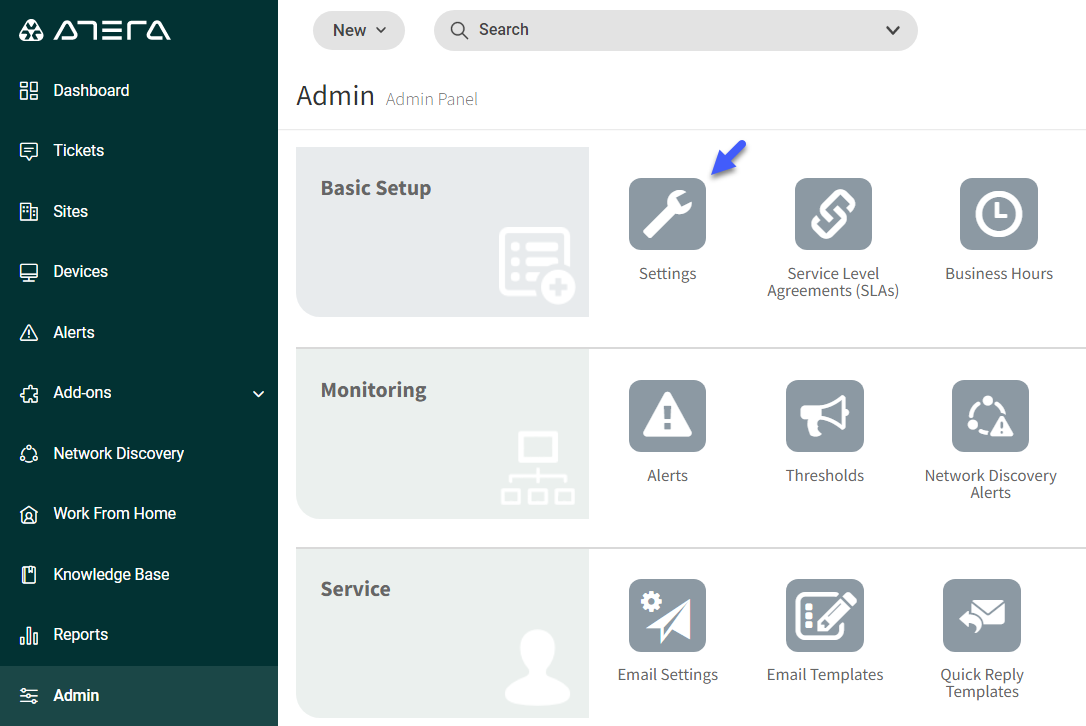 The Settings page appears.
2. Click Remote Access on the side menu.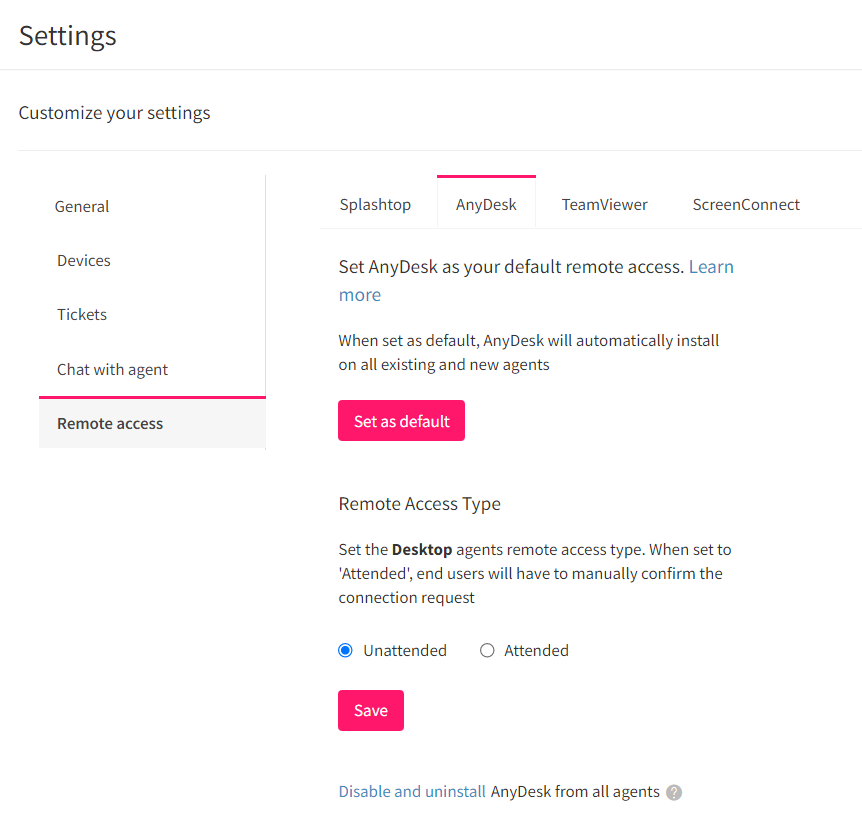 3. Then select the AnyDesk tab.
4. Click the Set as default button.
AnyDesk is now your default remote access and will be installed on all existing and new agents.
Initiate a remote connection with AnyDesk
You can use AnyDesk on your Windows or Mac OS device to connect to all your users' (Windows and Mac) devices.
Note about the newer Mac devices: When connecting to newer Mac devices that use the M1 processor, you'll need to instruct your users to manually install AnyDesk from the popup window that appears after initiating a connection with them. This is a temporary workaround and installation will become a completely automatic process in upcoming Atera versions.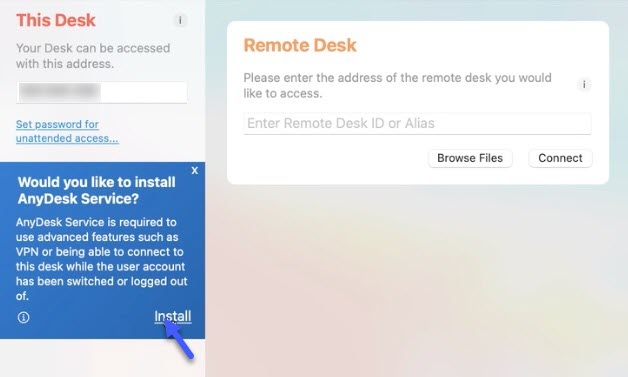 To connect:
1. From the Devices (or Sites > Devices) page, locate the specific device.
2. From the device's Connect dropdown menu, select AnyDesk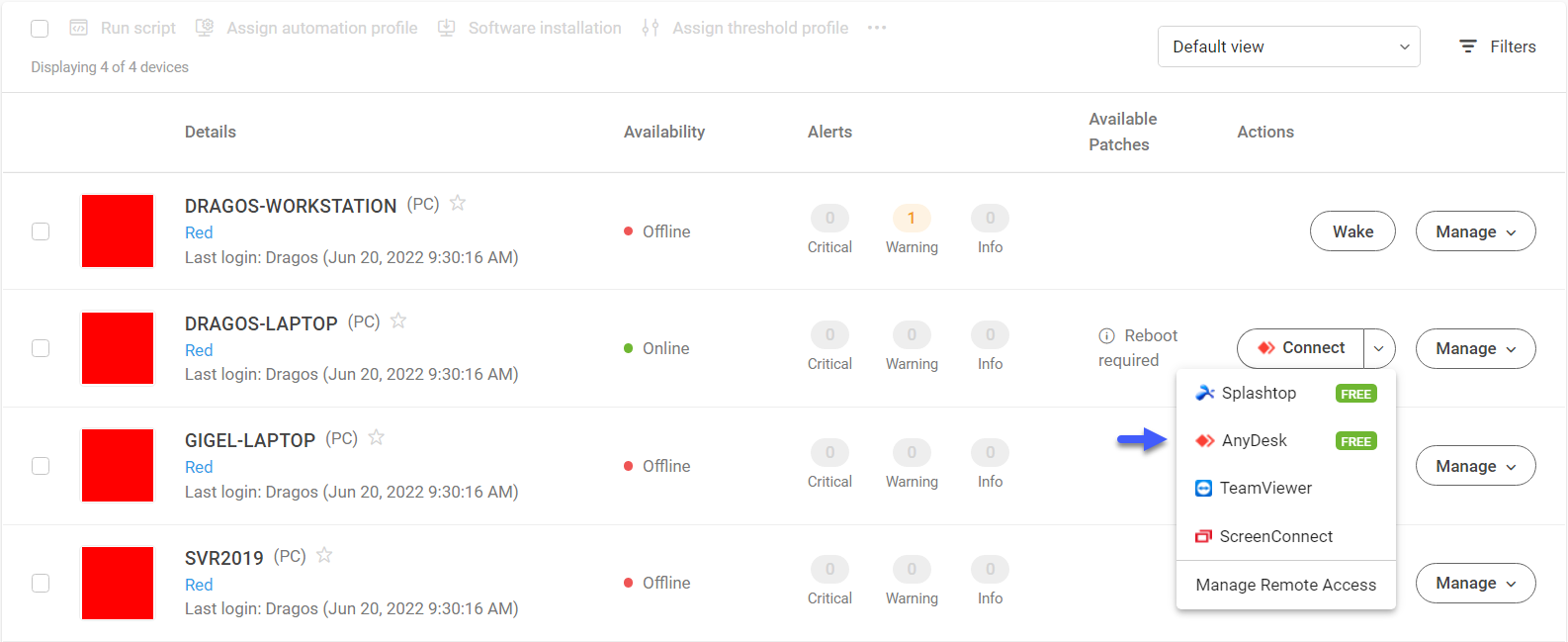 If this is your first time connecting via AnyDesk, you'll be prompted to download AnyDesk (Atera's custom version).
Note: Atera's custom AnyDesk version must be installed on your device to enable remote access.
It must be installed (even if you've installed a generic version of AnyDesk in the past).
Installation is one-time only, per technician device.
If not installed, you won't be able to connect to your end devices.
3. Click Download AnyDesk

4. Click on the downloaded file, at the bottom-left of the screen. The AnyDesk New Session screen appears.
5. Click Install AnyDesk to install AnyDesk on your device.

AnyDesk installs, and the AnyDesk Connection screen appears..
Note: Installing AnyDesk on your device is a one-time process. Subsequent AnyDesk connections are initiated quickly and easily, with a few clicks.
6. On the AnyDesk Connection screen, click Copy & open AnyDesk to copy the session password and access the authorization screen.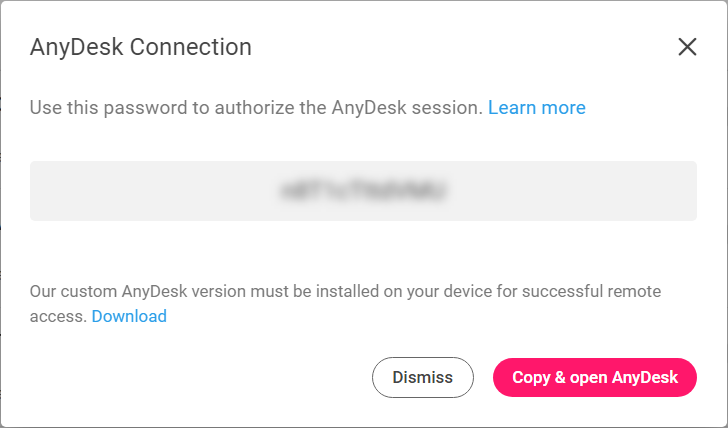 Note: The AnyDesk session password is necessary for a secure AnyDesk connection.
The Authorization screen appears.
7. Paste the password into the field, and click OK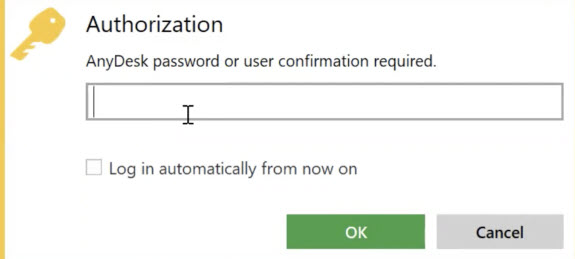 Note: Please allow a few seconds for AnyDesk to install, upon first connection with the device.
The remote connection is initiated, and the AnyDesk session screen appears.
The session toolbar, at the top of the screen, displays available features and actions such as file transfer, screenshots, chat, and more.

Note: You can access AnyDesk support articles, at any time, by clicking About AnyDesk from the

menu.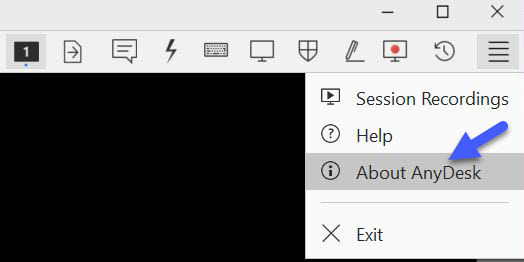 See our video tutorial!
Disable AnyDesk
If you no longer wish to use AnyDesk remote access, you can easily disable and uninstall it from your agents.
To disable and uninstall:
1. From Admin, on the side panel, click Settings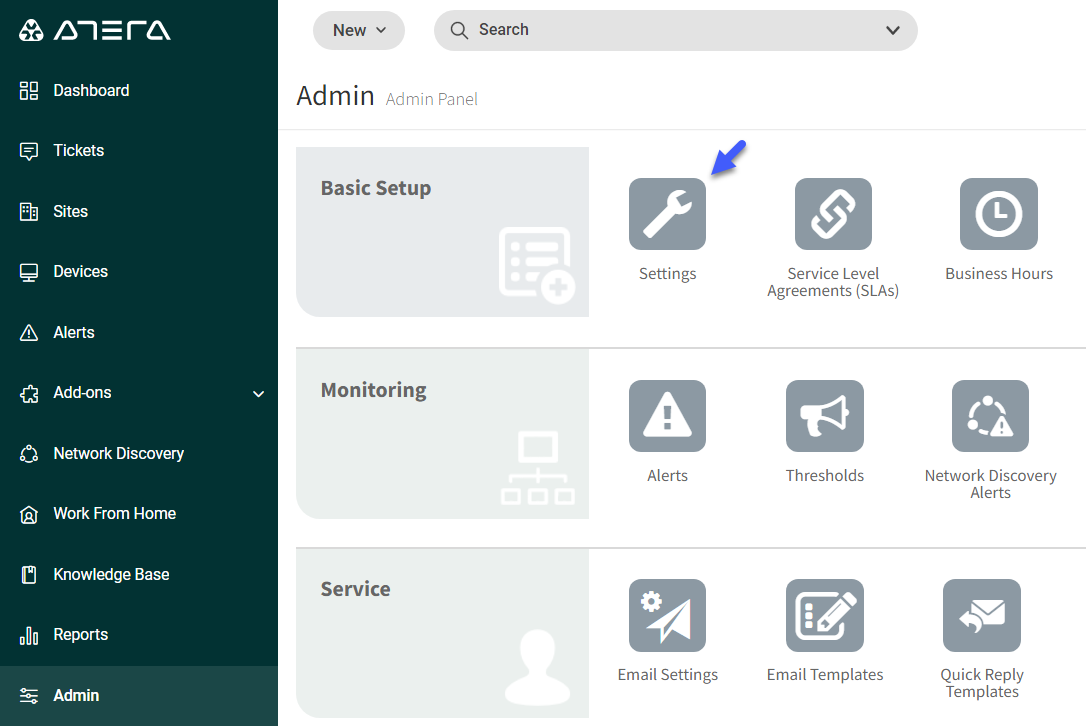 The Settings page appears.
2. Click Remote Access on the side menu.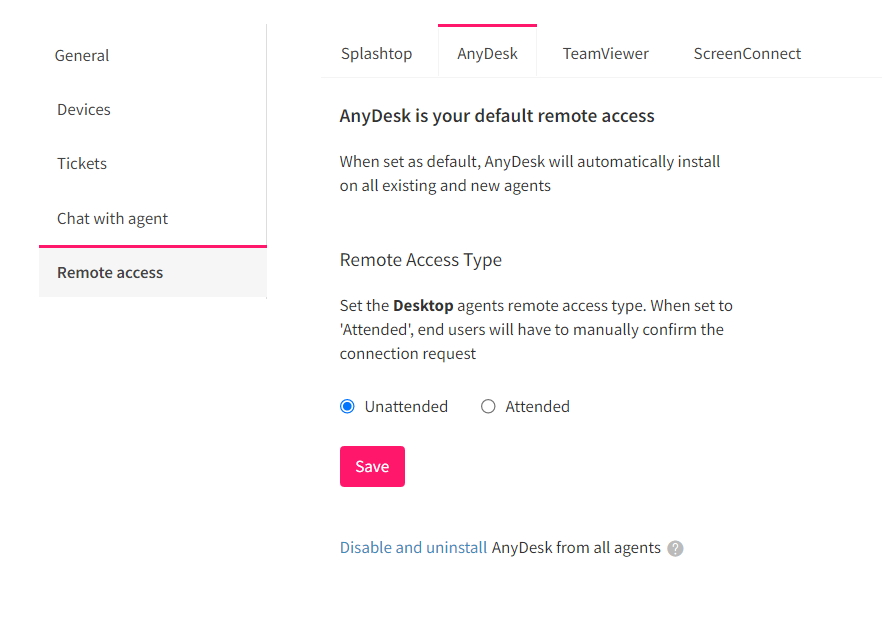 3. Then select the AnyDesk tab.
4. Click Disable and uninstall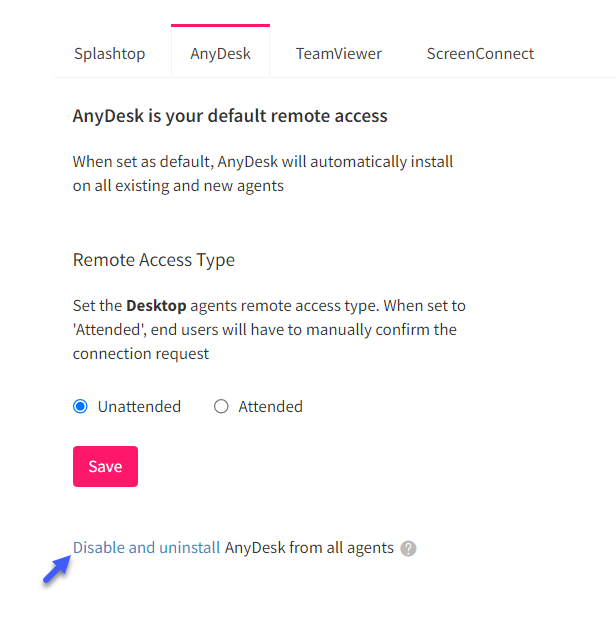 5. Click Disable, on the confirmation message.

AnyDesk is now disabled and will be uninstalled from all your agents. The uninstall command is sent to the agents immediately after clicking on Disable. For agents that are offline after disabling Anydesk, the command will run after the agent appears Online in the dashboard. The uninstall command remains in the queue of offline agents for 30 days.
*The 'Address Book' feature is not available through Atera.