There are multiple ways to verify that Acronis has been successfully installed on your end-user devices.
This article describes reviewing the Acronis installation, via the:
Recent Processes Report
The Recent Processes report lets you see real-time outcomes of manually-installed patches and software bundles, installed/uninstalled software, and scripting.
To see which devices you've installed Acronis on:
1. From Reports (on the side panel), click Recent Processes.
The Recent Processes page appears.
Optionally, select the Time Period.
2. Click the chevron

icon to expand a process.
3. Click the information

icon to see the logs. The Script Run Summary window appears.
Agent Console
The Agent Console is your window into the 'agent' device. Here you'll find detailed information and metrics about the device, alerts, as well as numerous remote actions you can initiate on the device.
To see which antivirus is installed on the device:
Access the Agent Console, from the Devices page.
Under Security, you'll find the antivirus, anti-spyware, and firewall software.
Devices Page
You can filter the Devices page to show only the devices with Acronis installed. You can also check a single device's software inventory
To use the Advanced Filters to view devices with Acronis installed:
1. From the Devices page (on the sidebar), click Filters.
2. Scroll to the bottom of the filters and click Advanced Filters. The Advanced Filters window appears.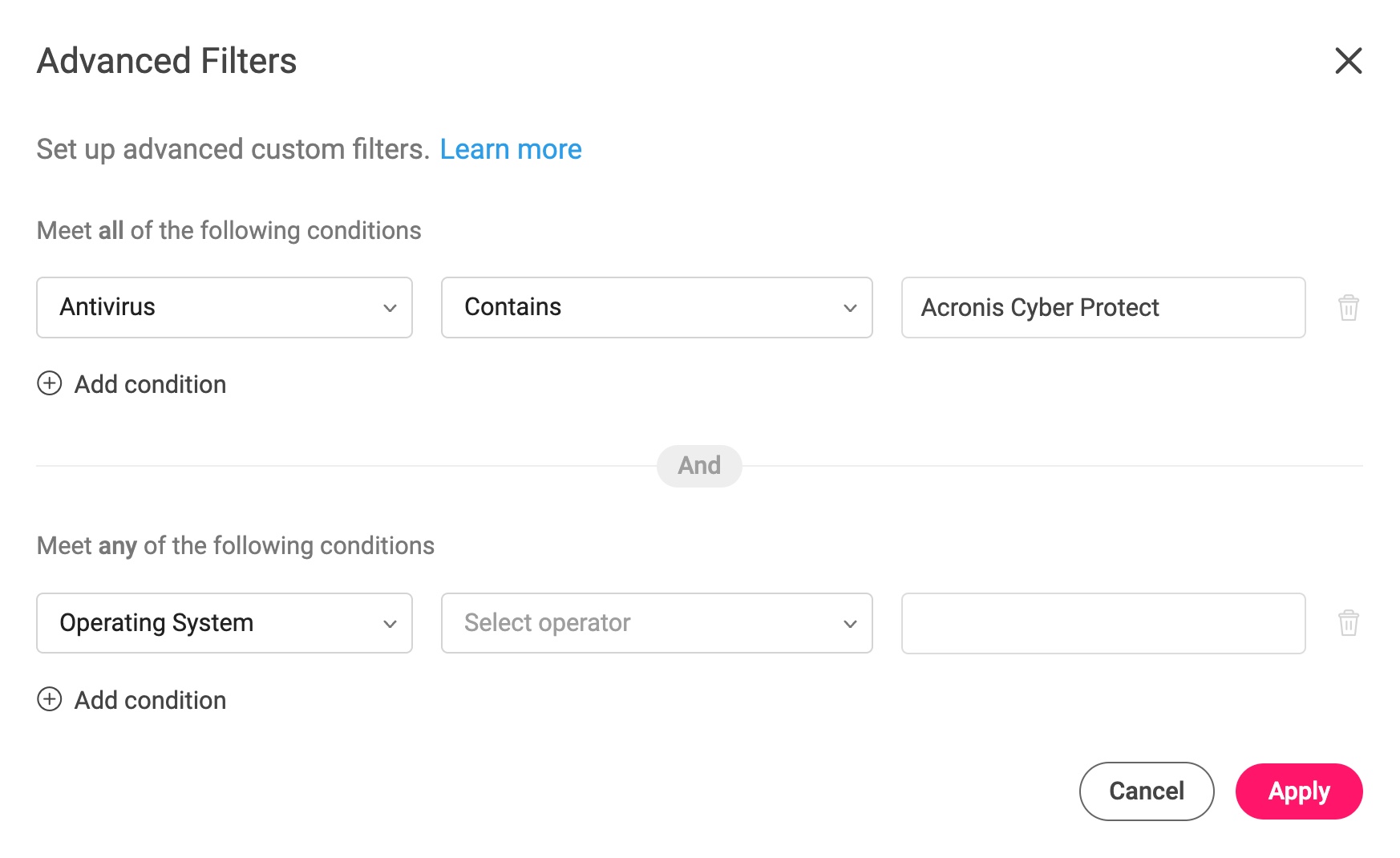 3. Create the following condition:
Select Antivirus
Select Contains
Type "Acronis Cyber Protect"
4. Click Apply.
To view the software inventory on a single device:
1. From Devices (on the sidebar), click the Manage dropdown on the chosen device.
2. Select Software Inventory. The Software Inventory window appears.
Note: Acronis appears as 'Cyber Protect Agent'
3. Click the chevron
icon to see:
Software Inventory Report
The Software Inventory lets you search for software installed on one or more devices and can be used to review which devices have Acronis installed.
Note: It may take up to an hour for newly installed software to appear in the Software Inventory report.
To use the Software Inventory report to view devices with Acronis installed:
1. From Reports (on the sidebar), click Software Inventory.
The Software Inventory Report page appears.
2. Optionally, fill in the parameters:
Customer Name(s)
Filter By: No filter, Software Name, or Software Publisher

Agent Type: All, Desktop, Server, or Mac

3. Click Generate.
The report displays a list of all installed software, including the software name, publisher, size, version, and the number of devices on which each software is installed.
4. Type "Cyber Protect Agent" in the Software Name search field. The devices on which Acronis is installed appear.
5. Click on the expand
icon to open a window showing the devices with Acronis installed.
Click Export to export this list to PDF or Excel. You can use this to send reports to your customers showing which of their devices have

Acronis

installed.
If you run into any issues regarding Acronis installation, or have any other questions, please contact support