Network Discovery delivers the complete picture of all your customer's networks for planning, onboarding, support, and billing purposes. Now, you can set up alerts to keep you informed of scan events such as newly detected unmonitored workstations/servers and SNMP devices, as well as scanning agents that have gone offline or whose IP address has changed. This article describes how to:
Set up Alerts
To set up Network Discovery alerts:
1. From Admin, on the side panel, click Network Discovery Alerts

The Network Discovery Alerts page appears.
Note: Network Discovery Alerts can also be accessed by clicking the Manage Alerts button on the Network Discovery dashboard.

2. Select the alert(s) you wish to set up. Alerts include:
New device detection - When new, unmonitored workstations/servers are detected.
New SNMP device detection - When new, unmonitored SNMP devices are detected.
Scanning agent IP change - The IP of the device (agent) performing the scan has changed.
Scanning agent is offline
3. Assign customers: Next to the alert(s) you want, click the chevron to assign to specific customers, or leave it on 'All' (the default).
4. Assign severity: Click the alert severity level to select Information, Warning, or Critical.

5. Activate: Click to activate the alert(s). Once activated, alerting will begin.

Note: The alerts can easily be deactivated at any time by clicking the 'Active' button to off.
Network Discovery alerts will appear alongside all your other alerts (in the Alerts section, Dashboard, Agent Console, customer etc.). To receive alerts via email and/or further customize alert settings, visit the alert settings page.
Filter and View Alerts
You can filter alerts to view only your Network Discovery alerts. Doing so can provide a kind of 'event log' enabling viewing of changes to the networks over time.
To filter alerts:
1. Click Alerts on the side panel.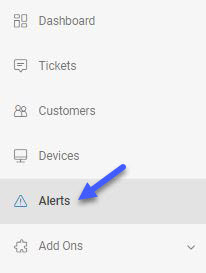 The alerts appear.
2. Click the Filter

icon (on the upper right) and select 'Network' as the Category.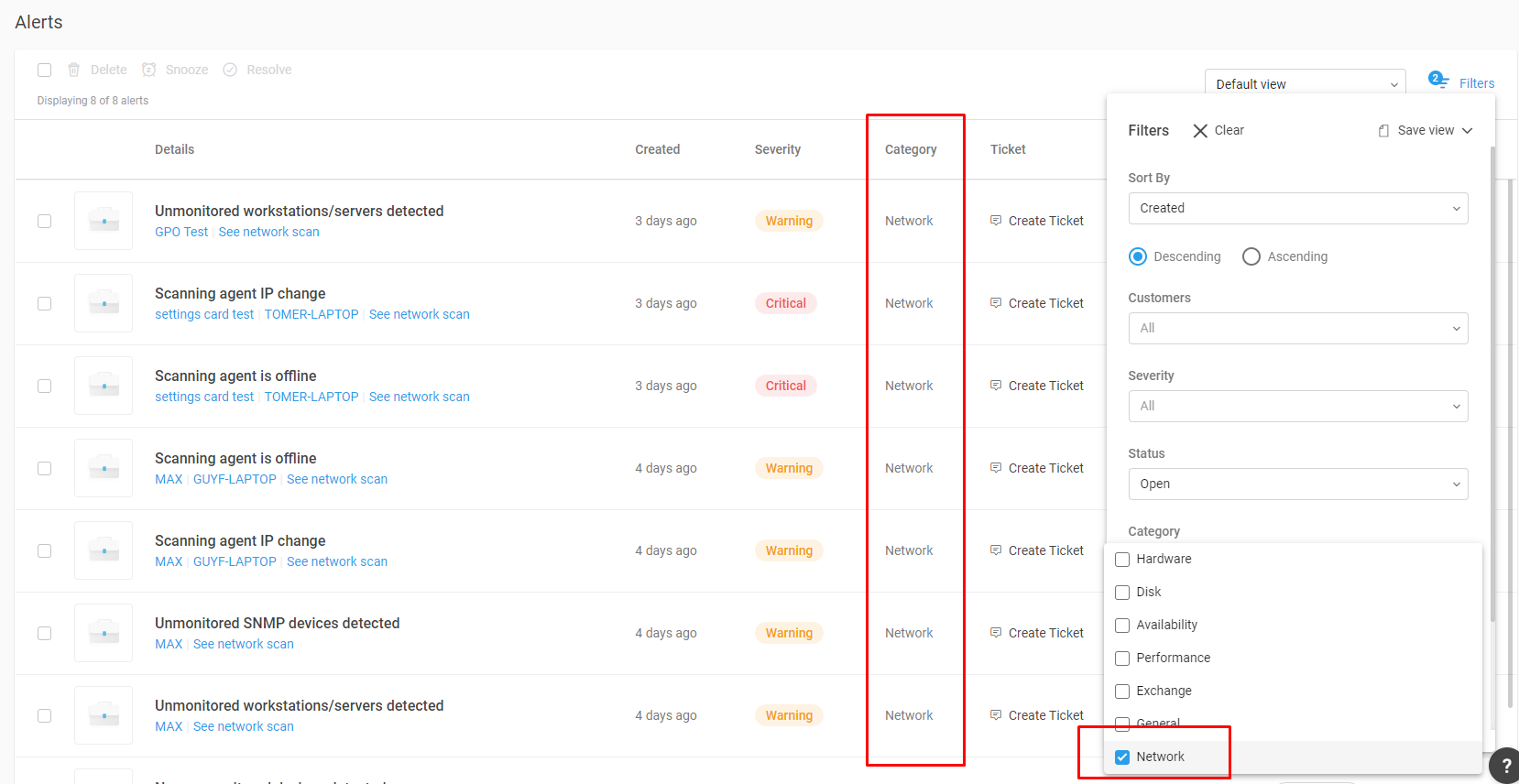 All Network Discovery alerts appear.
Note: Clicking See network scan, under any alert, takes you into the relevant scan.