Introducing our seamless integration with Keeper, a versatile password management and security suite tailored to fit businesses of all sizes. Experience robust protection, encrypted vaults, and advanced features to keep your organization's sensitive data secure and easily accessible.
For pricing information, see Atera Subscription Information
Keeper MSP: Essential Base License for MSPs and IT departments
Overview:
Keeper MSP is the fundamental license tailored specifically for MSPs and IT departments. It encompasses all the features included within Keeper Business and serves as your internal license reserved only for users within your organization. You may choose to activate additional add-ons (listed below) to augment your internal foundational license. Keeper MSP also serves as your main admin console for managing your customers or sites. Additionally, you can optionally activate Keeper licenses and add-ons for your managed customers or sites.
Note:
The base Keeper MSP license is automatically activated after your trial ends.
Purchasing this base license is a prerequisite for MSPs intending to offer Keeper solutions and add-ons to their customer base.
Even though the product name is "Keeper MSP," it remains the recommended base license option for IT departments looking to manage multiple sites or ensure robust cybersecurity measures.
Customer licensing options
Once the Keeper MSP base license is acquired, you can then purchase and manage the following Keeper licenses for your clients through your admin console.
Keeper Business
Keeper Business offers top-notch password protection, sharing, and an encrypted vault for every user. You can access your data from unlimited devices with an easy-to-use folder system. This service includes a policy engine, security audit, activity reporting, and team management to help you maintain control. Plus, you'll benefit from basic two-factor authentication methods and 100 GB of storage, making sure your information stays safe and secure.
Keeper Business Plus
Keeper Business Plus provides excellent protection for small-to-medium-sized businesses with its top-rated password manager. Alongside Keeper Business' features, this plan offers BreachWatch (dark web monitoring), an advanced reporting and alerts module, and 1 TB of storage to meet your growing needs.
Keeper Enterprise
Keeper Enterprise delivers a comprehensive password management solution for businesses seeking advanced features and integration. This platform includes an encrypted vault, folder organization, and unlimited device access. You'll also get policy enforcement, security audits, activity reporting, and team management. It supports basic and advanced two-factor authentication, Single Sign-On, automated team management, and Active Directory or LDAP sync. With SCIM, Azure AD provisioning, email auto-provisioning, command line provisioning, and developer APIs, Keeper Enterprise is a robust choice. Plus, you'll have 100 GB of storage for your peace of mind.
Keeper Enterprise Plus
Keeper Enterprise Plus offers an all-inclusive password management experience. In addition to the comprehensive tools in Keeper Enterprise, this plan includes BreachWatch (dark web monitoring), an advanced reporting and alerts module, and 1 TB of storage to accommodate your organization's needs.
Additional add-ons
These add-ons can be activated on both your foundational Keeper MSP license and any client-specific licenses you manage.
Keeper Secrets Manager
Keeper Secrets Manager is a fully managed, zero-knowledge, cloud-based platform designed to secure your infrastructure secrets. This includes API keys, database passwords, access keys, certificates, and any confidential data.
Keeper Connection Manager
Keeper Connection Manager is an agentless remote desktop gateway that can be seamlessly installed in any on-premises or cloud environment. It provides a flexible and secure solution for managing remote desktop connections across your organization.
BreachWatch
BreachWatch is a powerful dark web monitoring tool that continuously scans your employees' Keeper Vaults to detect exposed passwords. By actively identifying compromised credentials, BreachWatch helps you maintain your organization's security and safeguard sensitive information.
Advanced Reporting and Alerts
Advanced Reporting and Alerts supports compliance audits and monitors over 80 different password-related events. With customized reports, real-time notifications, and integration into third-party Security Information and Event Management (SIEM) systems, you can efficiently manage your organization's security and guarantee adherence to regulatory requirements.
Keeper Compliance Reports
Keeper Compliance Reports enables you to oversee and report access permissions for privileged accounts throughout the organization. This feature provides proper management and control, helping maintain security and compliance across your entire business.
Secure File Storage (1 TB and 10 TB)
Keeper's Secure File Storage offers end-to-end encryption and zero-knowledge security for your private files. Effortlessly upload and store any type of file, photo, or video, and access them across all your devices, making sure your data remains protected and organized in your Keeper Vault.
KeeperChat
KeeperChat is an ultra-secure, enterprise-grade messaging solution designed to mitigate the risks associated with data leakage and unencrypted communications.
Keeper Dedicated Service and Support
Keeper's Dedicated Service and Support add-on offers training, ongoing support, as well as product configuration and implementation for complex IT environments.
Activate Keeper
Note: Full admin permissions are required to activate Keeper.
1. From App Center (on the sidebar), select Keeper. The Keeper page appears.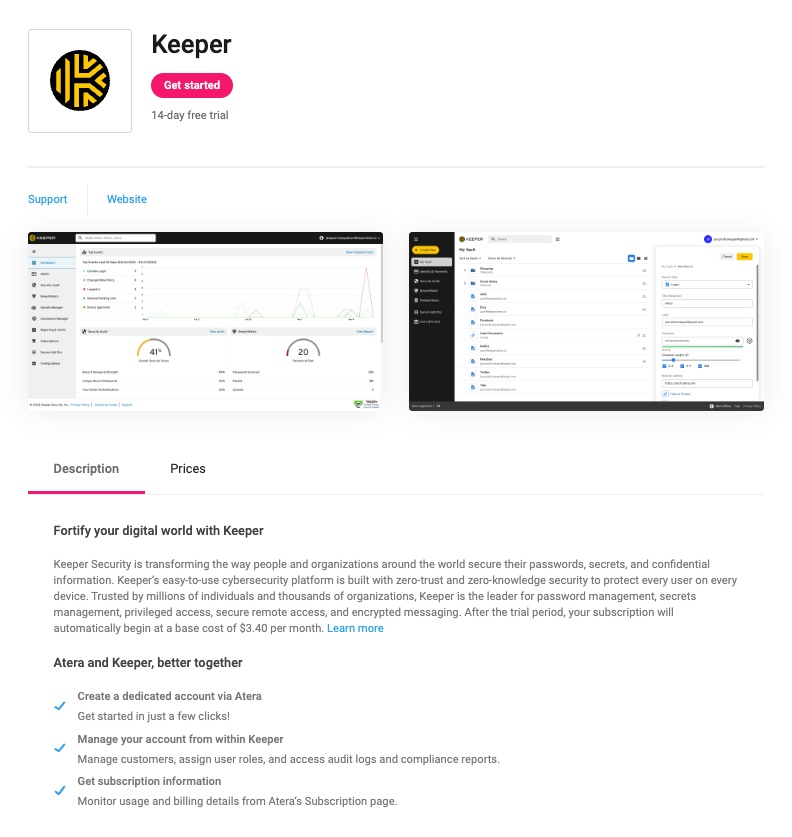 2. Click Get started. The Activate Keeper window appears.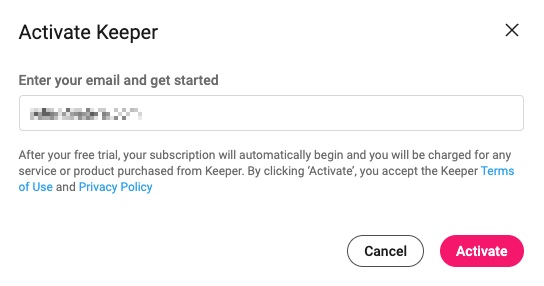 3. Enter your email. Then click Activate. You'll receive an activation email from Keeper.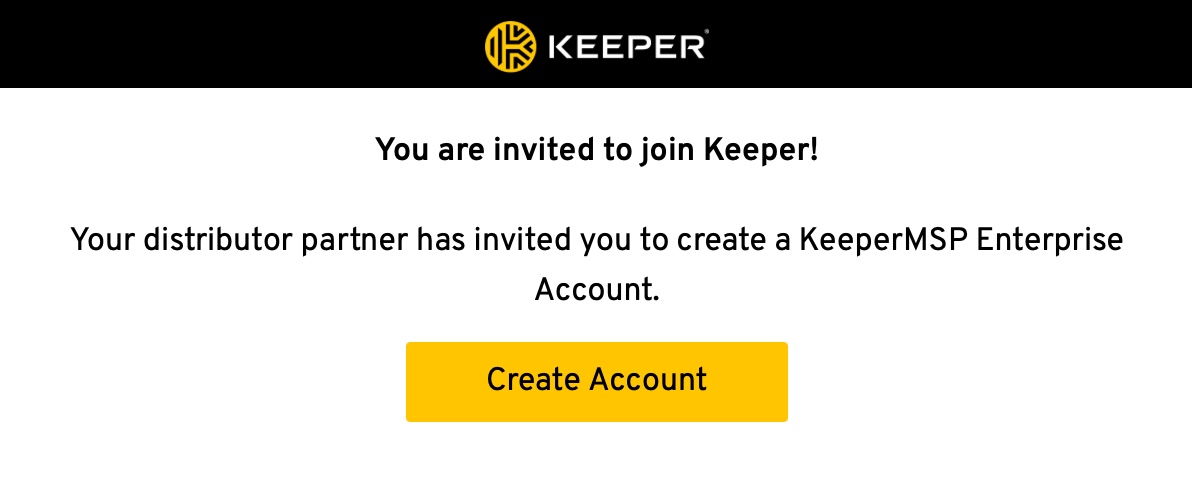 4. Open the email and click Create Account. You are redirected to Keeper Security.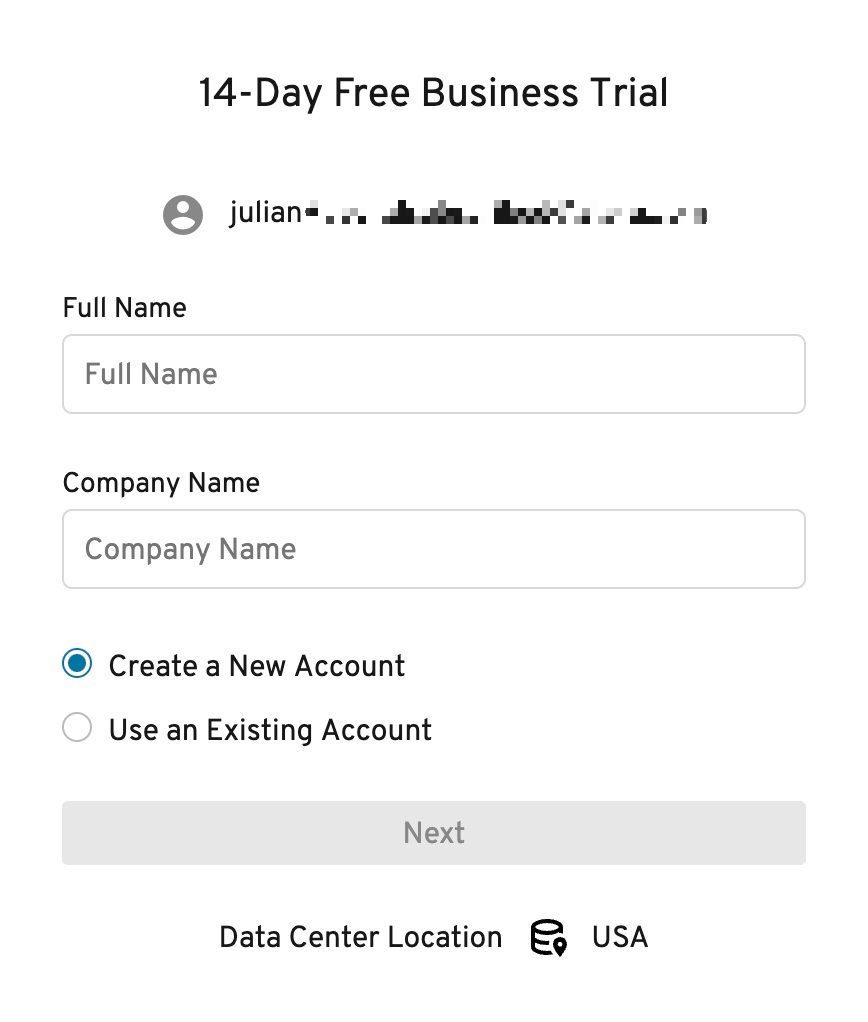 5. Enter your full name and company name. Then click Next.
6. Create and confirm your master password.
7. Accept Keeper's terms of use. Then click Next. You'll receive a verification code via email.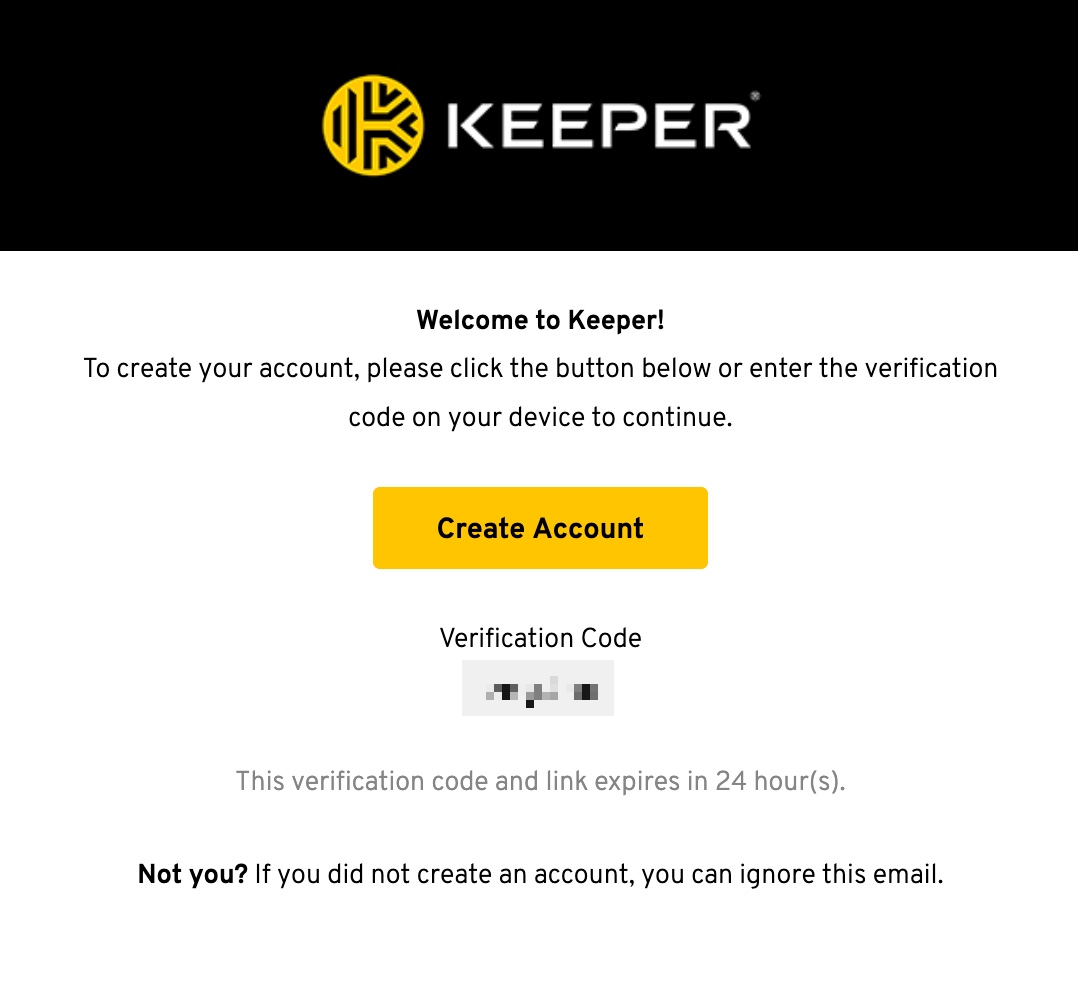 8. Open the email and copy the verification code. Then click Create Account.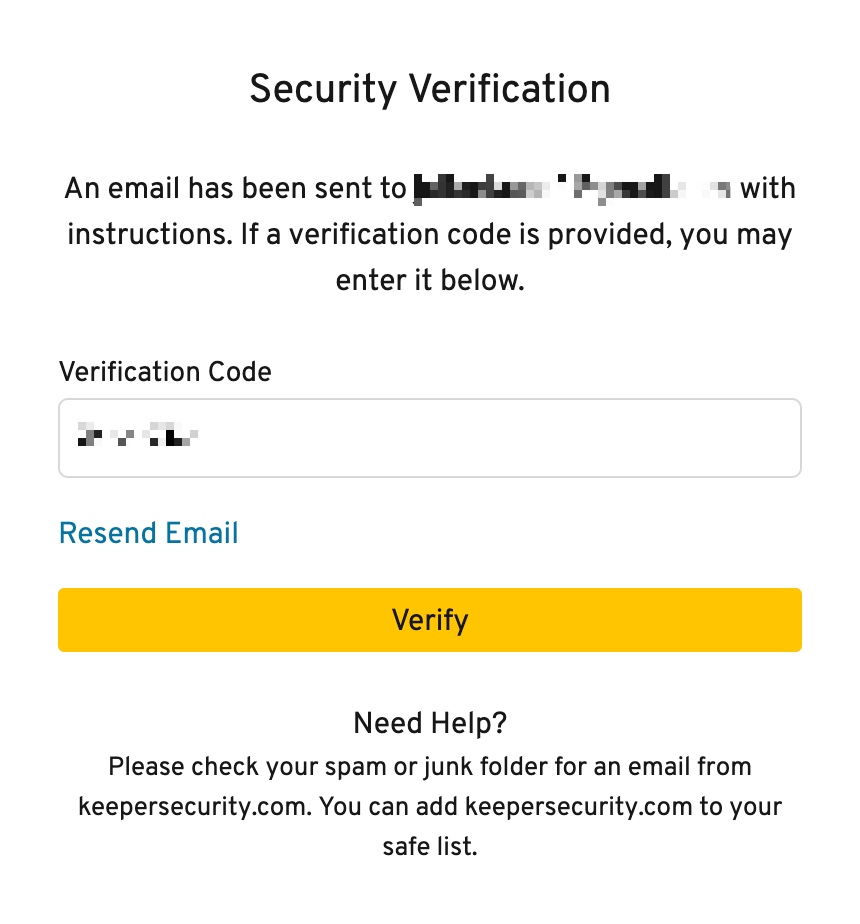 9. Enter the verification number in Keeper. Then click Verify.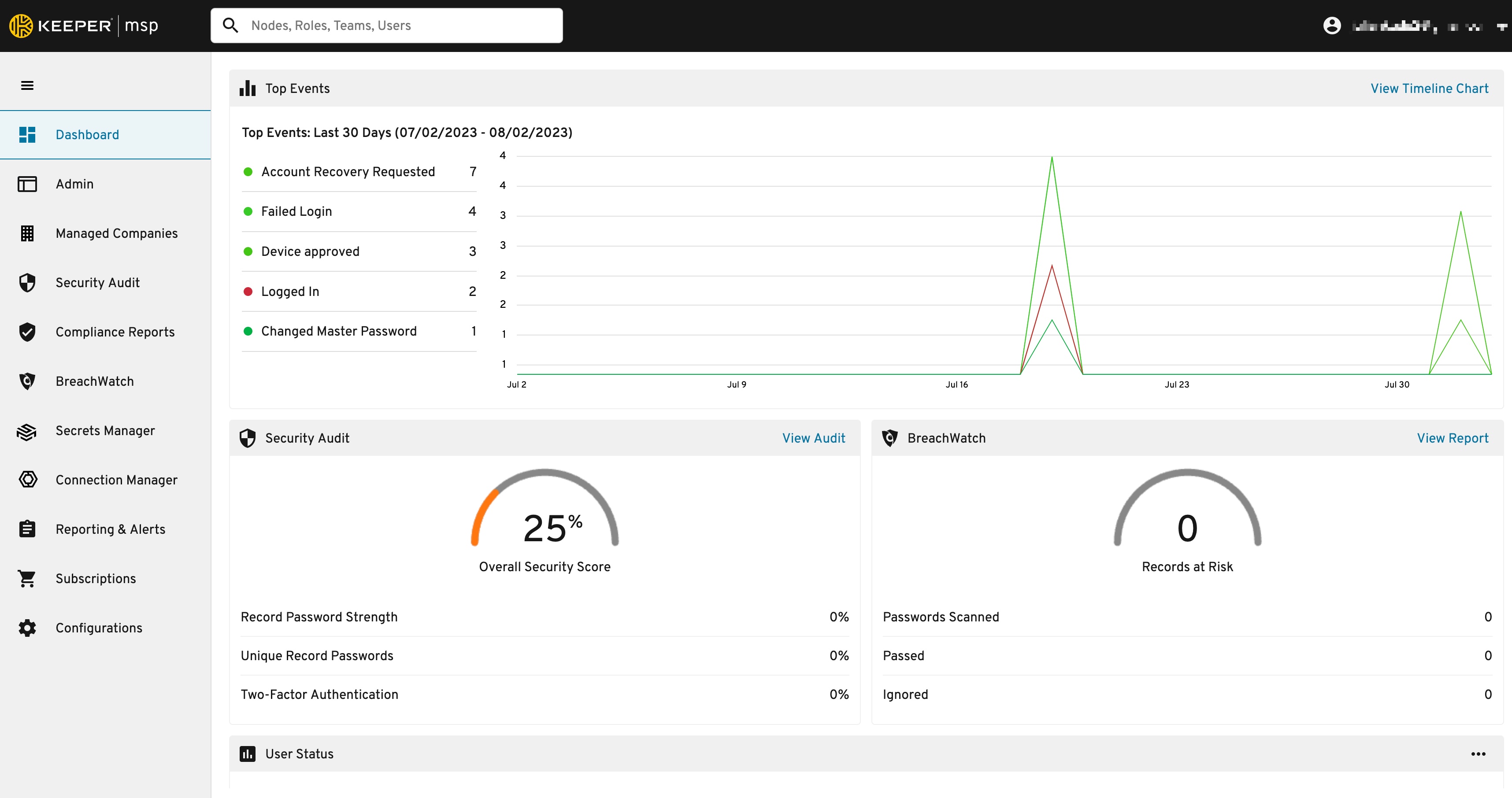 Aaaand you're in... welcome to Keeper!
For more information on getting started, see this Keeper article