Atera and OpenAI bring you AI-generated OID recommendations so you can eliminate guesswork and streamline SNMP device monitoring. For more information on OID monitoring, see Add OIDs for SNMP Device Monitoring
Generate OIDs
We'll generate a list of up to 10 OIDs and thresholds to monitor. Each recommendation will include the OID number and OID description (values will be auto-populated from the device once added). If specifics for the model prove elusive, we'll provide general OID recommendations for the device type. For any manually added OIDs, suggested threshold settings may be generated.
To generate AI-recommended OIDs:
1. From Devices, select the SNMP device.
The SNMP Device page appears.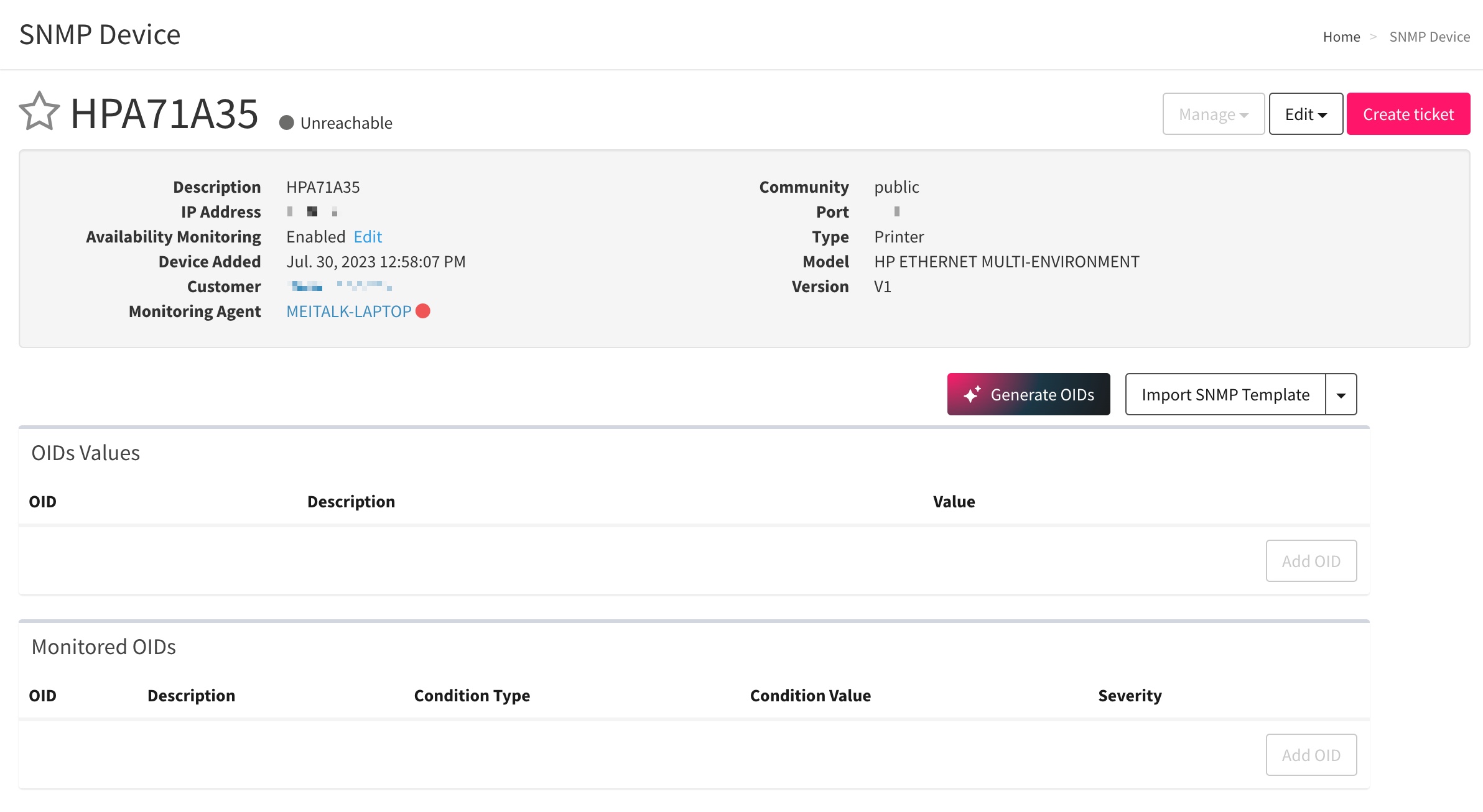 2. Click Generate OIDs.
The AI-generated OID recommendations window appears.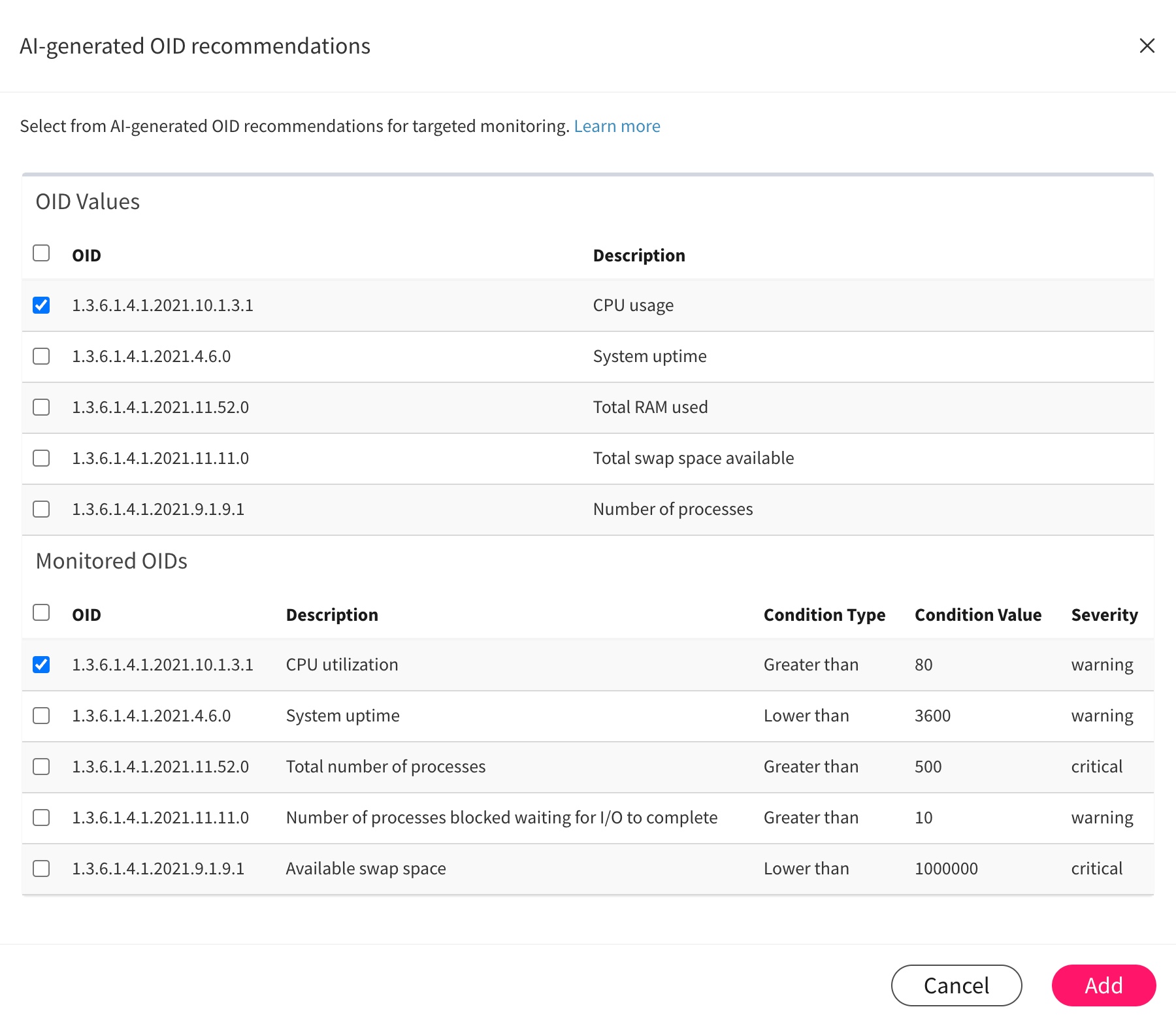 3. Select the OID values that you want to view on the device page.
4. Select the OIDs you want to monitor with the recommended thresholds.
5. Click Add.
The OIDs appear in the device console and the values should appear shortly. SNMP alerts will appear when your specified thresholds are met. If you don't want to receive these alerts, you can delete the OIDs from the device console. You can also manually add any OID or threshold.
Edit OIDs
You can edit the OID description of generated OIDs.
1. Click the edit icon (

) next to the OID you want to remove.
The Edit OID window appears.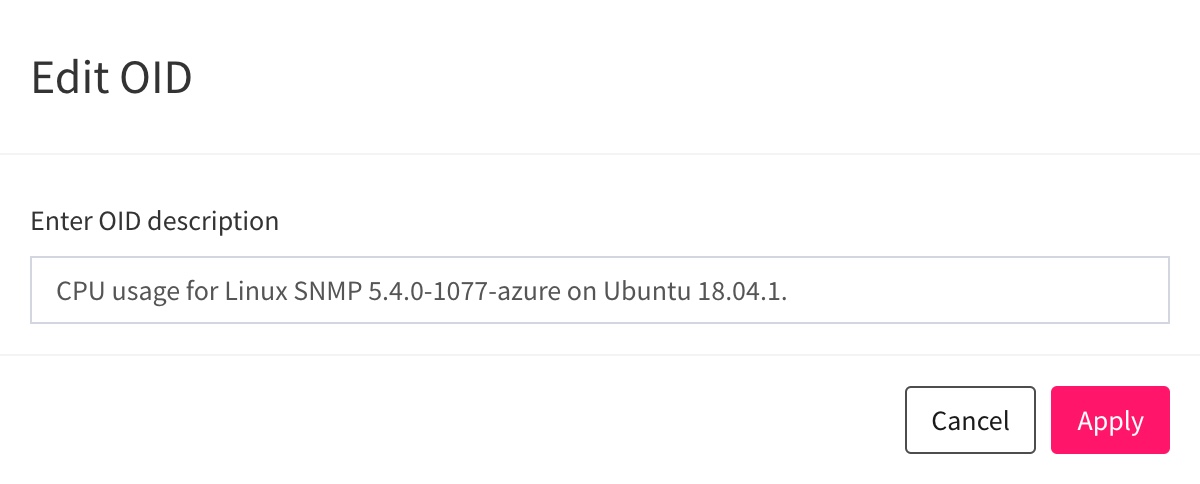 2. Enter the OID description. Then click Apply.
Delete OIDs
You can remove OID values and thresholds, ensuring your focus remains on the essentials.
1. Click the delete icon (

) next to the OID you want to remove.

The Delete OID value confirmation window appears.

2. Click Yes to confirm.
The OID is removed and will no longer generate alerts for the device.