Here at Atera we believe in focusing on our customers' needs and issues. Atera offers you a wide range of support options to help you resolve any issues that might come up.
Contact us through the UI
Access the following by clicking the question mark on the bottom right of the UI. 


Live Chat!  You will be connected with an Atera expert who can give you real time live support on any issue! Note that this service is only offered Monday to Friday (4am - 9pm EST). If you don't see the icon, that means that it's out of hours.

Getting Started!  You will be directed to the Getting Started Wizard with videos and articles to help you get set up.

Atera Support! Enter a search term in the Help field to see articles and videos on the topic you are searching for. Atera offers a Support portal with a large number of articles, How Tos and FAQs to help you navigate and commandeer Atera for your needs. You can also access Atera Support from the top right of the screen, in the drop down list under your User name.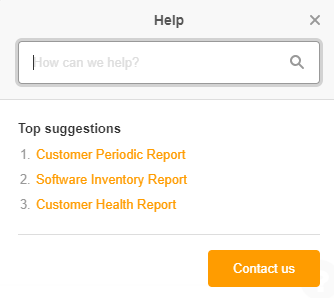 Contact Us! Click on the Contact Us icon in the Atera Support dialog box to submit an issue and one of our Support team will get back to you by email.

Schedule a Webinar! Click on this icon to sign up to a Webinar given twice daily by the VP of MSP Customer Success.  The webinars include tutorial videos introducing you to the system plus an open ended Q&A session.
NOTE: You can always contact us directly at  Support@Atera.com. Please note that in order to keep our prices low and competitive, Atera does not provide phone support at this time.