This article will show you how to create a new, hourly type contract in Atera. This contract can be used when you want to charge the customer for work-hours based on a specific hourly rate (a standard break/fix model).
Required fields:
Contract Type
Primary Rate
To create an Hourly Contract, follow the steps below:
1. From the left-hand panel click Customers.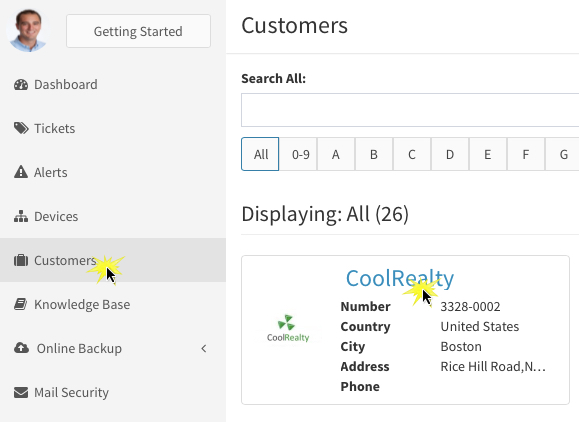 2. Then select the required customer. The Customer page appears.

3. Click Create Contract.
The Add Contract Page appears.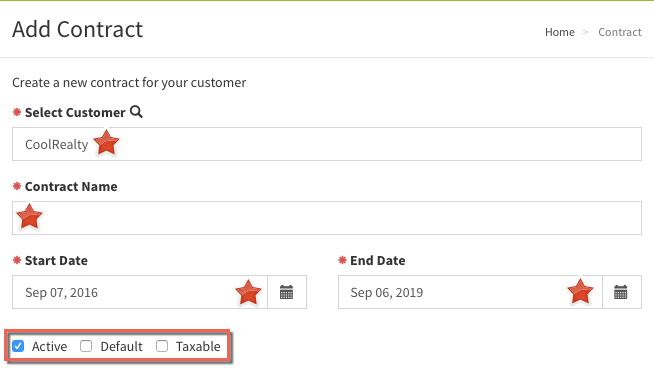 4. Enter the contract header details:
Select Customer (only if changed from previously selected customer required)
Enter Contract Name
Select Start Date

Select

End Date

Note:

Atera will automatically calculate Today's date + 3 years ahead.
The purpose of the End Date is to limit the date up until which we can bill the customer. After the End Date you will not see tickets that are ready to bill on in the batch.
Optional to check:
Active (This must be selected to enable the contract)
Set this contract to Default contract (Select if you wish this contract to be the default contract type for this customer)

Note: Every new ticket that was NOT created manually by a Technician will be assigned to this contract automatically.

Set this contract as Taxable (Select if you need tax to automatically be added to the contract)
5. Select the Contract Type Hourly.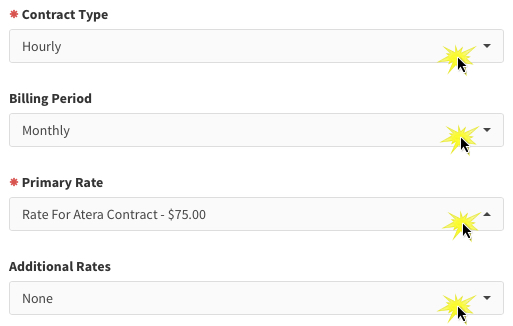 6. Select the Billing Period.
Note: For ad-hoc billing, select the On Demand option (only available for Hourly type contracts).
This contract option allows you to bill on demand, so the customer can be charged ad-hoc for hours used.
For example, a customer may use two hours in a given week and request to be billed immediately.
Contract start and end dates are still valid when using On Demand contracts.
7. Select the Primary Rate.
Note: All the work time captured is automatically allocated to the primary rate. This time designation can be edited within the ticket using the Work List as required.
8. Select the Additional Rate.
Note: Additional Rates are used to create specific rates within a contract for Off SLA work. Different rates can be based on type of work etc.
Note:

If you have not yet set up the rate type required you can do this now by clicking Add Rate.
8. Select the SLA Plan.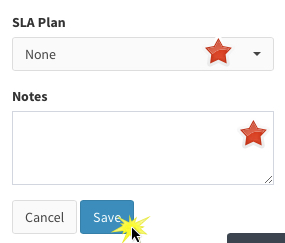 9. Enter any contract Notes as required.
10. Click Save.