SNMP Templates can be applied to all your SNMP devices, for quick and effective monitoring. The Shared SNMP Template Library enables you to share your SNMP templates to benefit the community, and snag some great templates for monitoring your own devices. This article explains how to:
Share to Library
If you have some stellar SNMP templates, you can share them to the Atera community's Shared SNMP Template Library. Sharing is caring!
To share:
1. From Admin, on the side panel, click SNMP Templates.

The SNMP Templates page appears.

2. In the My SNMP Templates tab, locate the template you'd like to share and click Share to Library.

3. Click Share template, in the confirmation message.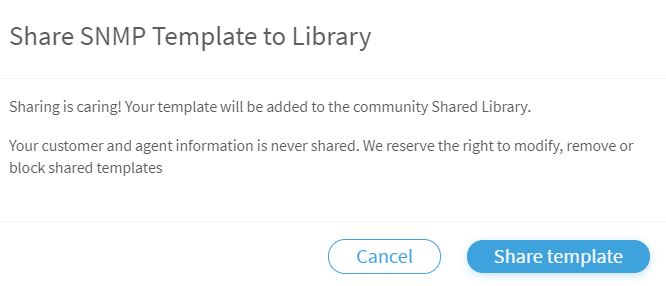 Your template has been shared to the library.
Note: Your customer and agent information is never shared. We reserve the editorial right to modify, remove, or block shared templates.
Use a Library Template
You can find some great templates to monitor your customers' SNMP devices in the Shared SNMP Template Library.
To use a library template:
1. From Admin, on the side panel, click SNMP Templates.

The SNMP Templates page appears.

2. In the Shared SNMP Template Library tab, locate the required template and click Clone.
The template is cloned and added to your personal SNMP template collection (My SNMP Templates), where it can be viewed, modified (optional), and applied to your devices
For additional video tutorials, see:
Upvote a Shared Template
You can let others know a template has been helpful by giving it a thumbs up.
To upvote a template:
Click the 'thumbs up' icon (in the Votes column), next to the specific template.

Or you can click a template to open it, then click the

icon (under Was this template useful?) to like it.
Your input is added to the vote tally. Templates are sortable by the 'Votes' column, as well as the other columns, which includes SNMP Template Name, Description, Type, Tags, Author, Clones (# of times the script was cloned) and Upload date.