Acronis Cyber Cloud backups deliver additional solutions to meet today's data protection demands, allowing you to automate backups to any cloud or on-premise destination from any installation point.
Protect yourself against data loss by setting up your Acronis backup solution with a cloud or on-premise destination.
This article describes adding and configuring an external storage location to Acronis.
Note: Acronis Local Backup is required to add an external storage location. Check the Acronis Prices section to learn more.
How to add an external storage location to Acronis:
1. From Add-ons > Acronis (on the sidebar), click Manage account.

The Acronis login page appears.
2. Sign into your Acronis account.
3. Click Settings > Locations > Add backup storage.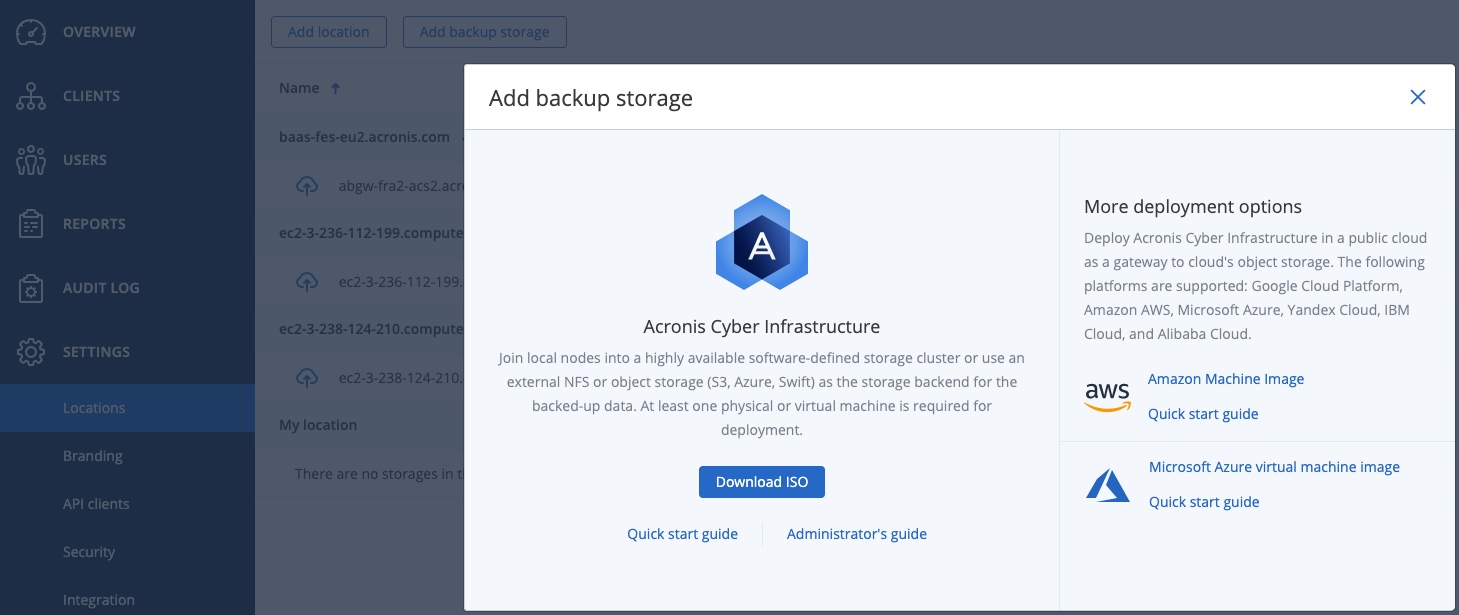 Note: if the Add backup storage button is not visible, contact Atera Support to grant third-party storage permissions to your account.
4. Next, you need to install Acronis Cyber Infrastructure as a gateway to a cloud's object storage.
You have two options:
Set up Acronis Cyber Infrastructure with public cloud (Amazon AWS, Microsoft Azure, etc)

Click Download ISO if you'd like to set up Acronis Cyber Infrastructure on your own server.
During the setup, when configuring Connecting to public cloud storage via Backup Gateway on the Acronis Gateway guide, choose a backup destination from the list of providers (choose between NFS and cloud storage, e.g., Wasabi).
Note: Cloud storage is set up and billed directly with the provider, and is separate from your Atera account.
5. Once complete, go to Acronis Cyber Cloud and refresh the page. Under Settings > Locations, you should now see the cloud backup.

Note: You can use the new storage location for new customers only — you cannot move existing customers to this new location. For more information, see How to move an account to another group
For billing-related issues, please contact Acronis