Even the best antivirus available cannot guarantee against zero-day attacks, impersonation attempts, or domain spoofing. Hackers and scammers know how to take advantage of your IT weaknesses as well as manipulate your emotions. To respond appropriately, threats involving both people and machines require solutions utilizing both as well.
That's why Atera has partnered with Ironscales to bring you Email Protect™ — fast to deploy, easy to use, and the best protection against phishing threats!
Note:
There is a 30-day, free trial available.
Existing Ironscales accounts cannot be migrated to Atera.
Your customers' admin permissions are required to integrate with mail servers.
For billing information, see Atera Subscription Information
This article describes:
Ironscales Email Protect™
Email Protect™ is designed to quickly detect phishing emails that slip through traditional defenses, combining anti-phishing technologies with Security Awareness Training (SAT) into a single, seamless solution.
Pricing: $4 per mailbox per month
For more information, see Ironscales Email Protect
How Ironscales Email Protect™ Works
Advanced Malware / URL Protection
The first layer of protection. Unlike traditional Secure Email Gateway (SEG) solutions, which use their own solution, Ironscales integrates with 5 technologies (more on this below!) and over 60 malware protection engines to provide a single dashboard that continuously monitors links and attachments for instant detection, analysis, and remediation of known attacks.
For more information, see Real-Time Malware & URL Protection
But what about those near-impossible to detect, unknown threats? Ironscales has several security layers to address this...
Mailbox-Level Anomaly Detection
Ironscales creates a profile for each employee in the organization — learning who's who in the zoo, so to speak. Knowing who each employee interacts with, their contacts, global address books, etc., enables Ironscales to warn you if something seems fishy.
As an example, let's pretend your client previously received emails from Jane Doe, whose email is jane@ironscales.com. However, today they received an email from jane@lronscales.com. Classic impersonation attempt; replacing the 'i' with an 'l'. Can you confidently claim to be immune to such trickery and deception? Probably not. And that's ok. In such cases, Ironscales immediately creates an incident for the problem and removes it automatically from all mailboxes (not just the individual concerned; but across the organization). Gone is your uncertainty and guesswork!
For more information, see Business Email Compromise (BEC) Protection
AI-Powered Incident Response
Ironscales detects — as well as allows employees to report — suspicious emails. Once detected/reported, you'll receive immediate notification on this incident so you can respond as quickly as possible. After this, Ironscales automatically sorts the incident by threat severity and examines the suspicious email. If the examined email, link, or attachment is indeed 'naughty', Ironscales will automatically remove the email from ALL affected mailboxes.
For more information, see AI-Powered Incident Response
Virtual Security Operations Center (SOC) Analyst
Say hello to Themis, your Virtual SOC analyst, mimicking the decision-making process of other security analysts and SOCs within the Ironscales global network, as well as providing recommendations based on current, real-world threat intelligence. In short, Themis analyzes and responds to any and all email threats coming in to your clients' organization.
For more information, see Virtual SOC Analyst Themis
Visual Similarity Technology
Credential theft takes place when someone steals login details and uses them to access services or applications they do not have the required permissions to use. Spoofing emails, representing some trusted brand, name, or organization lures the recipient into providing their credentials. Attackers are constantly trying to outmaneuver technical email controls and human suspicion. Visual Similarity Protection is based on pixels, comparing spoofed emails with their legitimate counterparts.
For more information, see Why people struggle to identify fake phishing websites
Decentralized Real-Time Threat Protection
The final mile of protection, drawn from the Ironscales community. If other companies marked an email as a phishing attack, spam, or even a false positive, this information is recorded and presented to you to help you make a decision regarding the incident. In other words, Ironscales utilizes decentralized real-time threat protection so you can better prepare to meet the latest email and phishing attacks.
For more information, see What Anti-Phishing Solutions Can Learn from Wikipedia and Waze
Signing up to Ironscales
Note: Admin permissions are required to sign up for Ironscales.
To sign up for Ironscales:
1. Click App Center > Ironscales.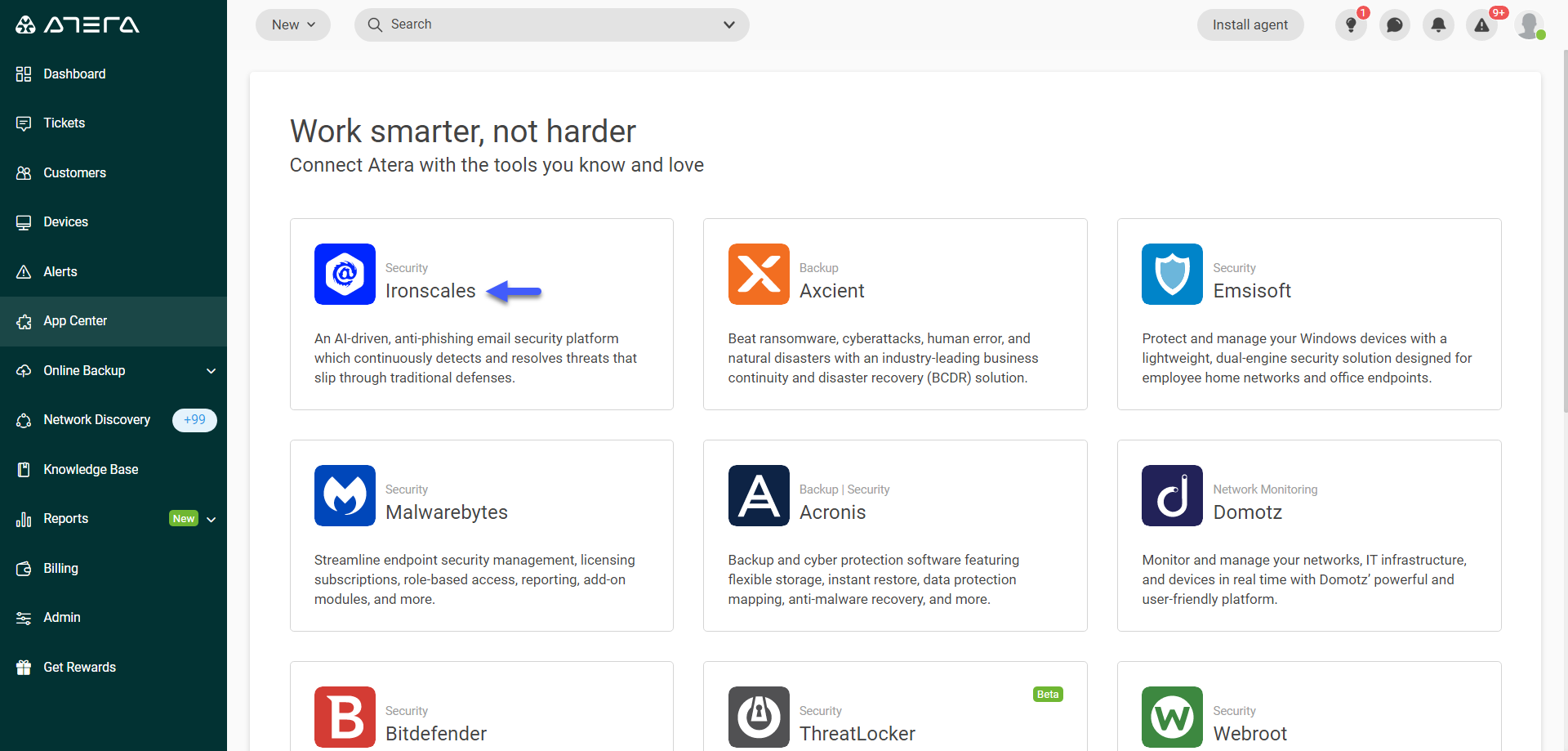 The Ironscales page appears.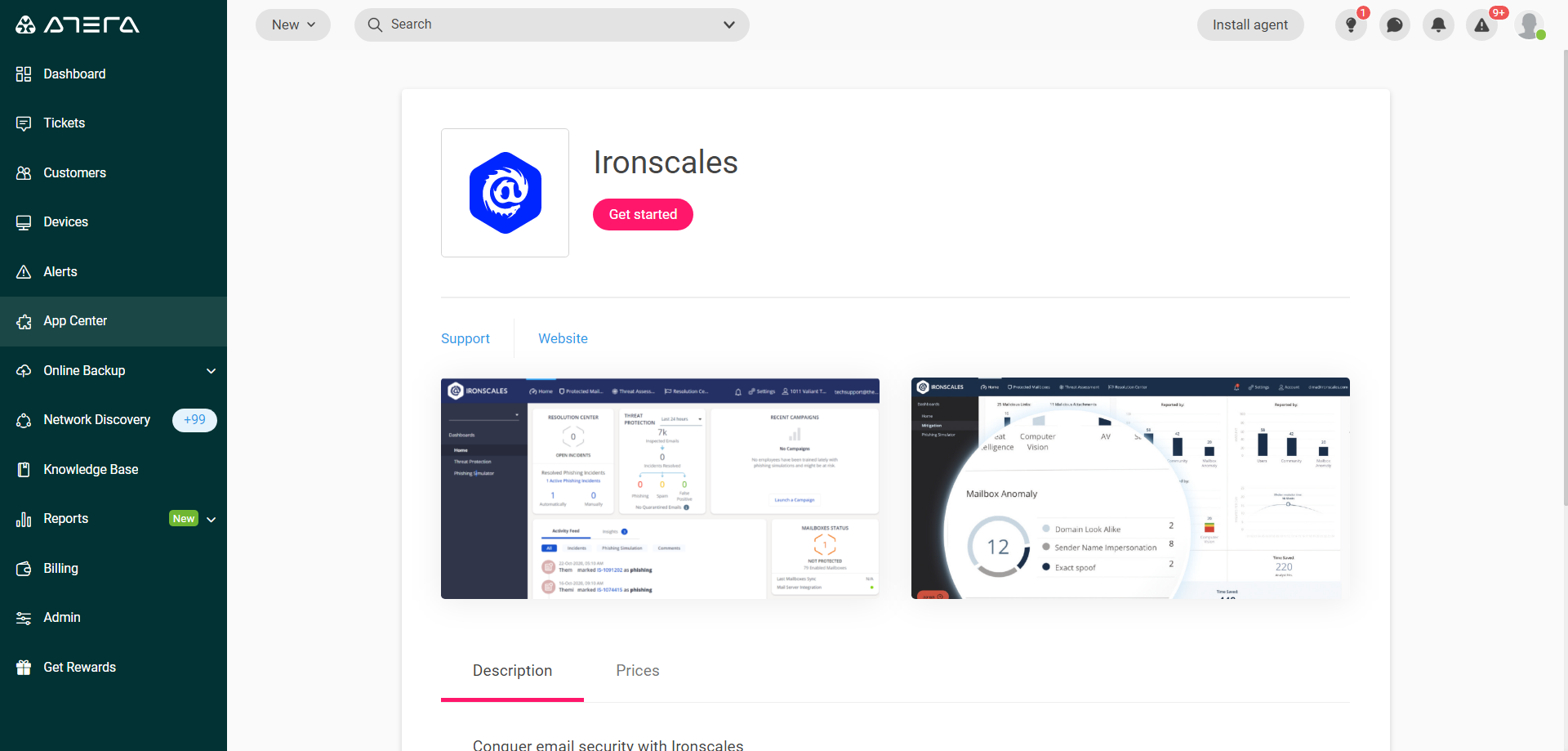 2. Click Get started. The Activate Ironscales window appears.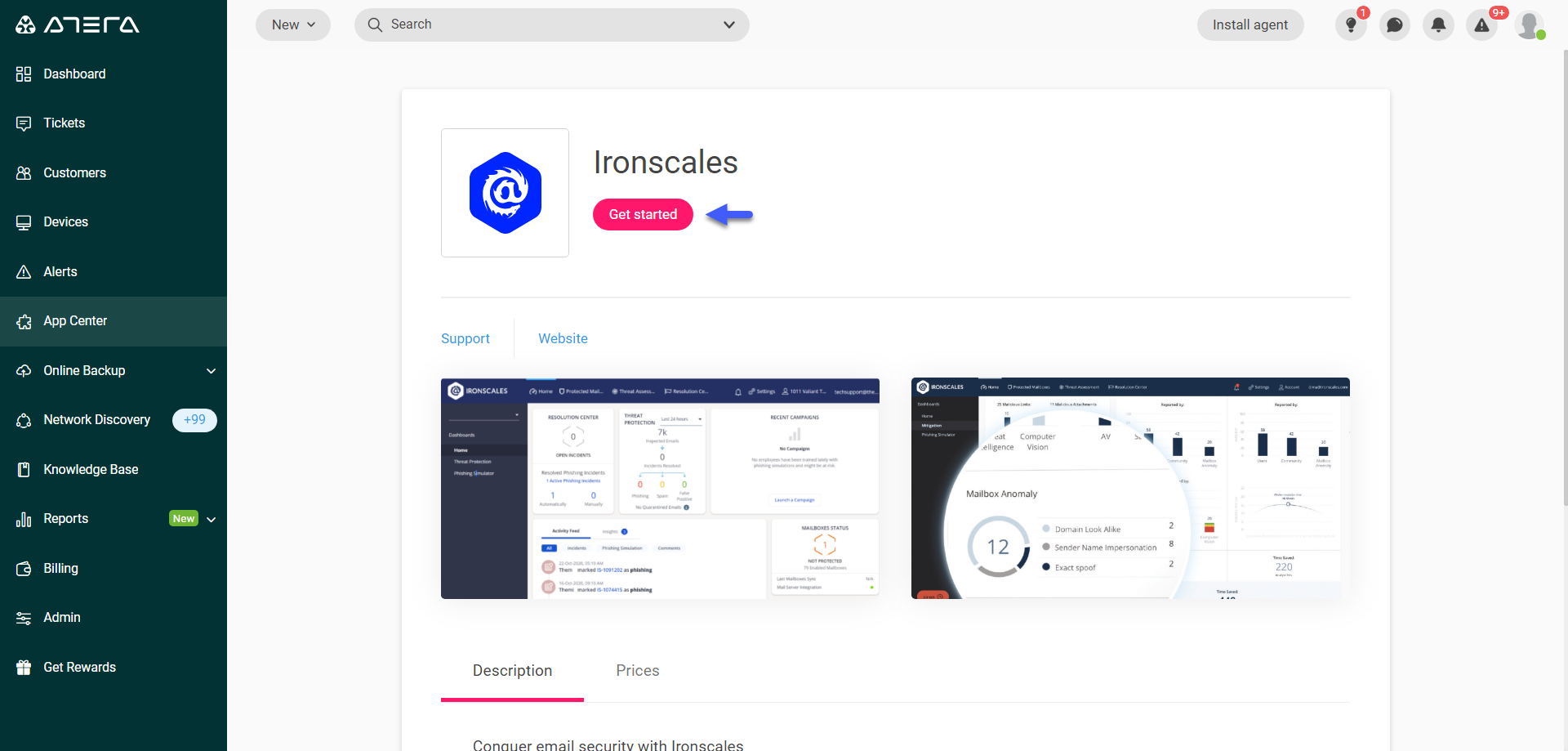 3. Enter your email address. Then click Activate.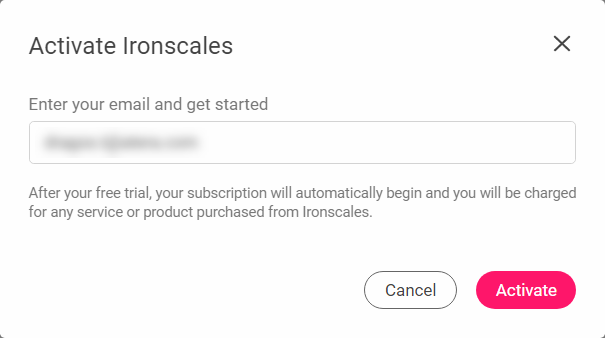 Alright! Please check your email to activate your Ironscales account and start your 30-day, free trial.
Note:
Please allow up to 5min to receive your 'Get Started with Ironscales' email and check your junk/spam folder.
After the trial period ends, your subscription automatically begins.
4. Open your email. Then click Ironscales Dashboard.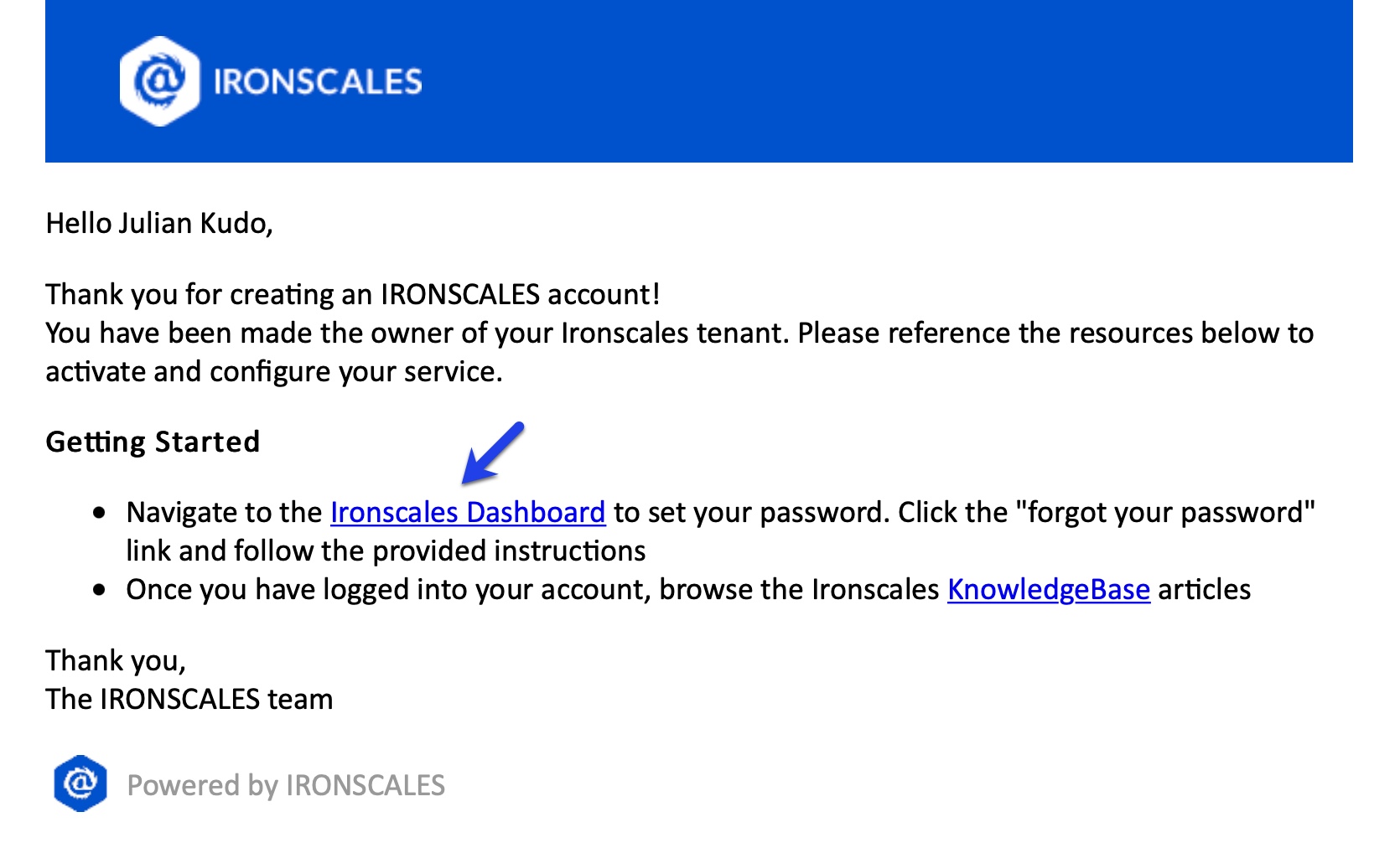 5. Click Forgot Password.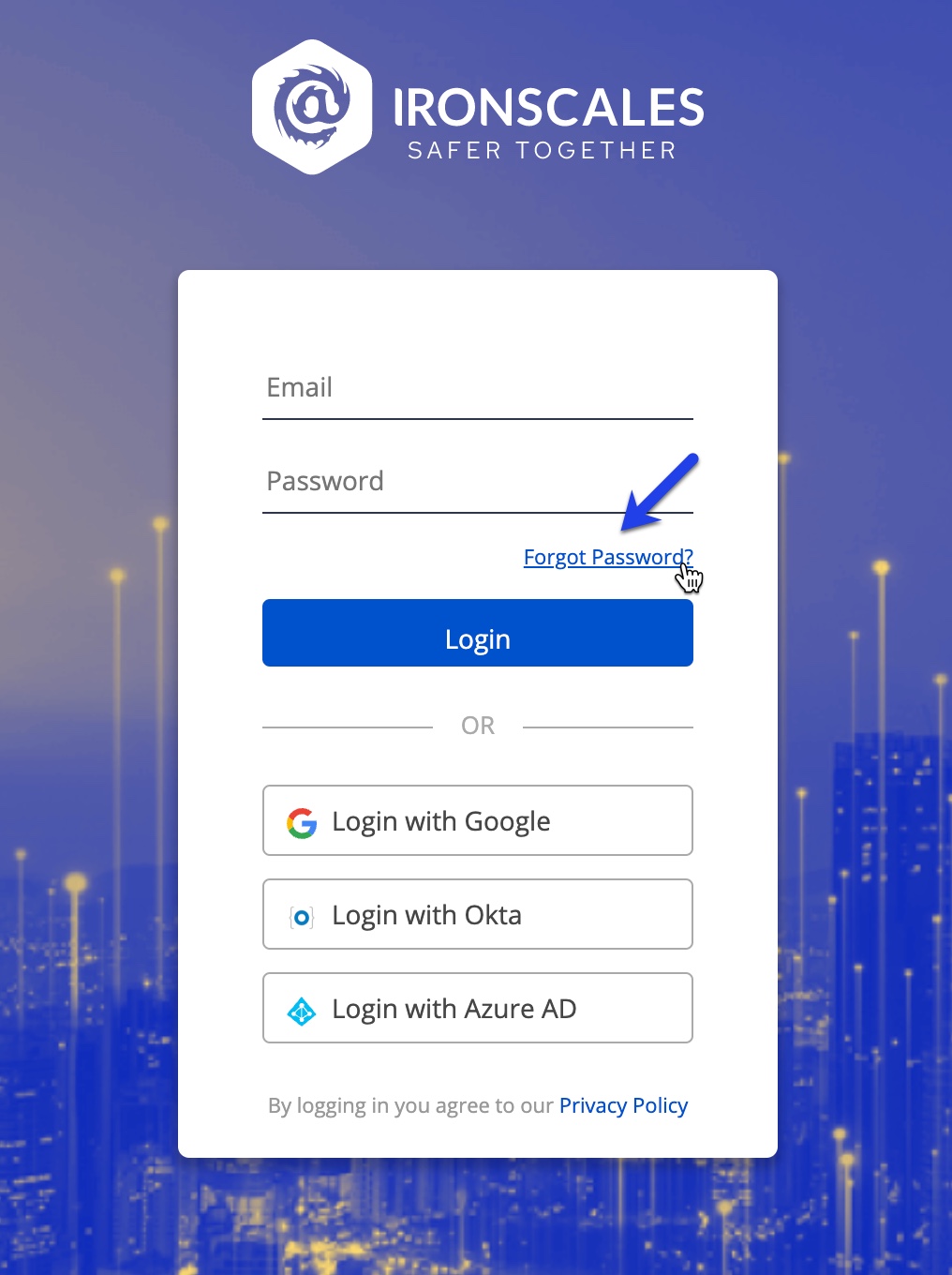 6. Fill in your email and Ironscales will email your secure password reset link.
7. Open your email. Then click Reset password.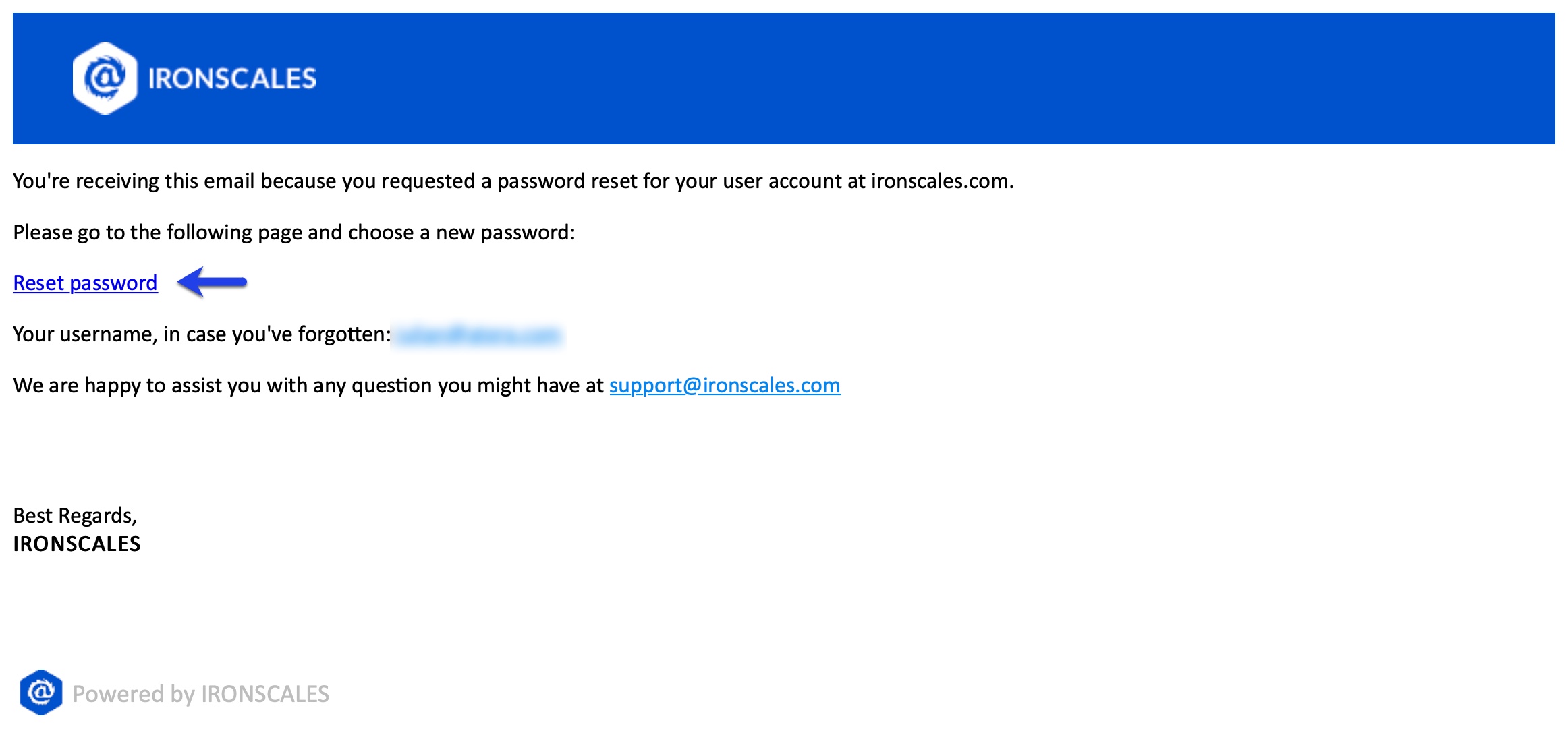 You are redirected to Ironscales.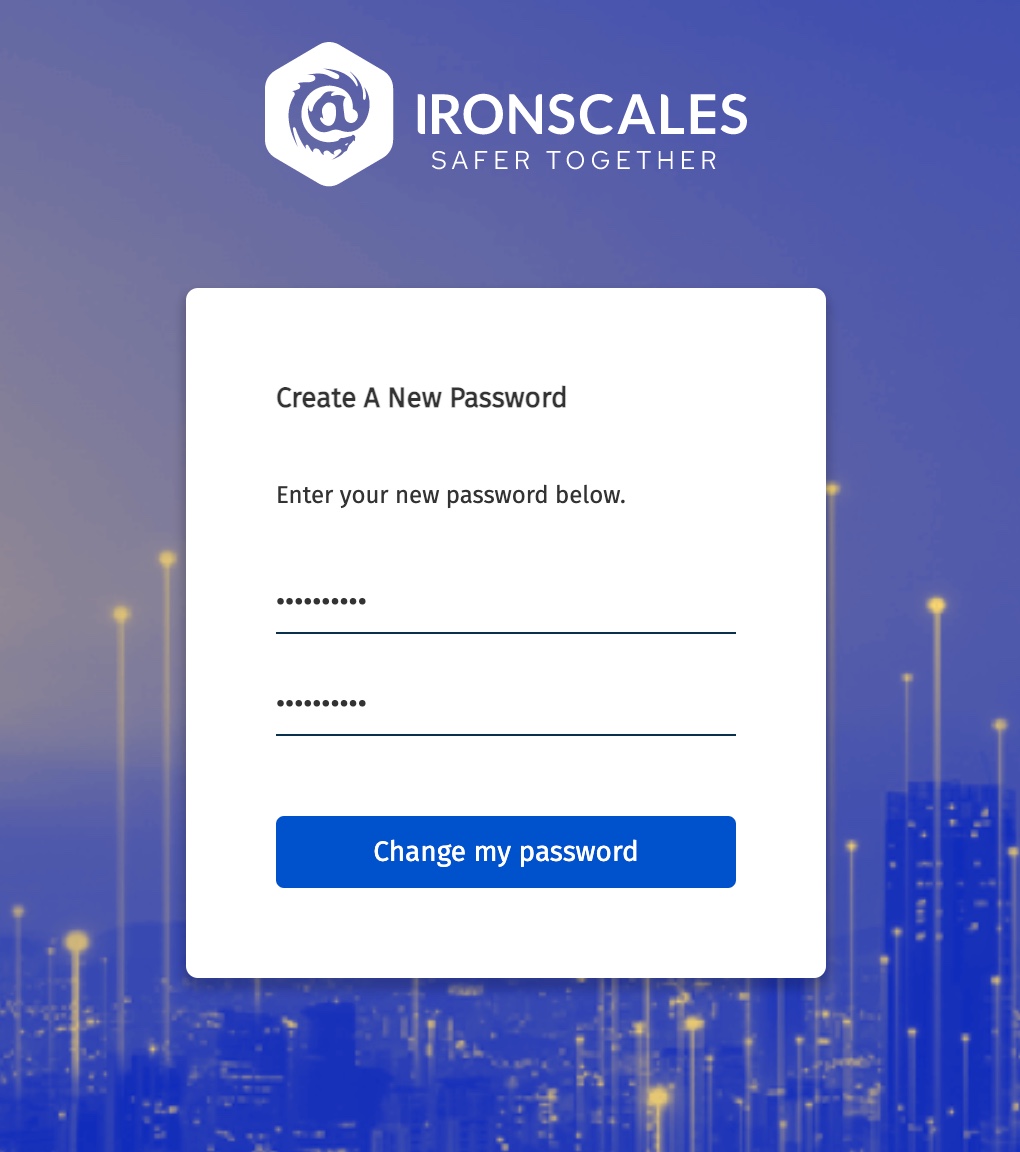 8. Create your password. Then click Change my password.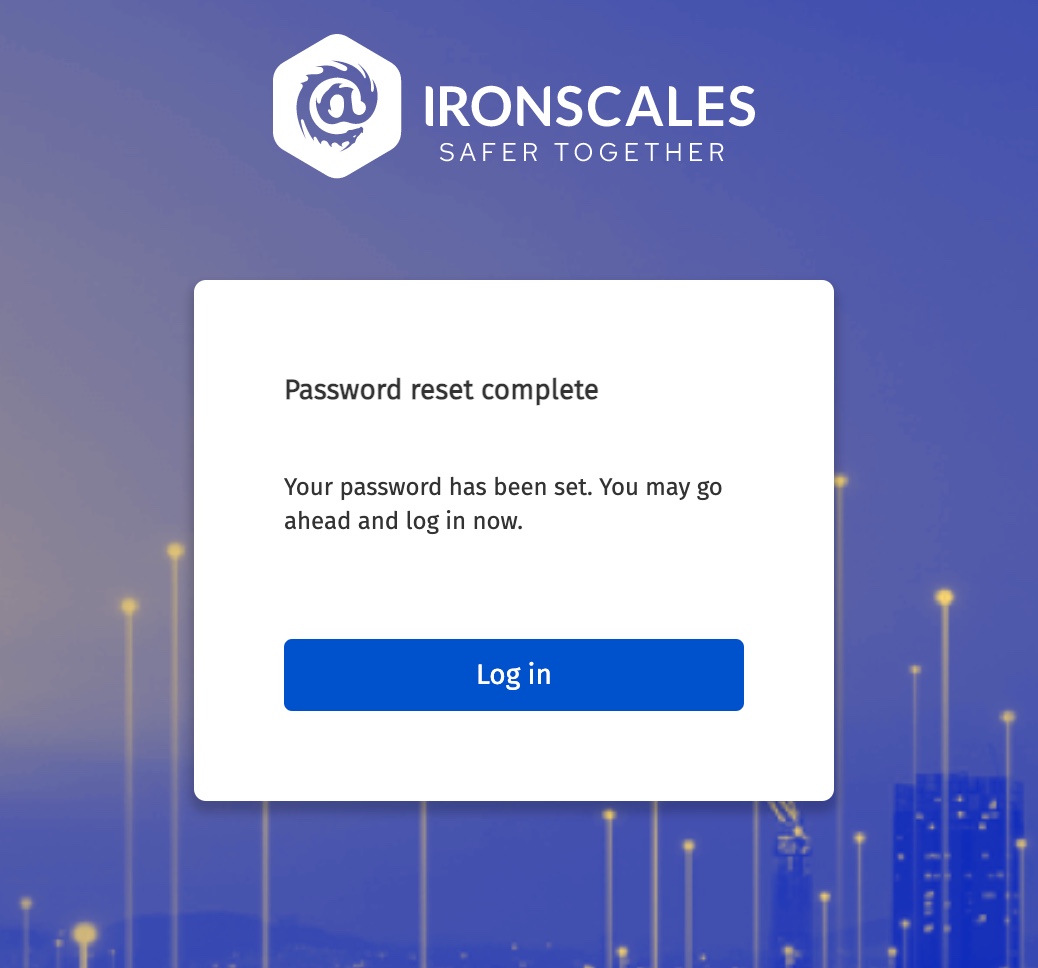 9. Click Log in.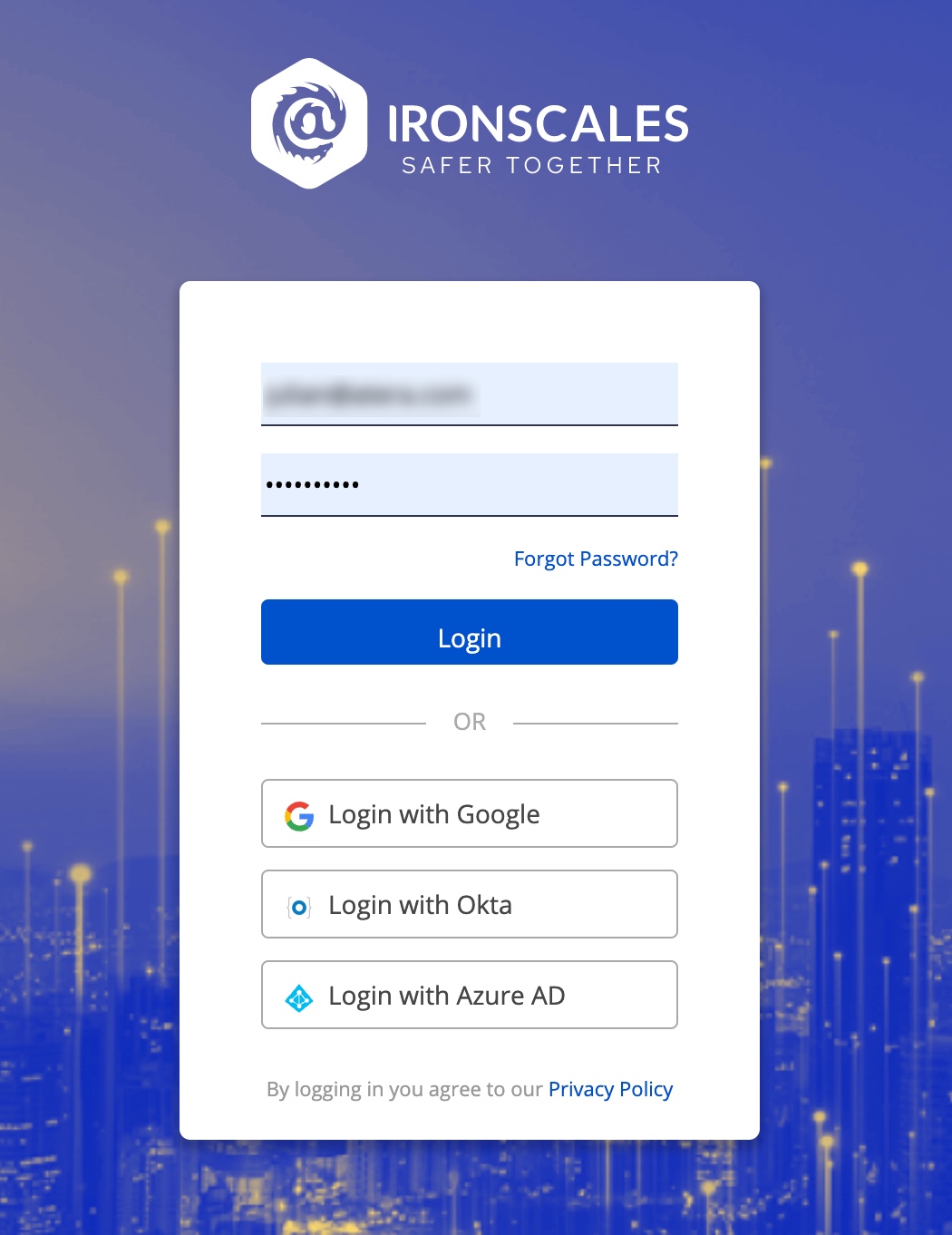 10. Enter your email and password. Then click Login.
Congrats! You've successfully signed up and are redirected to the Ironscales Dashboard.

Managing Ironscales
To manage your Ironscales account:
1. Click App Center > Ironscales.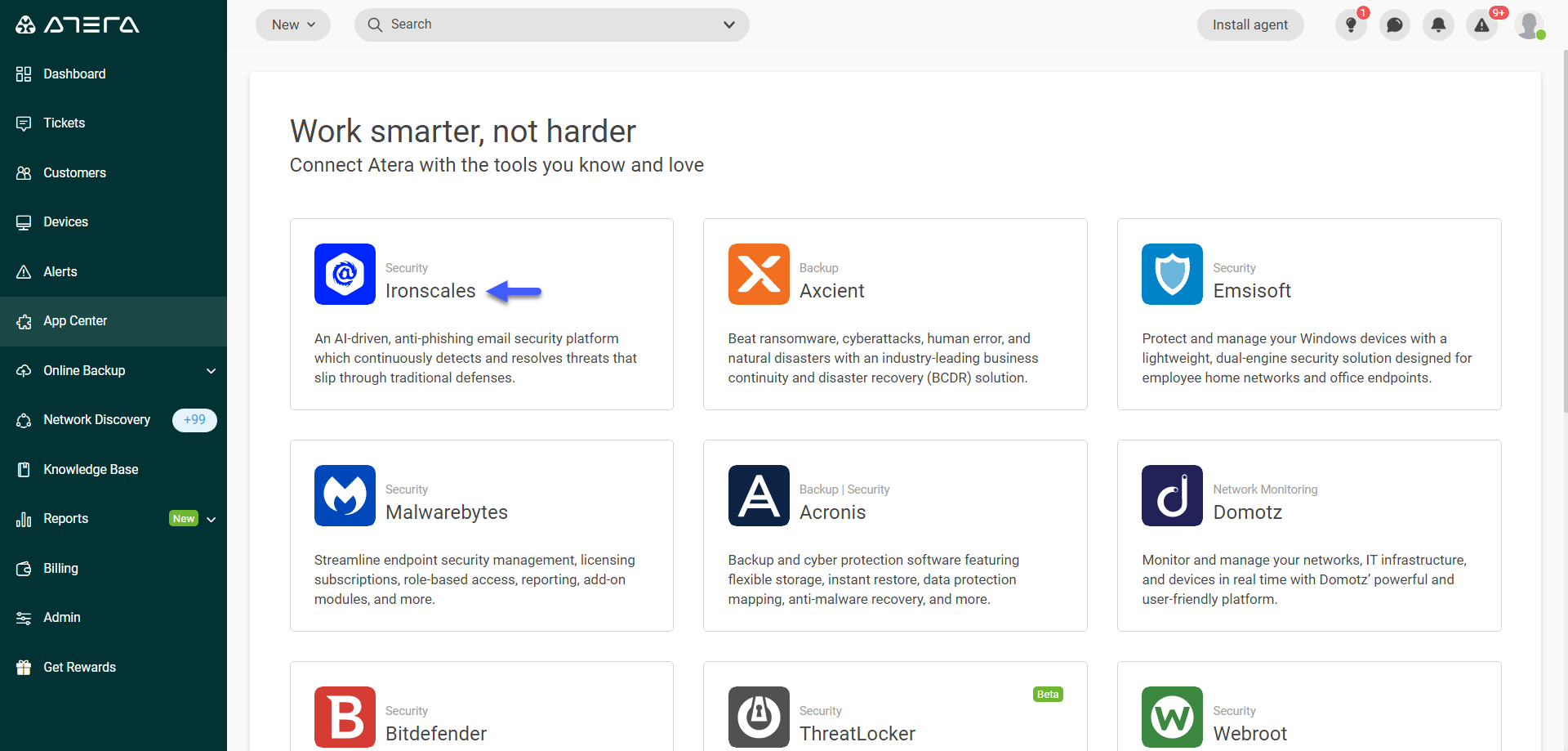 The Ironscales page appears.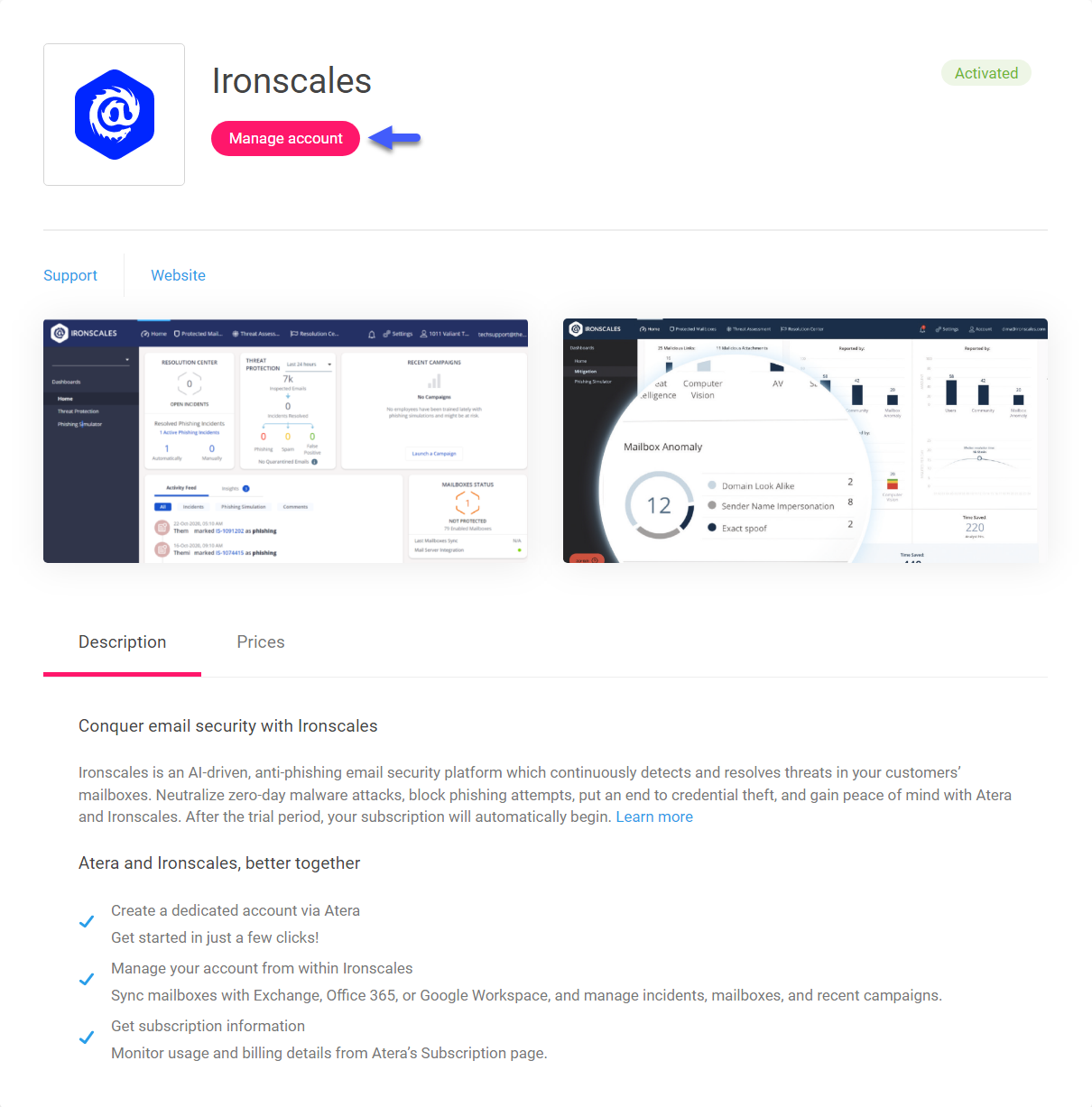 2. Click Manage account. You are redirected to Ironscales.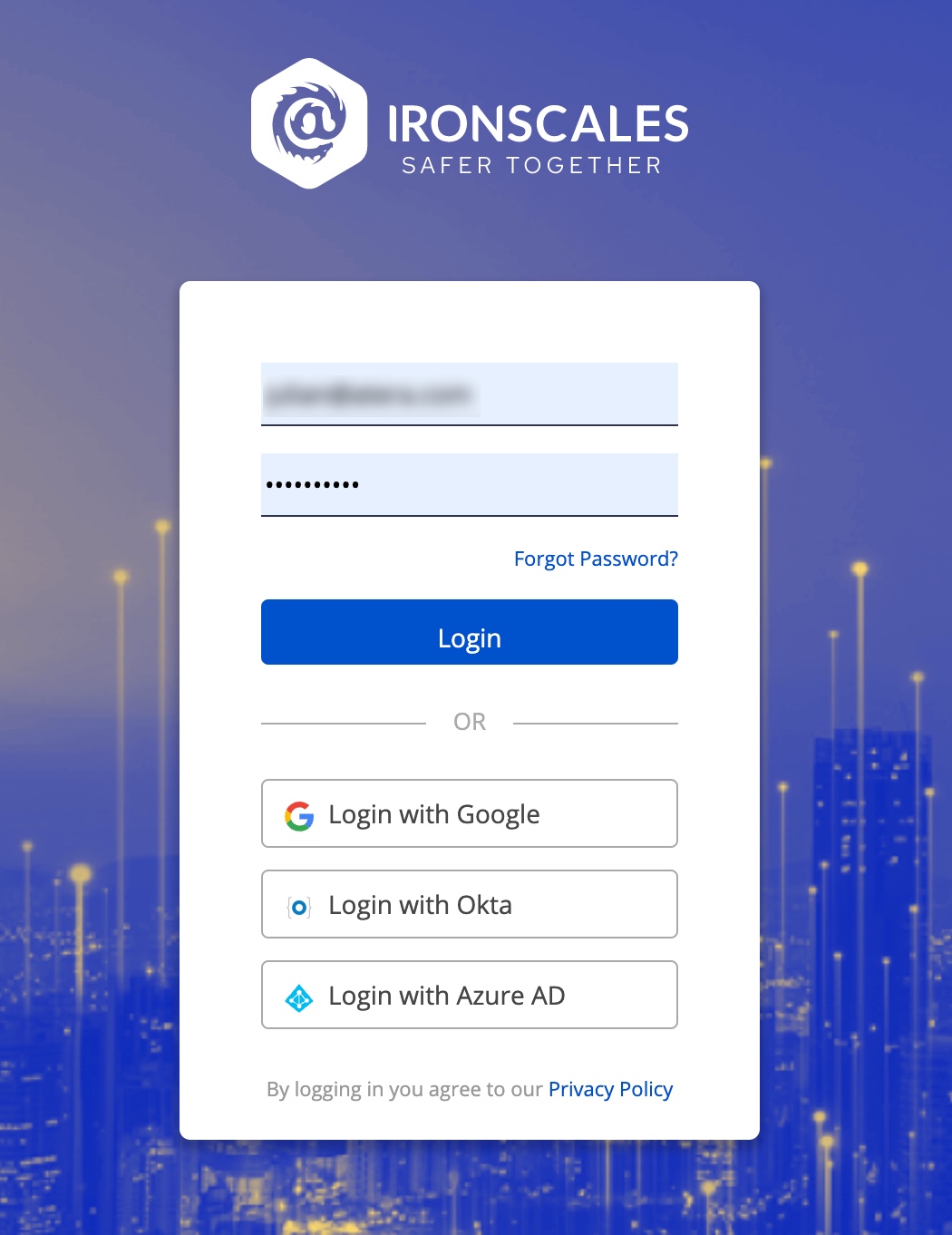 3. Sign in. The Ironscales Dashboard appears.

The MSP Dashboard lets you manage multiple tenants under one console.
For more information, see MSP Dashboard Overview
Add Companies and Integrate Mail Servers
To add companies and integrate mail servers, please refer to the following Ironscales articles:
Note: Customer admin permissions are required to integrate with mail servers.