You can recover the whole VMware machines as a working unit, one of its disks or individual files and folders from a disk.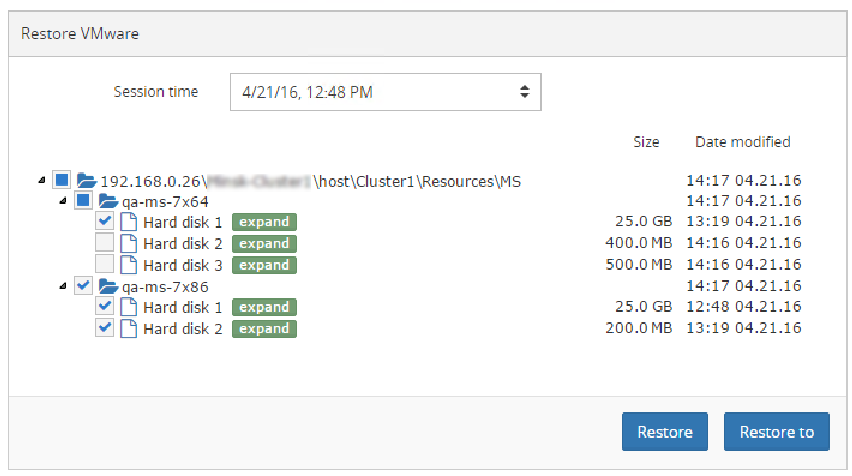 If you choose to restore files and folders from a virtual disk, there are some additional requirements.
The Virtual Drive tool (version 15.6 or greater) is installed and running.
The file system on the computer where the Online Backup Client is installed must support the file systems in the virtual machine that is being recovered (for example, NTFS or FAT). This is necessary to be able to expand the contents of the virtual disks.
Choice of target locations
VMware machines can be restored to either of the following:
Original location (in-place restore). The original VMware machine should be powered off at the time of the restore (otherwise it won't be possible to overwrite data on it). If there is no such machine, a new one will be created.
New location. In this case, you'll be prompted to enter your connection settings. The Online Backup Client will create a new virtual machine on the server you specify. If there is a virtual machine with the same name, the recovery will not be performed (this is done to protect your data). If you get such a conflict, consider renaming the existing virtual machine(s) or performing the recovery to another storage on the same server.
Note: Online Backup (Datashield) is a legacy product only available to older Atera accounts. For newer backup solutions, check this page.
Sorry about that. Can you tell us why?