Webroot is an antivirus and cloud-based, threat protection software that stops threats in real time and secures businesses and individuals wherever they connect. This article walks you through the process of activating Webroot in Atera, creating Webroot sites, and installing Webroot on your customers' computers.
Atera recommends that you create a Webroot site per customer. We recommend this because each site in Webroot has its own installation key, so following this best practice will avoid potential issues when using Webroot with multiple customers.
Atera also offers full web browsing protection for all your customers' endpoints. With Webroot's SecureAnywhere DNS Protection, you can finely tune web access policies to prevent everyday web usage from becoming a major security risk.
Time estimate to complete this procedure:
It should only take about ten minutes to run the Webroot activation and installation processes. This is a rough estimate based on our experience with several customers.
This article explains how to:
Activate your Webroot account
Create one or more Webroot sites
Install Webroot on one or more selected agents
Activate Webroot
1. From the left-hand panel click Webroot > Activate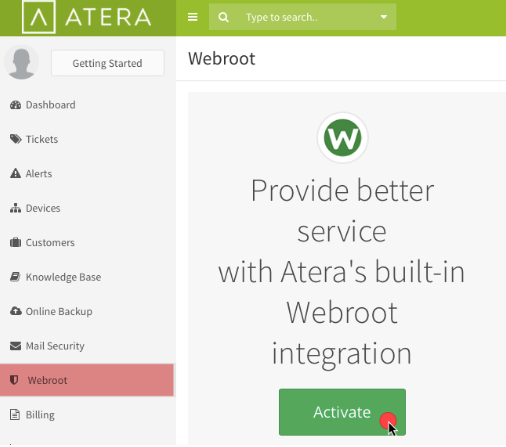 The Webroot Activation pop-up form appears.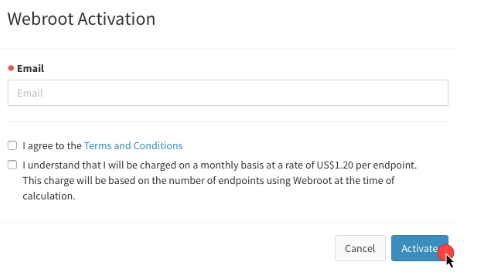 2. Enter a valid Email address.
3. Agree to the Terms and Conditions by enabling the checkbox
4. Agree to the billing terms by enabling the checkbox (read more about our Webroot pricing model here).
5. Click Activate.
A confirmation message appears.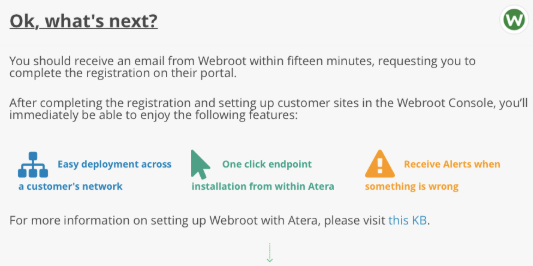 You will receive Webroot activation instructions via email within fifteen minutes. Follow these instructions to activate Webroot.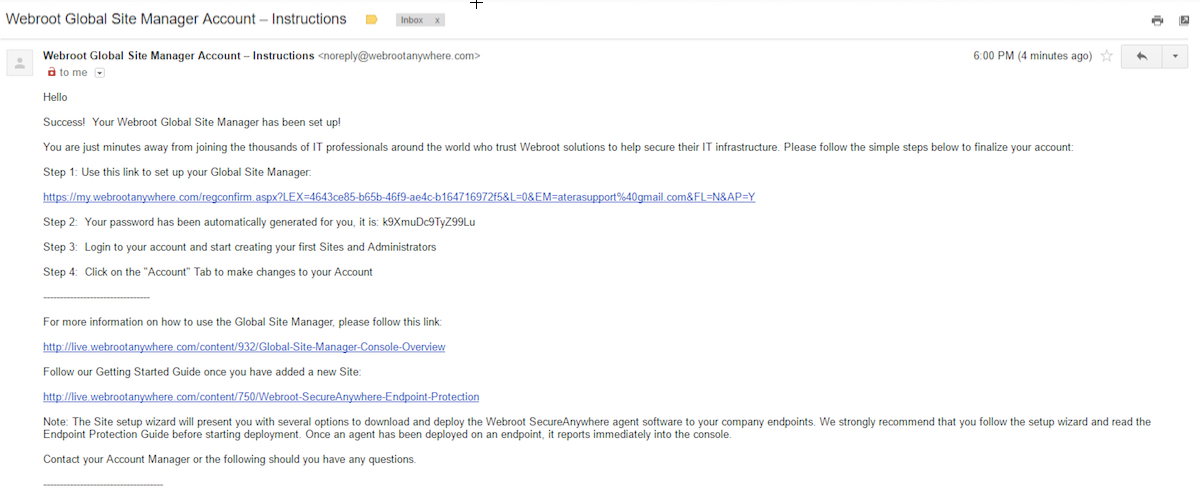 6. Log in to the Webroot dashboard by clicking here.
7. Change your password by following the instructions in the Webroot email.
Create a Webroot Site for each Atera Customer.
Creating Webroot Site(s) is an extremely important step. Ensure you complete this step correctly or Webroot may not function as intended within Atera.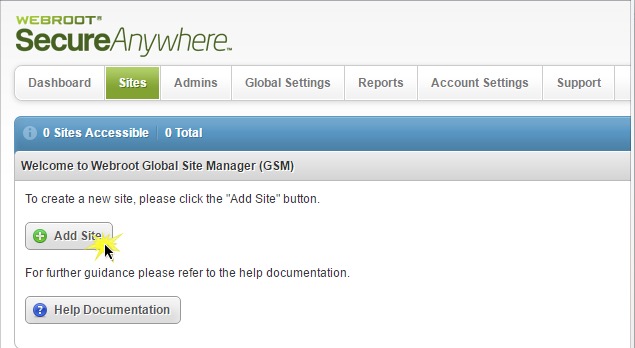 1. Log in to Webroot and under the Sites tab, click Add Site.
The Add Site page appears.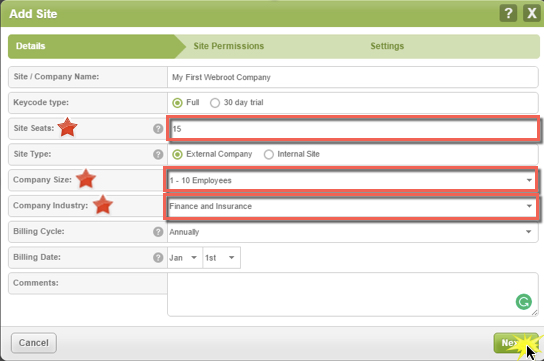 2. Enter the Site (Customer) details.
Atera recommends that you pick a Site / Company Name that is identical (or similar) to the Atera Customer Name, this will make it easy to recognize the agents.
Mandatory fields:
Site Seats
Company Size
Company Industry
3. Click Next.
4. Review Site Permissions.

5. Click Next.
6. Review Settings.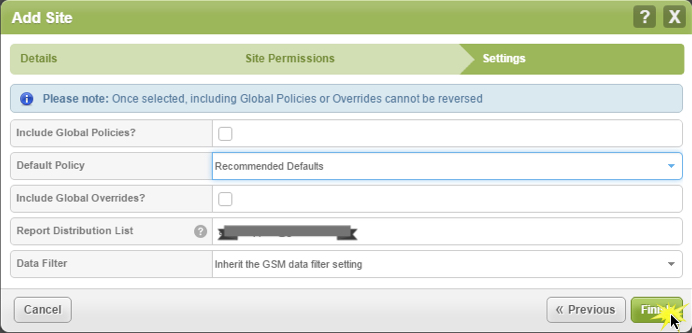 7. Click Finish.
The site is created. Repeat this process for each Atera customer who you want protected by Webroot.
Install the Webroot Client on Atera Agents
There are two ways you can choose to install the Webroot client:
Install to a single Atera Agent
Install to multiple Agents via the Atera customer page
Installing Webroot on a Single Agent:
1. Within Atera, go to the specific device's Agent Console page, then click Manage > Webroot > Install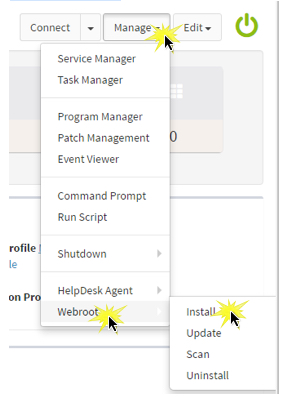 2. Enter your Webroot Key.
Only the key that was generated by Atera is "authorized". For example CE90-ATERA-061D-1A40-4E5B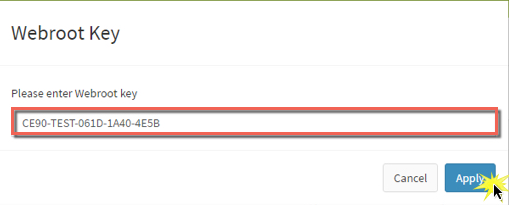 3. Click Apply.
The Webroot key should be taken from Webroot > Sites

(i) Optional actions:
Installing Webroot on Multiple Customer Agents:
1. Within Atera, go to the specific customer's page, then click the Devices tab > Actions > Install Webroot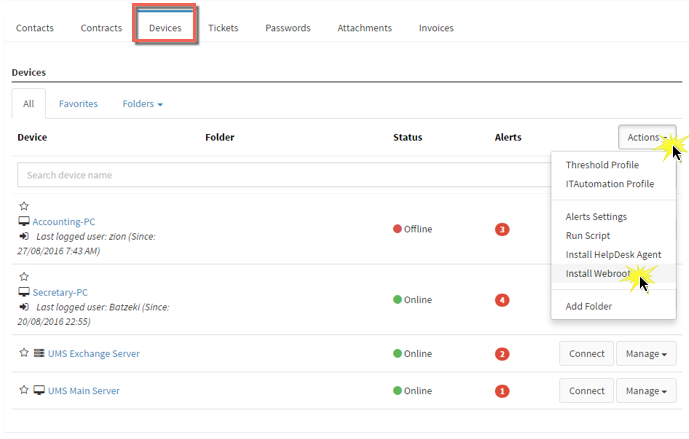 2. Enter the Webroot Key.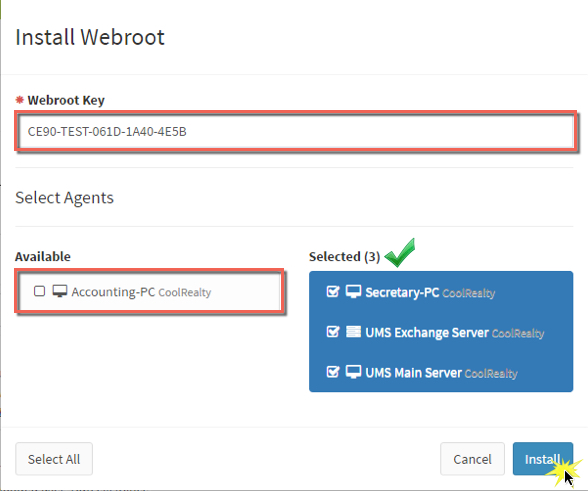 3. Select Agents from the Available list using the checkboxes (or Select All).
4. Click Install.
Webroot will be installed on the selected agents.

For any further information or for troubleshooting the Webroot platform please contact Webroot support