This article explains how to forward your support email to Atera, and customize related email settings. You will learn how to:
Forward your support email to Atera
You can forward your support email to Atera's support address so that:
You can continue to provide your customers with your own support address (e.g.support@yourdomain.com).
All emails automatically open support tickets in the Atera platform.
You'll need to configure email forwarding in your own email account. Exactly how this is done depends on the email provider you're using (scroll to the bottom of this article for instructions on setting up a forward in Outlook 365 and Gmail). Once that's set up, you'll need to set up the association on Atera's side as well.
Notes:
The primary support email address you are using to forward emails to the auto-generated address needs to have the Sender Rewriting Scheme (SRS) enabled. SRS improves the deliverability of applicable messages that pass Sender Policy Framework (SPF) checks when they arrive from the original sender but that then fail SPF at the final external destination after they are forwarded.
Atera does not offer technical support for the use of mail filtering solutions (e.g. Proofpoint, Cisco Email Security, etc). In such cases, please ensure to test all recommended email forwarding methods and apply the one that would best suit your email configuration.
To set up (on Atera's side):
1. Click on the Admin page (in the side menu) > Email Settings.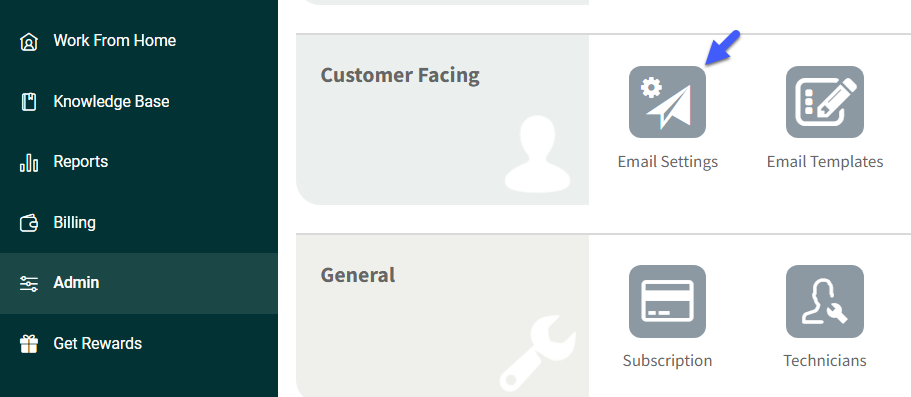 2. The Email Settings page appears. Please fill in the fields as indicated: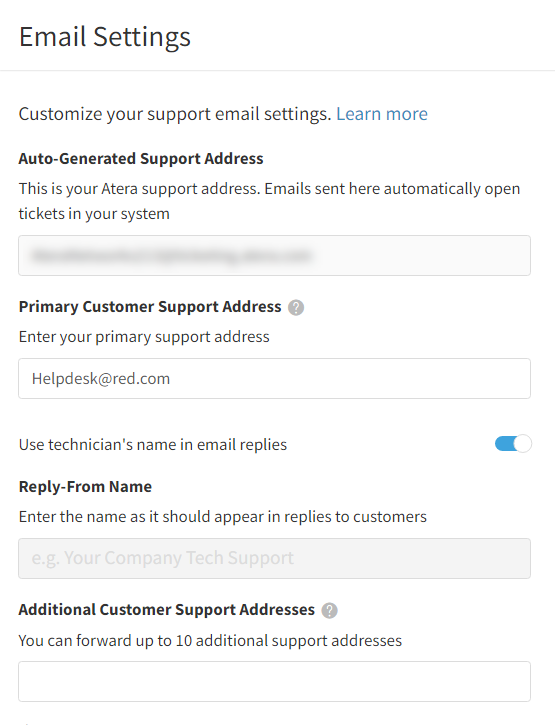 Notes:
Email aliases are not supported, and will not work for auto-forwarding emails (and opening tickets). Please enter your actual primary support email address.
Enter your 'Primary Customer Support Address' (or Additional Customer Support Addresses), in addition to setting up a forward with your mail provider. This is also the default 'reply-to' address that will appear in ticket communications with your customers after setting up SMTP settings.
Set your auto-response email settings (for technicians and contacts)
3. Select your auto-response settings.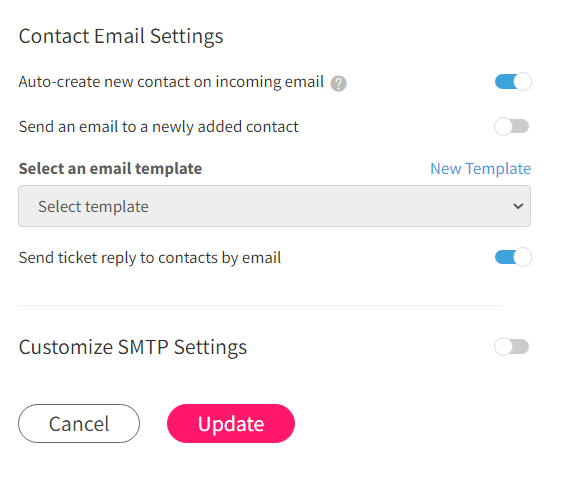 Notes:
Clicking on 'Auto-create new contact' will enable automatic contact creation, upon receipt of an email from a new address.
You can select or create an email template to be sent to new contacts.
4. Click Update to save all changes/additions.
If your email is hosted by Outlook 365, click here for instructions on setting up forwarding:
If your email is hosted by Gmail, click here for instructions on setting up forwarding.
Note: When adding the auto-generated support address in Gmail's forwarding section, a verification message will be sent to that address. You will find this as a ticket created in your Atera console from where you can copy the verification link.
You'll also need to add your external email address as a support address in Atera. See Forward your support email to Atera (above). Additionally:
1. When using a Gmail account, you'll need to add privileges to the Gmail account to send mails.
2. Log in to your Gmail account, click on Gmail's automated warning email 'Sign-in attempt prevented'.
3. In the mail body click on 'REVIEW YOUR DEVICES NOW' and follow the Gmail procedure to allow outbound emails.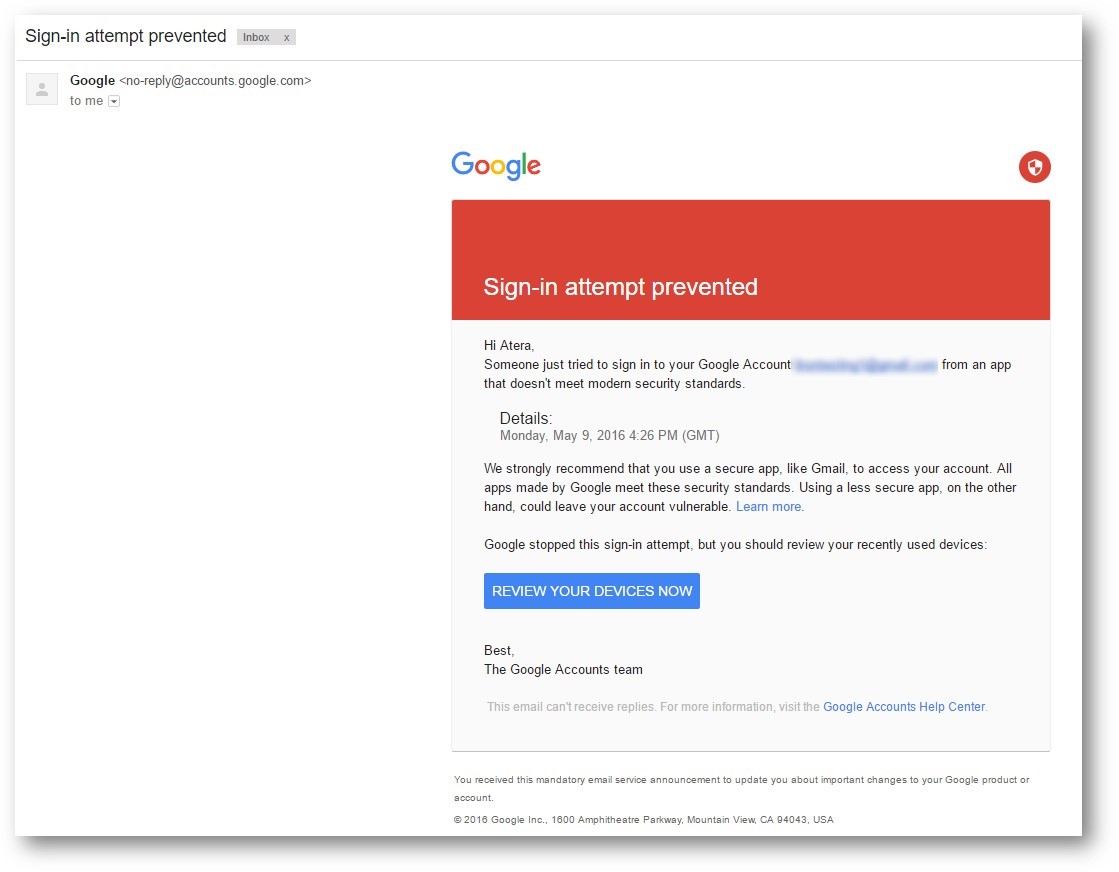 Customize your SMTP settings (optional)
You have the option of using your own SMTP server. If you don't add your server, 'reply' emails to customers will come from 'noreply@atera.com'.
To customize:
Click on the Admin page (in the side menu) > Email Settings.
Make sure you filled in the 'Primary Support Email Address' field with the support address you provide your customers (e.g. support@yourdomain.com).
Add your SMTP server, username/password, port and SSL/TLS preference (under 'Customize SMTP Settings').
Click Update.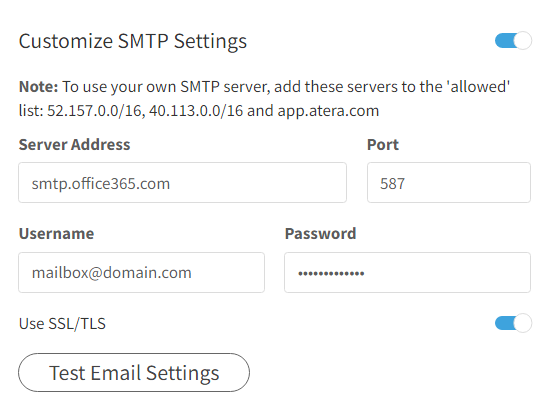 Notes:
The email white-labeling will apply to ticket replies only. Reports and invoices will still be sent from noreply@atera.com
The SMTP settings for Office 365 can be found in this Microsoft guide. While option 1 is recommended, depending on your email configuration, you may be required to use the other options described in the article.
To successfully use Gmail SMTP settings in Atera, you may need to allow less secure apps on Google's side. Learn more
Please add app.atera.com to the allowed list in your email server as well as the following subnets:
52.157.0.0/16
40.113.0.0/16
If you cannot whitelist an IP address range of /16, please use add the following:
52.157.175.0/24
40.113.216.0/24
40.113.221.0/24
40.113.222.0/24