Customers that are purchasing the Power or Master plan of Atera, benefit from Database snapshots and the Geo-redundant database. For more information, see our Privacy and Security Policies.
What are the Database snapshots and the Geo-redundant database?
The main use of these features is backing up your Atera data. The database snapshots are taken on a daily basis and are distributed across the different data centers we are using worldwide.
Does it require additional fees?
As long as you're a Power or Master user, the backups are included in the price of the subscription at no additional cost.
What happens if I delete a customer?
Deleting a customer will remove all the information related to that customer, this includes
Devices
Contacts
Tickets
Agents
When attempting to delete a customer, the following message will appear on your screen.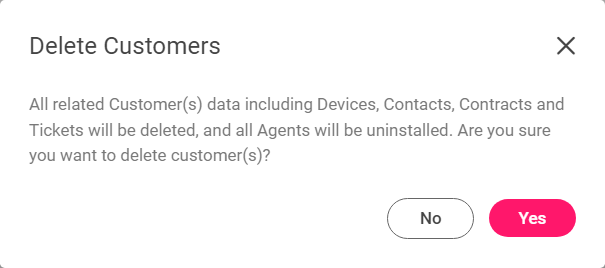 What happens if I delete a contact?
Deleting a contact will delete all tickets that are related to that specific contact, when deleting a contact, the following message will pop up.

What happens if I delete an Agent?
When you delete an agent from the Atera dashboard, an uninstall command is sent locally to the target agent. Besides the agent being uninstalled on the device, the agent will also be removed from the Atera dashboard.
Activity Log
After a customer, contact, or agent is deleted, you can find some information about the deletion by accessing the Activity Log. Use the Deleted log type to see customer, contact, and agent deletion. The activity log will show you the date when the data was deleted, along with the technician.
Customer deleted

Contact deleted
Agent deleted

What is the process of data retrieval?
Send your request to our Support team to have your data restored.
Note: Data recovery is possible only for customers that are on the Power (MSP) or Master (IT Department) plans of Atera. For other plans (Pro, Growth, Professional, and Expert), data recovery is not possible.