Enhance your security and gain peace of mind with Atera and Auth0. No need to race against the clock with another software token. No, sir. With biometric scanning, you are the token! Whether it's fingerprint or facial scanning, just be yourself for a smoother and more secure login experience.
This article describes:
Auth0 Benefits (Coming Soon)
Bot Detection: Reduces scripted attacks by determining whether a request was generated by a bot. When a bot is believed to be behind a request, a challenge-response authentication (CAPTCHA) will be presented.
Breached Password Detection: Auth0 monitors large security breaches on third-party websites for leaked passwords and notifies and/or blocks users from logging in if their credentials are suspected to be part a published security breach.
Brute-Force Detection: Brute-force protection guards you from malicious attempts to gain access to your user account from a single IP address.
Suspicious IP Throttling: Blocks traffic from an IP address attempting too many logins or signups, which helps ensure your network is safe from high-velocity attacks.
For more information on these — and other! — upcoming protection features, see Auth0's documentation
Set Up Biometric Login
You can now log in to Atera with biometric login — using facial recognition (Face ID) and fingerprint scanning (Touch ID) — for a faster and more secure login experience. Upon log in, you will be prompted to set up Auth0's quick and secure biometric login. We recommend setting this up.
Note: Biometric login is available on supported devices only.
To set up biometric login:
1. Log in with your email and password.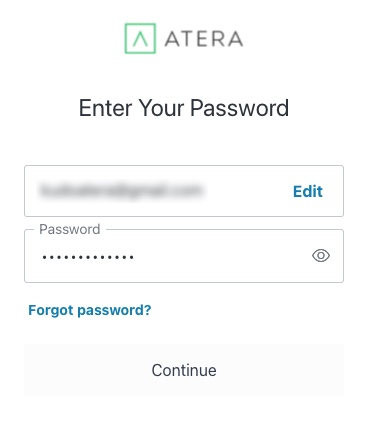 2. Click Continue.
Note: If this is the first time logging in with Auth0, you will be asked to verify your identify with your 2FA code. Enter it and click Continue.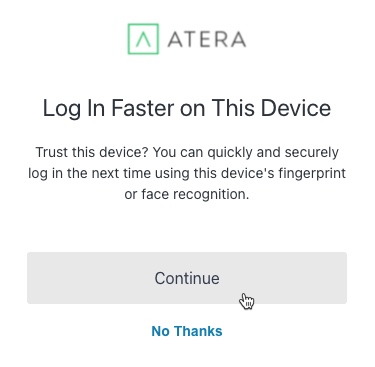 3. Click Continue to use your device's fingerprint or facial recognition on subsequent logins.
4. Verify your identity via fingerprint or facial recognition.
5. Name your device (this alias will help you identify this device from any others you may have).
That's it! The device has been added. From now on, you can verify your identity using fingerprint or facial recognition.
Note: You'll stay logged in for 24 hours on the web app and 1 week on the mobile app.
Troubleshooting
Login/Browser Issues
Follow these steps to clear the Local Storage, Session Storage, and Cookies:
1. Open DevTools (right-click anywhere on the Atera page and click Inspect).
2. In the top menu bar, navigate to Application (you may have to click the chevron

icon to see it).
3. Navigate to Storage and double-click on Local Storage, Session Storage, and Cookies to open them.
4. Right-click any URL starting with "auth.atera" and click clear.
Frozen Splash Screen
If the mobile app opens to a frozen screen, with no options available, please locate the Atera app in your mobile device's storage and clear the storage and cache.
Let us know if we can help should you experience any other issues related to logging in or out of the Atera app.