Install ESET on your end-user devices via Atera to ensure they're fully protected.
Note: ESET is currently available for US-based users only (we'll expand its availability soon).
To activate ESET, see Atera and ESET
Install ESET
Note:
The installation script will run on Windows devices with the Atera Agent installed. The script will also run on offline devices that go back online within the next 24 hours.
The ESET installation is silent (runs in the background) and requires no hard reboot.
You can also deploy ESET via the site's/customer's page (Devices tab).
ESET PROTECT Cloud's policies block Remote Desktop Protocol (RDP) connections by default. You can configure the agent installer to allow for RDP connections — check out our video tutorial!
To deploy ESET to your end-user devices:
1. From Devices (on the sidebar), select the device(s).

2. Click the ellipses icon (

) > Apps > ESET > Antivirus > Install.
Note: You can also deploy ESET (on a single device) by clicking Manage > Apps > ESET > Antivirus > Install.
The Install ESET window appears.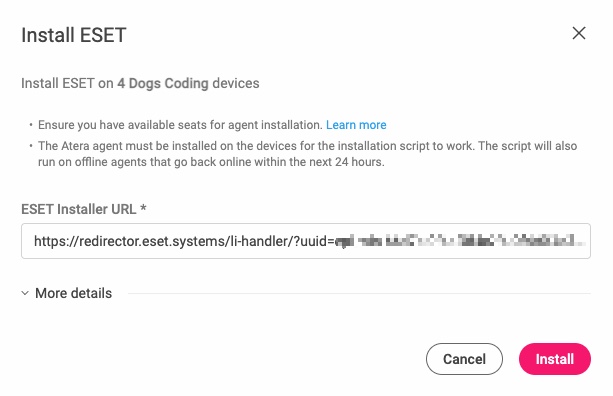 3. Enter the ESET installer URL.
Note: The ESET installer URL is found within the ESET PROTECT CLOUD Console. Learn more
4. Click Install.
Installation request sent. A snackbar confirming the installation request will appear on the bottom left of your screen. Check the notification center (top right) for updates.
The device will appear in your ESET PROTECT Cloud console.

To review the ESET installation, see Review app deployment
If you run into any issues regarding the ESET installation or have any other questions, please contact support