Ticket tags are useful for the purpose of enabling targeted ticket filtering by tags—for organizational purposes or to extract solutions to common problems for training, documentation, and informational purposes.
Atera's AI, automatic ticket-tagging lets you sit back, relax and enjoy automatically cataloged and organized tickets. You can also use the 'auto tags' ticket automation rule for targeted, auto-ticket assignment and useful, automated replies to customers. Additionally, you can create and add tags of your own.
Use auto-tagging
We've made ticket-tagging effortless with AI auto-tagging! Atera automatically tags your tickets with relevant tags, based on keywords. This takes all the work out of ticket tagging and lets you sit back, relax, and enjoy cataloged and organized tickets. Auto-tags are automatically added to tickets created from any source (manual, email, customer portal, etc.), excluding alerts and chat.
Atera auto-tags currently include*:
Application/Access & Permissions
Application/Install - Uninstall - Update
Hardware/Cable - Power - Battery
Hardware/Damaged - Faulty
Hardware/New Hardware - Retire Hardware
Hardware/Printing Device
Network/Accessibility
Network/Configuration Change
Network/Onboarding - Offboarding User
Network/Remote Access & Permissions
Security/Antivirus
System/Login - Password Reset
System/System Configuration & Settings
* We are constantly adding to this list as new support categories arise.
Auto-tags are indicated by the

icon. Auto-tags can easily be removed as well.
To remove a tag: Simply click the 'X' on the tag to delete it.

Note: Auto-tagging is currently available in the English language version of Atera only.
Add tags manually
You can manually add tags to existing tickets.
To add a tag to a ticket:
1. From Tickets (on the side panel), click on a ticket.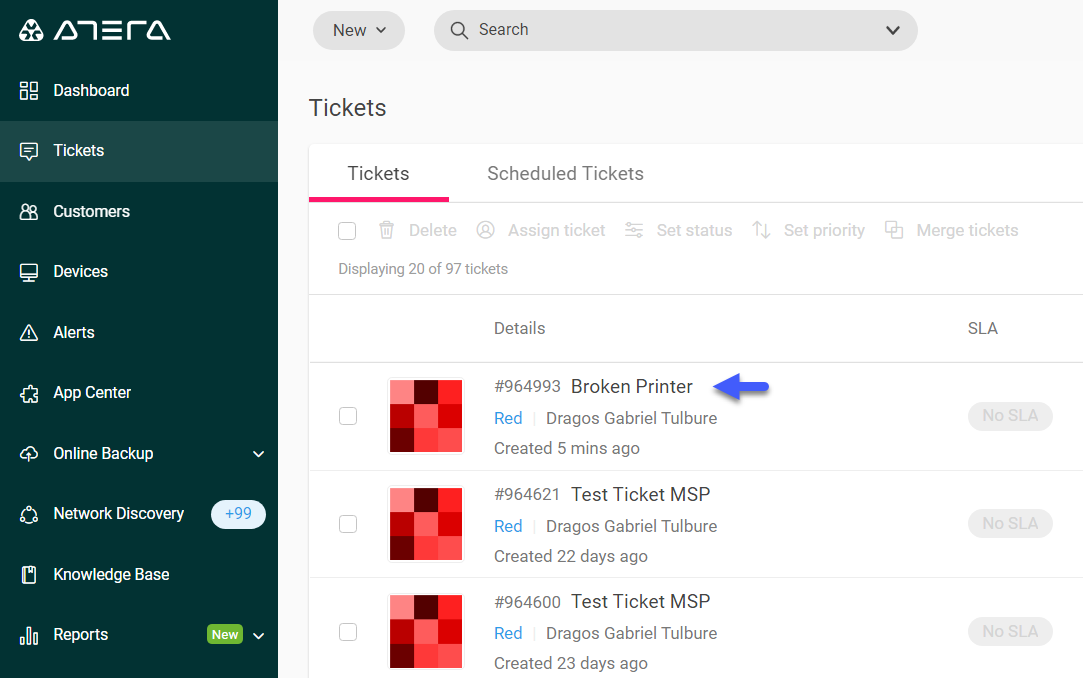 The ticket appears.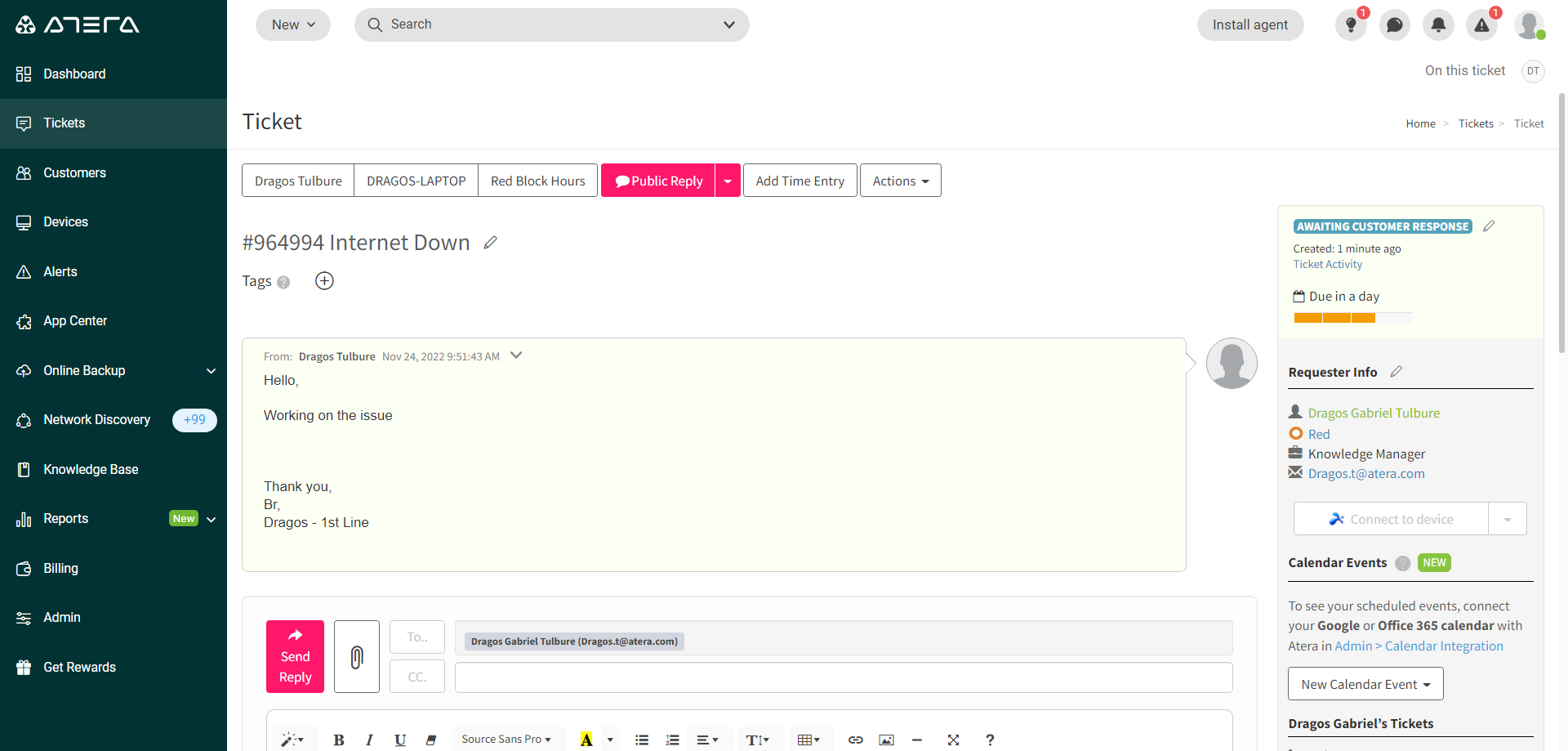 2. Click the

icon, type a relevant tag, or choose from the preset dropdown menu.
Note: The preset dropdown menu is made up of a combination of tags already entered by you (or others in your company), and Atera's auto-tag database.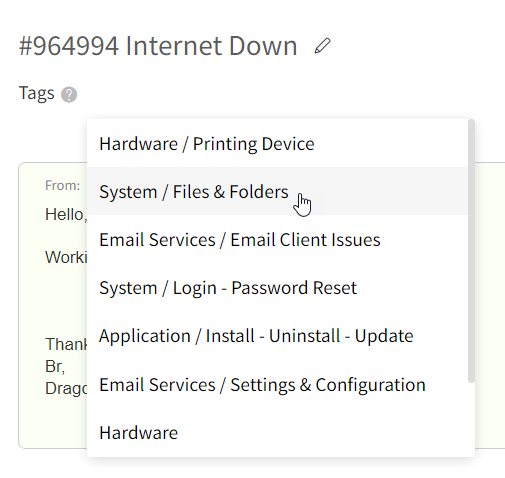 3. Click the Enter key to save the tag. You can also enter multiple tags like this, or by adding commas to break it up into separate tags.
Note: Tags can be deleted by clicking the 'X' on the tag, backspace, or the 'Delete' key.
Search by tags
You can filter your tickets by tags, for the purposes of gathering solutions to common problems, for training, documentation, informational, and management purposes.
To filter for tagged tickets:
1. Click on Tickets (from the side panel).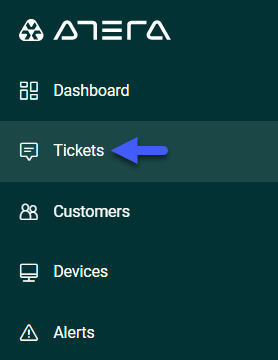 The Tickets view appears.
2. Preparing the filter:
a) Go to the Filters section on the right, and click Clear to clear the filter.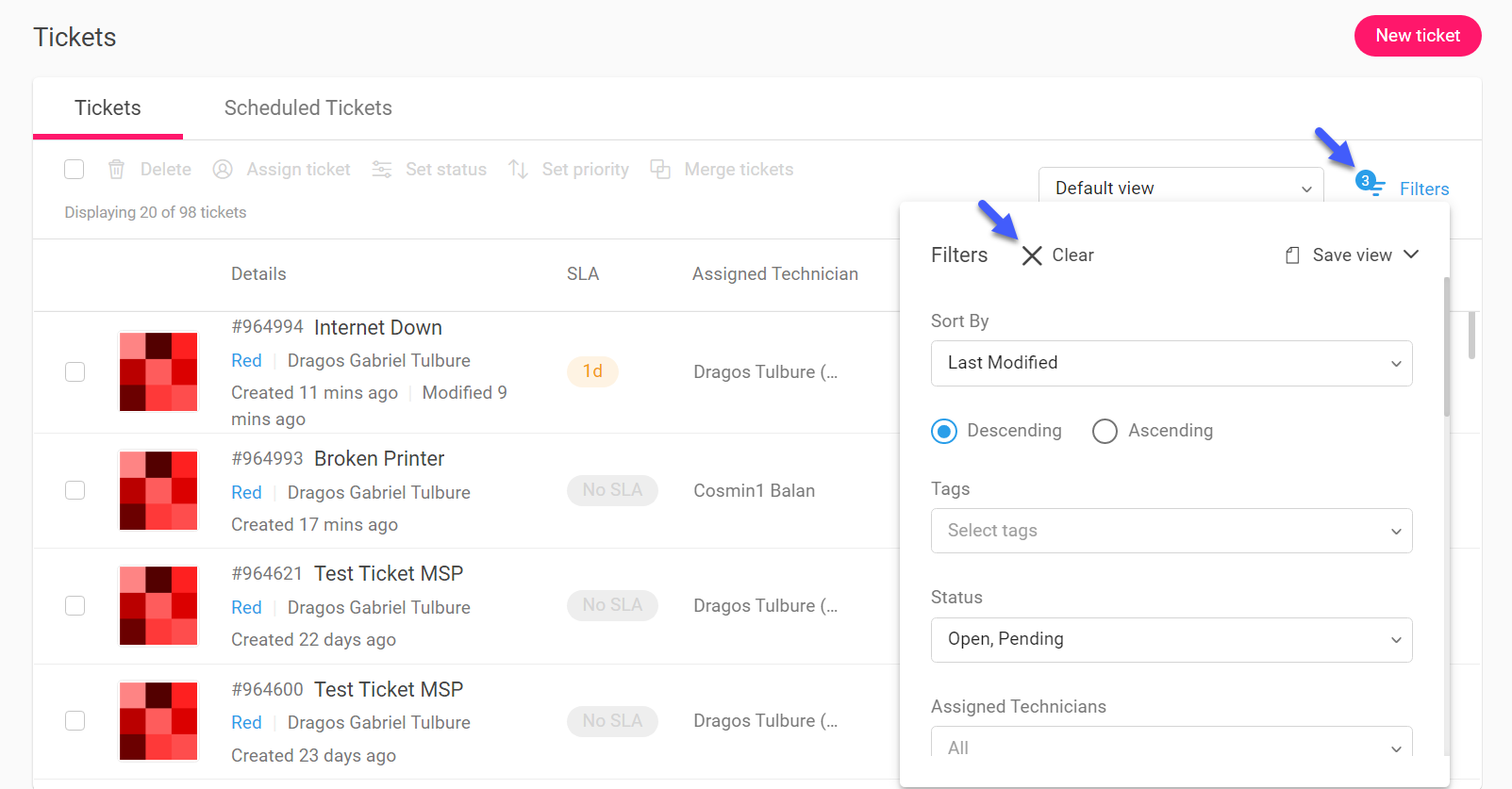 b) Check that the ticket 'Status' filter is set as required (Open, Pending, Resolved, and/or Closed).
3. Go to Tags, and select the relevant tag(s) from the dropdown menu.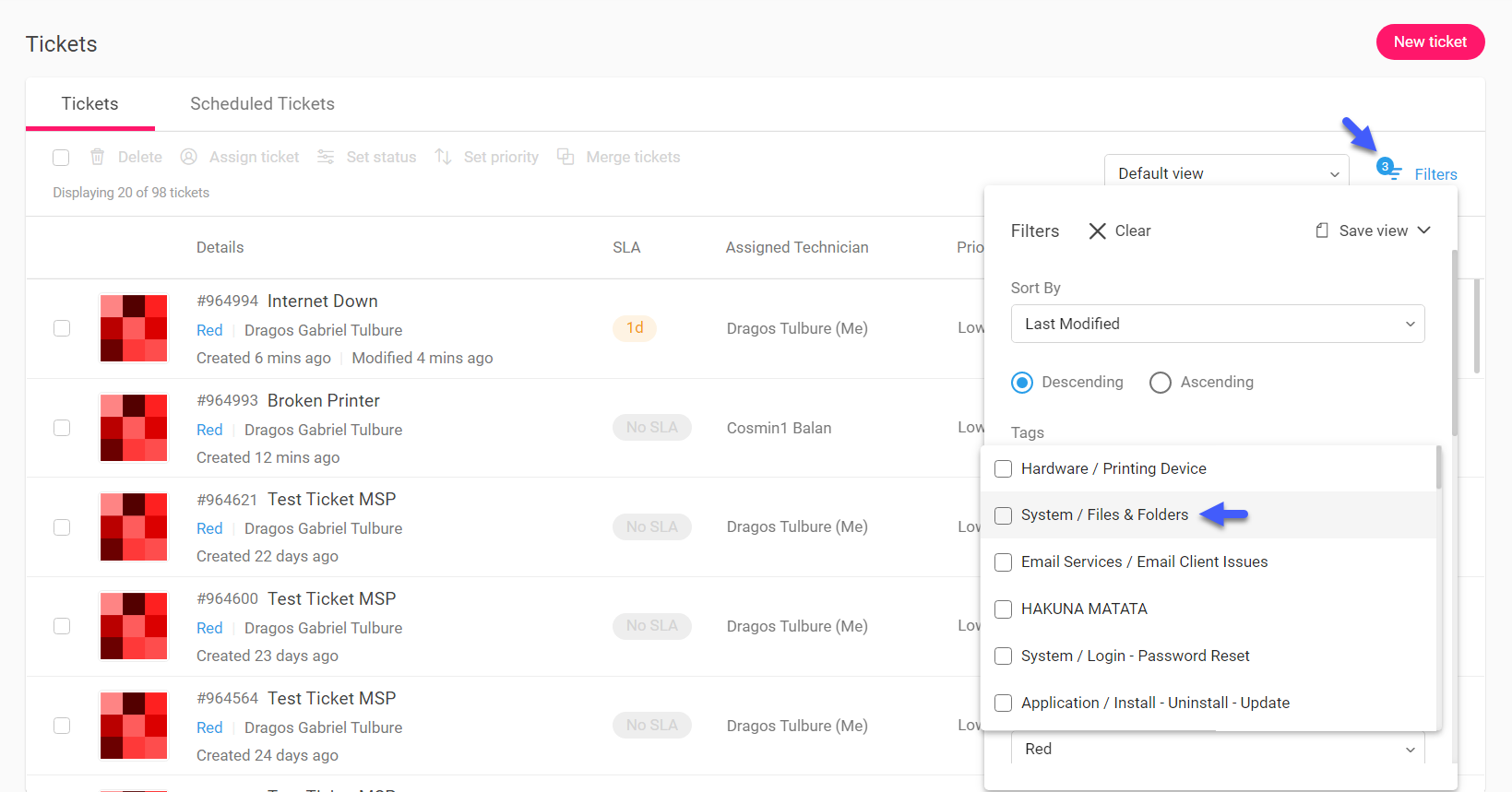 Note: You can only filter by tags if there is at least one tag on the ticket.
Your tagged tickets appear.

Important Note:
The filter will bring up exact matches only (not just if it contains some words in the tag(s).
When selecting more than one tag, only tickets containing ALL the selected tags appear. Tickets that are tagged with only one, or some, of the selected tags, will not appear.
Disable auto-tagging
You can disable auto-tagging so that tickets will no longer be auto-tagged.
To disable:
1. From Admin, on the side panel, click Settings
2. Click the Tickets tab.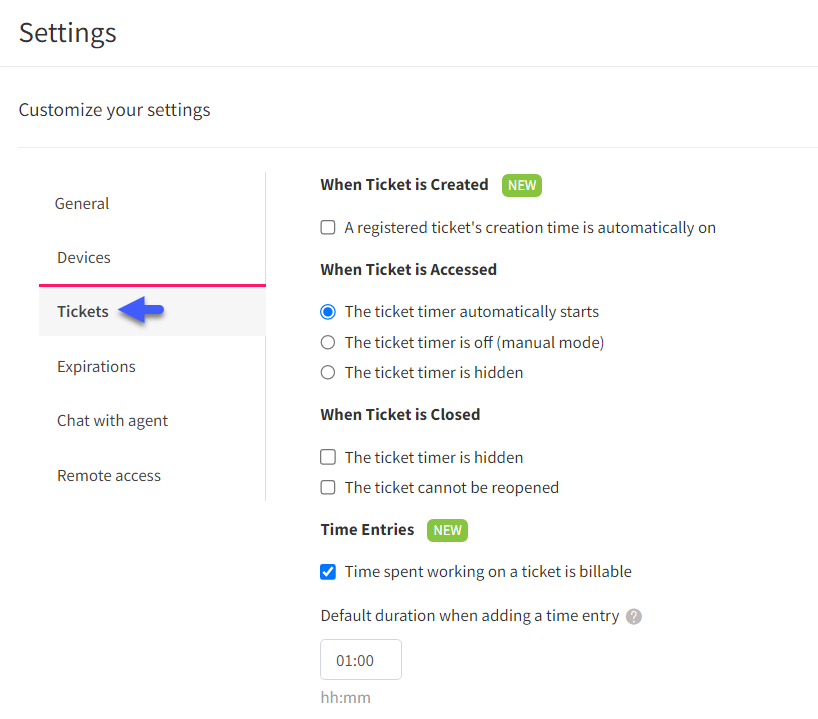 3. Uncheck Enable Ticket Auto-tagging (under Ticket Auto-Tagging).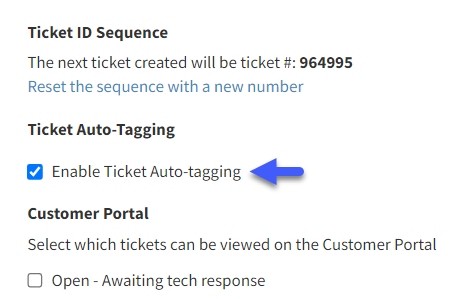 4. Click Save
Your tickets will no longer be auto-tagged.