Atera gives you the tools to remotely monitor your customer networks in real time, ensuring devices stay healthy, customers stay happy, and all without you breaking a sweat. Thanks to real-time monitoring and alerts! Alerts allow you to keep on top of potential problems, and to handle them before your customers are even aware.
Atera provides continuous device monitoring, and enables you to define alert thresholds which can be customized within the categories of performance (e.g. memory usage, CPU load), hardware (e.g. hard disk usage, temperature etc.), and Exchange alerts, as well as the types of alerts you receive (information, warning, critical). You can also monitor service states (e.g. print spooler, browser etc.). One threshold profile can be used for all your customers, or you can set individualized profiles per customer. A basic default threshold profile (set with Atera presets) is automatically assigned to all newly installed agents. Additionally, you can set 'auto healing' scripts to run in response to triggered alerts (e.g. rebooting the computer when the 'CPU usage' threshold is reached etc.).
All your alerts appear on one pane-of-glass, the Atera Dashboard (and can also be viewed on the Alerts page and within a customer). You can customize your settings to:
Alerts can be snoozed as well.
To customize alerts, visit the Alerts page:
From Admin (on the side panel), click on Alerts.

The Alerts page appears.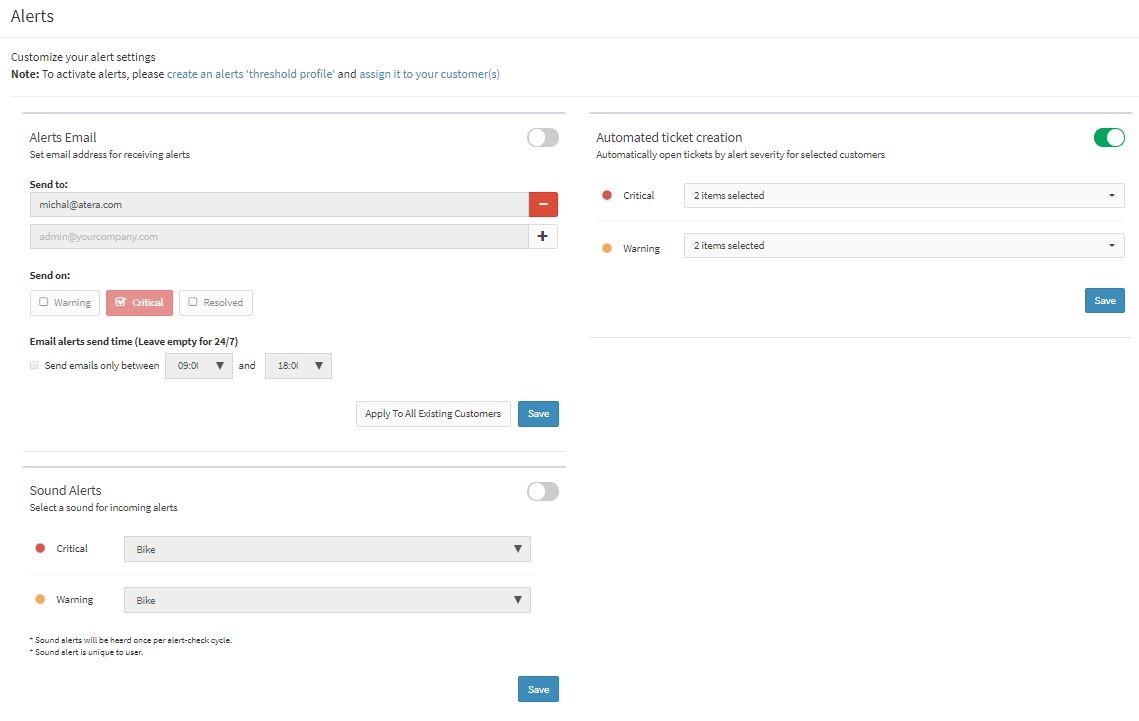 Note: The Alerts Email settings can also be found within the customer's page > Alerts tab > Alerts Settings icon.