Atera partners with Bitdefender for advanced cybersecurity, to prevent, detect and respond to all threats to your customers' devices. Atera's Bitdefender GravityZone Cloud integration can be activated by your company Admin, and includes a 30-day, free trial. After the trial period, the cost is $1.20 USD, per month, per protected device. If you already use Bitdefender, through another partner, you can migrate your account over to Atera.
About Bitdefender GravityZone Cloud
Bitdefender GravityZone Cloud is a business security solution built from ground-up for virtualization and cloud to deliver security services to physical endpoints, virtual machines in private, public cloud and Exchange mail servers.
It is one product with a unified management console available in the cloud, hosted by Bitdefender, or as one virtual appliance to be installed on company's premises, and it provides a single point for deploying, enforcing and managing security policies for any number of endpoints and of any type, in any location.
Bitdefender GravityZone Cloud delivers multiple layers of security for endpoints and for Microsoft Exchange mail servers: anti-malware with behavioral monitoring, zero day threat protection, application blacklisting and sandboxing, firewall, device control, content control, anti-phishing and antispam.
Learn more about Bitdefender GravityZone Cloud.
NOTE: Please note that Atera's integration with Bitdefender only supports the Cloud Security functionality (without additional add-ons). Learn more
To activate Bitdefender GravityZone Cloud within Atera:
1. From the side panel, click on Bitdefender.

The Bitdefender page appears.
2. Click Subscribe to begin your 30-day, free trial. The trial automatically converts to a paid subscription at the end of the trial period (unless cancelled).

3. Enter your email address, and click Submit to begin your Bitdefender trial.
Notes:
Bitdefender can be activated one time, per company.
The CompanyName and AccountFullName in Atera need to be unique and must not contain special characters.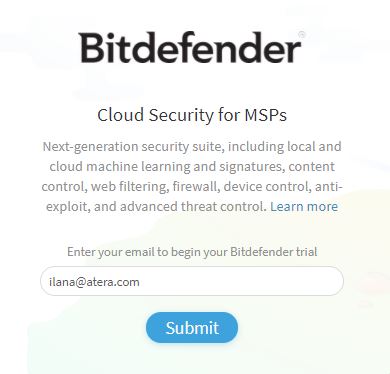 4. Please check your email to activate Bitdefender.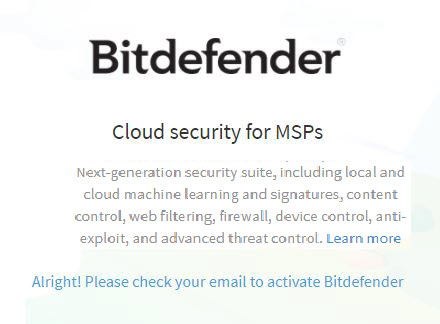 5. Open the Bitdefender email, which contains your login link, username and password.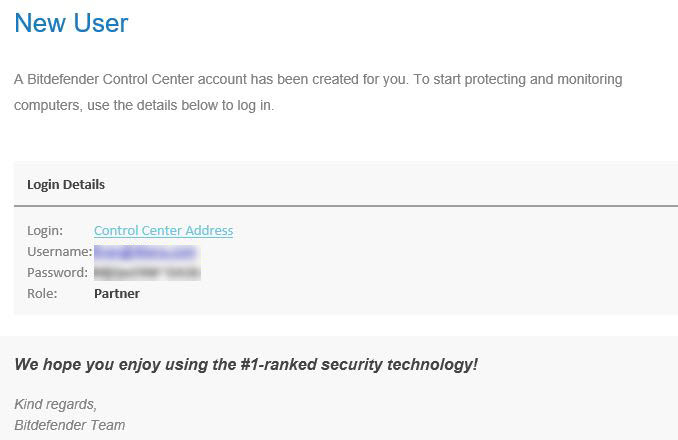 6. Click on the Bitdefender Control Center Address, within the email.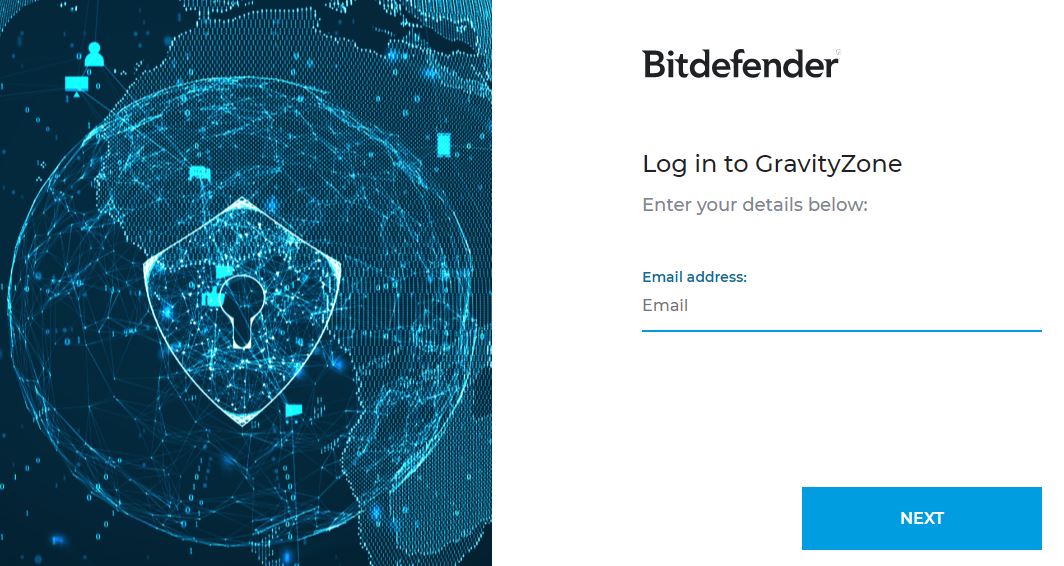 7. Enter your email address and click Next.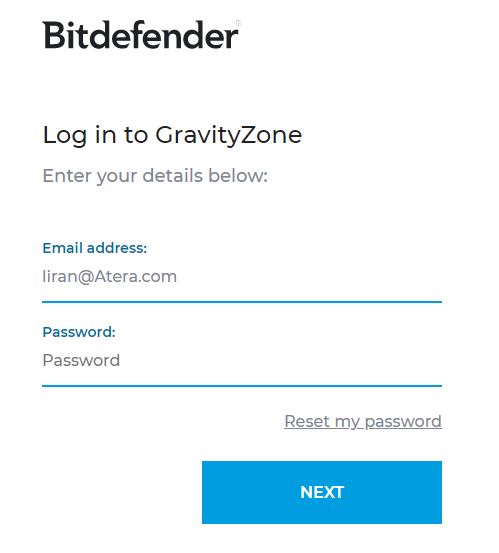 8. Enter your password and click Next.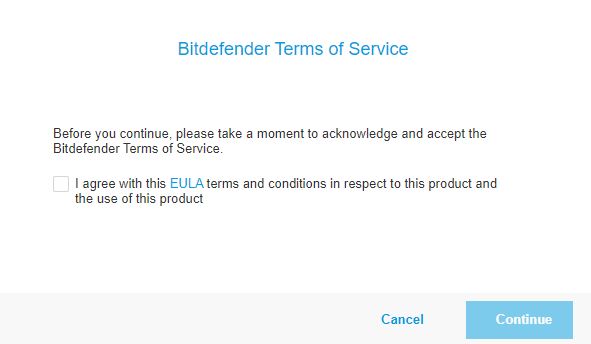 9. Check that you've read the terms and conditions, and click Continue.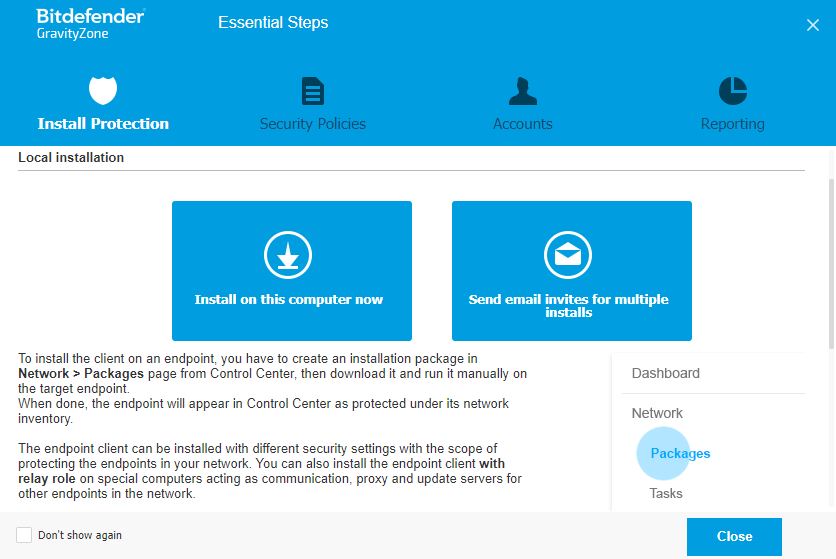 Bitdefender has been activated and your 30-day, trial period has begun.
10. Read the Essential Steps information to learn how to set up Bitdefender cloud security on your endpoints and effectively monitor them. When done, click Close. You can also read this guide for further instructions.
Note: You will only be charged once you install the Bitdefender client/agent on at least one endpoint. Otherwise, you will not be charged.
The Bitdefender GravityZone Dashboard appears.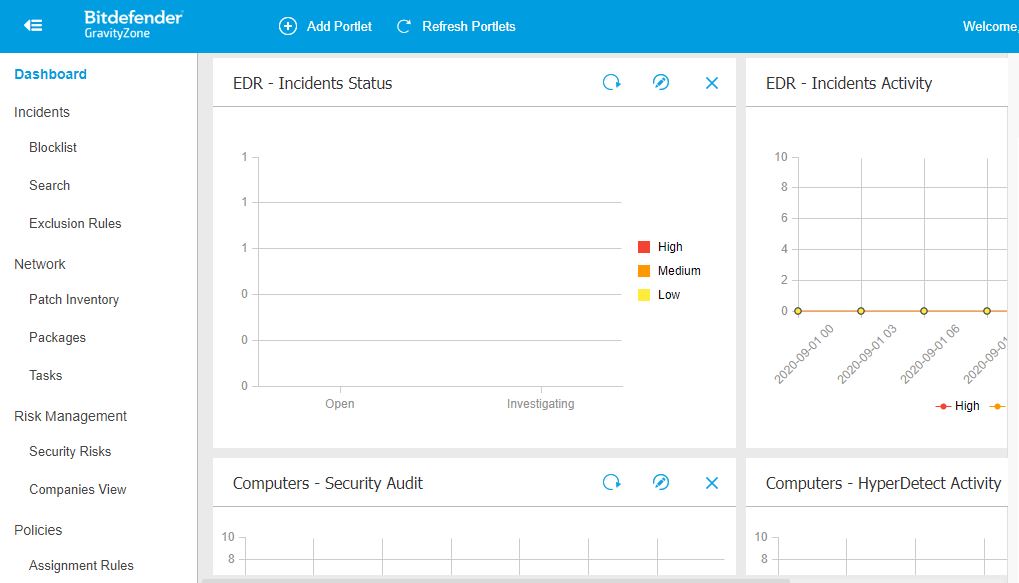 To learn more about how to maximize use of Bitdefender, visit the Bitdefender support site.
You can access the Bitdefender Dashboard anytime, from within Atera.
To access:
From Bitdefender, on the side panel, click Manage Bitdefender.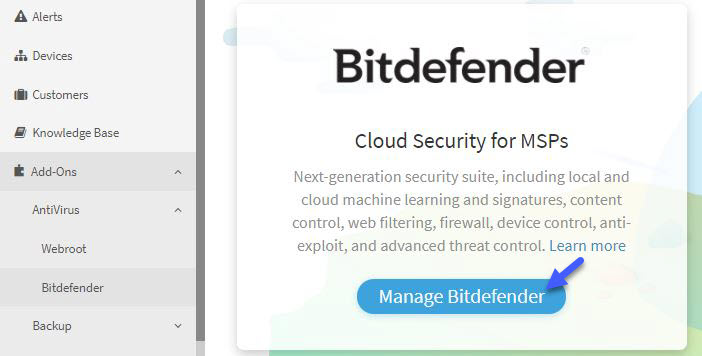 Billing
Once your trial period is over (and you've installed at least one Bitdefender client/agent), you can view your Bitdefender subscription details in Atera. You will receive a separate invoice from Atera for your Bitdefender subscription.
To view:
1. From Admin (on the side panel), click on Subscription.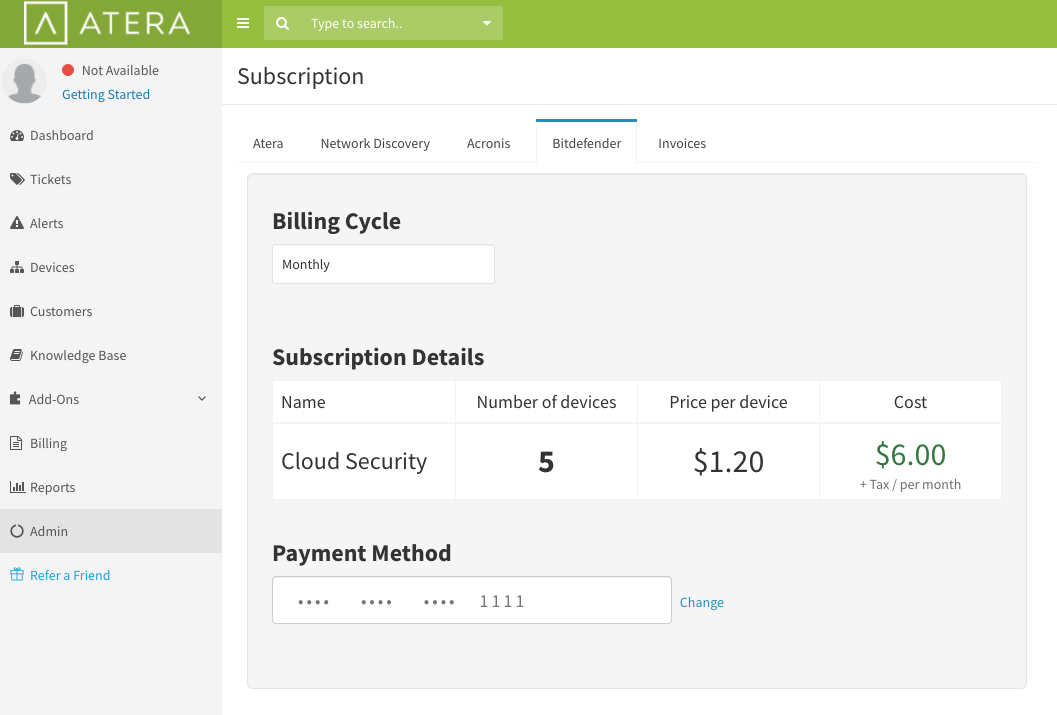 2. Click the Bitdefender tab to view details about your Bitdefender subscription.