Atera partners with Bitdefender for advanced cybersecurity, to prevent, detect and respond to all threats to your customers' devices. Once you've activated Bitdefender, you can enable or disable the optional Bitdefender add-ons for new or existing agents.
GravityZone Cloud MSP Security
Bitdefender GravityZone Cloud MSP Security includes the following core features:
Antimalware: Based on signature scanning and heuristic analysis (e.g., B-HAVE, ATC).
Advanced Threat Control: This works as a malware/network attack defense.
Advanced Anti-Exploit: Catches the latest exploits in real-time and mitigates memory corruption vulnerabilities that can evade other security solutions.
Risk Management: Helps identify and remediate many network and operating system risks on the endpoint level.
Firewall: Helps to protect endpoints from inbound and outbound unauthorized connection attempts.
Network Protection (with Content Control and Network Attack Defense): Focused on detecting network attacks designed to gain access to endpoints through specific attacks (e.g., brute force, network exploits).
Device Control: Helps by preventing sensitive data leakage and malware infections via external devices attached to endpoints such as USB flash drives, Bluetooth devices, CD/DVD, etc.
Web Filtering: Helps to schedule web access while blocking or allowing certain web categories or URLs.
Ransomware Mitigation: Ability to restore files encrypted in a ransomware attack from tamper-proof copies. You can find the Ransomware Mitigation settings under the Antimalware > On-execute policy section.
Additional add-ons
Complement Bitdefender GravityZone Cloud MSP Security with the following add-ons:
Disk Encryption
Email Security
Exchange Security
ATS (Advanced Threat Security)
EDR (Endpoint Detection and Response)
EDR Standalone
XDR (eXtended Detection and Response)
MDR Foundations
Integrity Monitoring
Mobile security
Note:
The MDR Foundations add-on will apply to all endpoints within the Bitdefender 'company' when enabled. Learn more
Disk Encryption, Email Security, and Exchange Security are all enabled during the trial period. Disable these add-ons during your trial if you don't want to incur charges for these add-ons once your trial ends.
Advanced Threat Security is disabled by default.
The Patch Management and Virtual Devices add-ons are not available after the trial period ends.
Learn more about Bitdefender add-ons
Prerequisite: Please ensure you have the optional add-on features checked/unchecked for each Customer in the Bitdefender GravityZone console.
1. Click on the Companies tab, then click on the desired customer.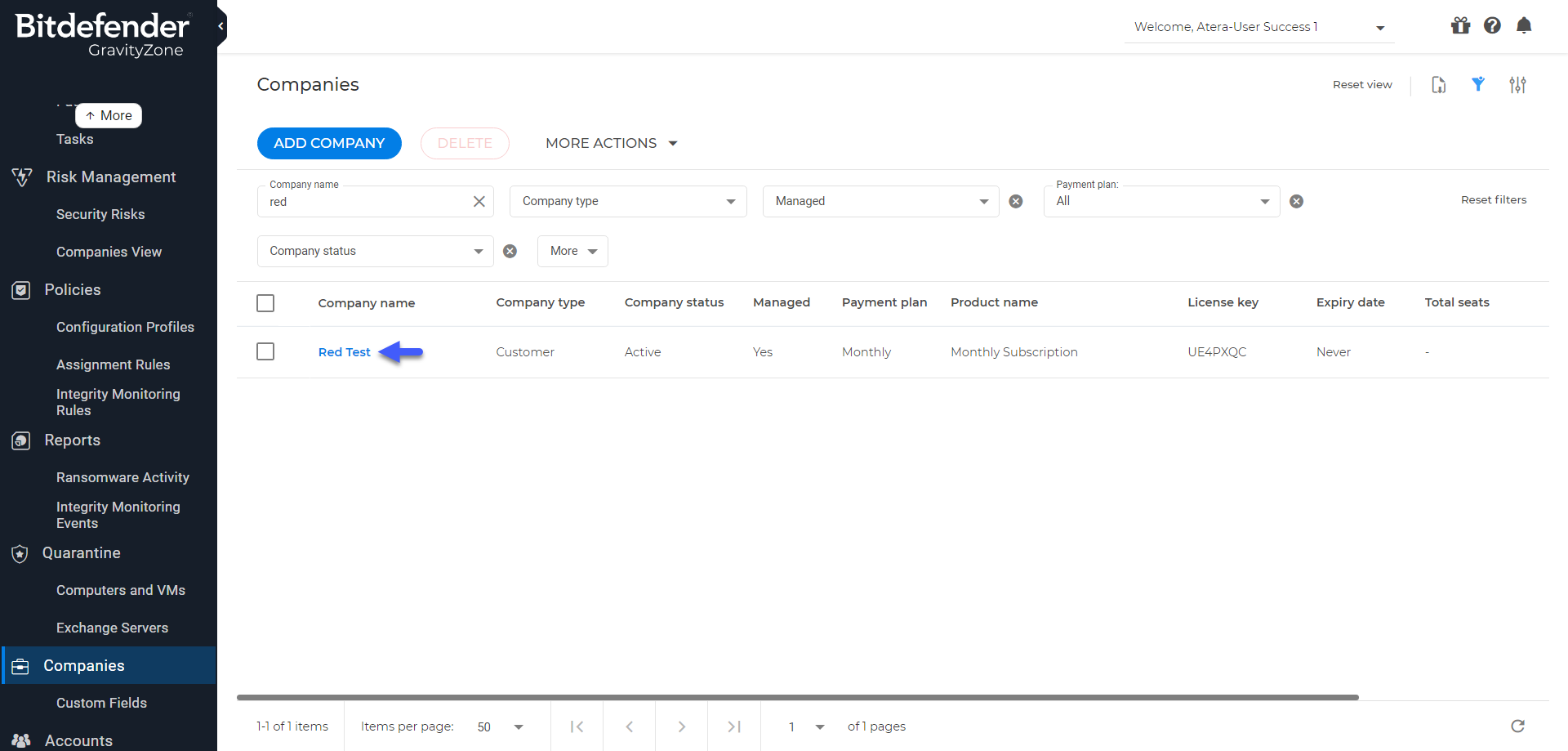 2. On the Edit Customer page, click on Licensing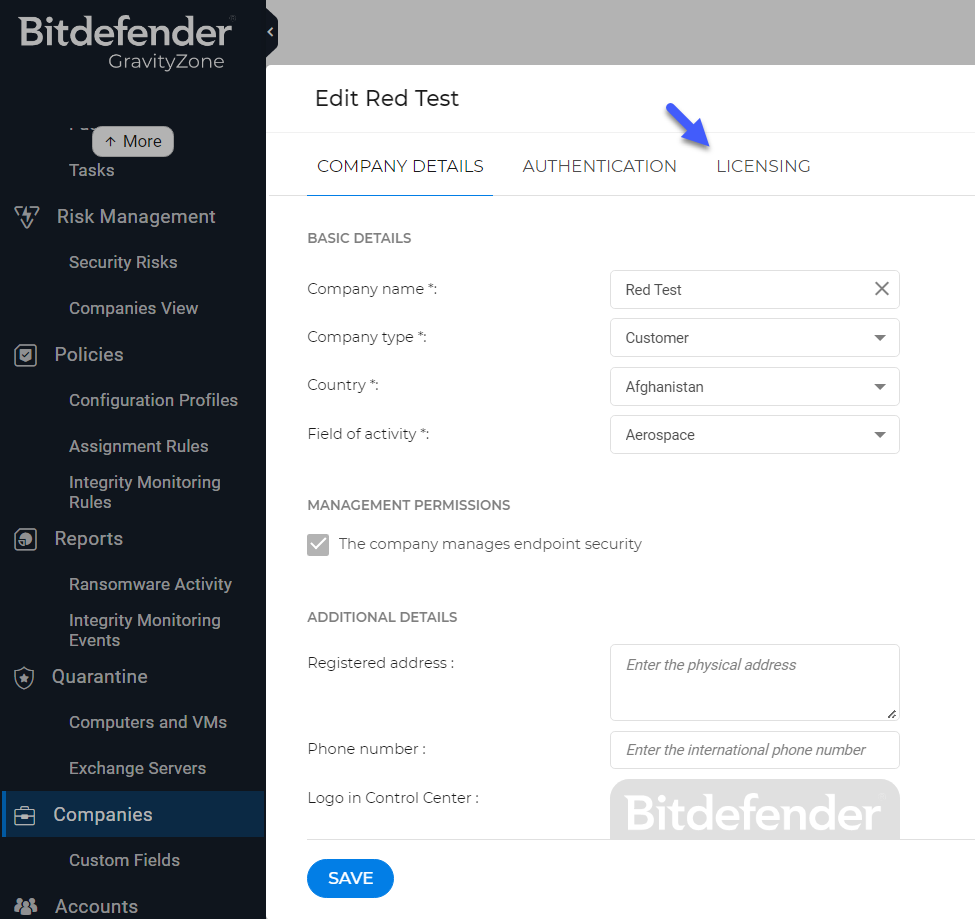 3. On the Licensing tab, click on Edit licensing options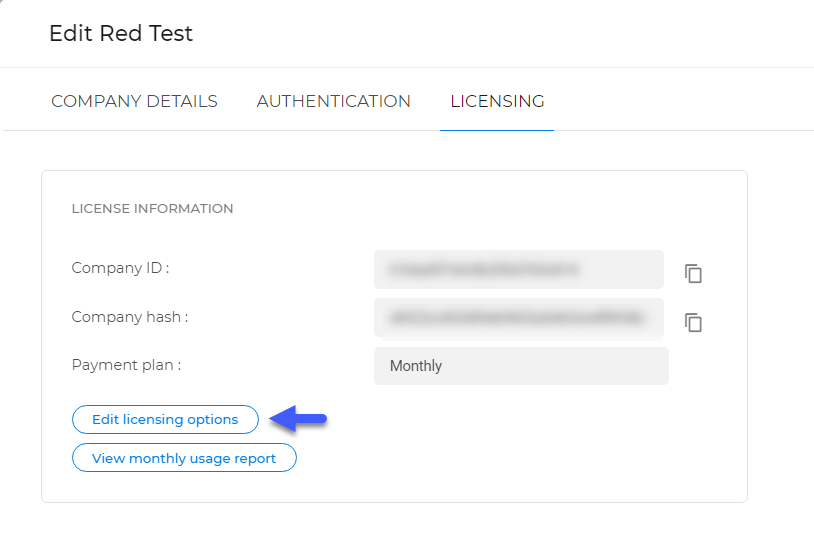 4. Scroll down to the Add-ons section, and enable the desired add-ons.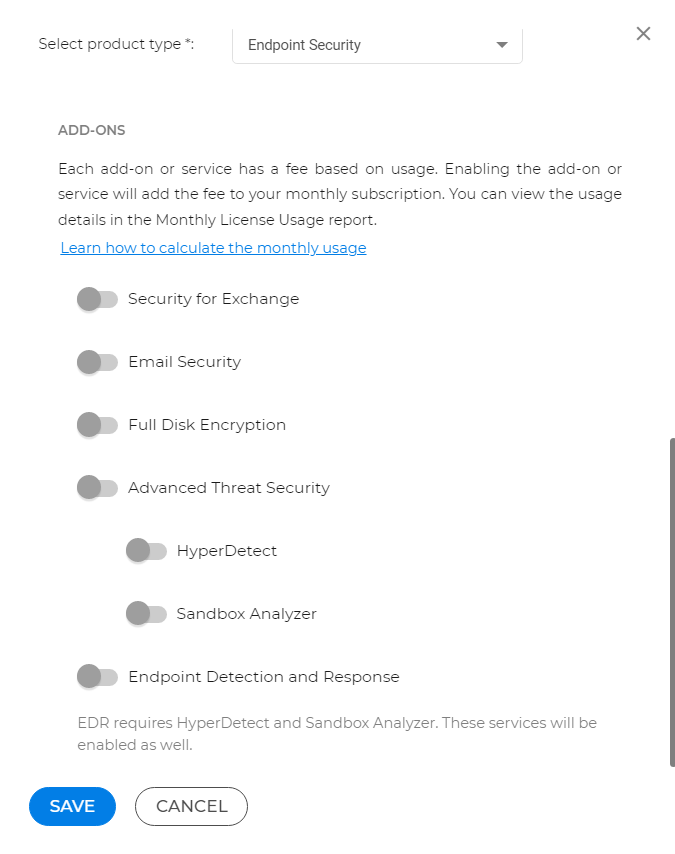 Important Note:
Endpoint Detection and Response (EDR) requires HyperDetect and Sandbox Analyzer (Advanced Threat Security). When EDR is enabled, Advanced Threat Security will be greyed out and selected by default.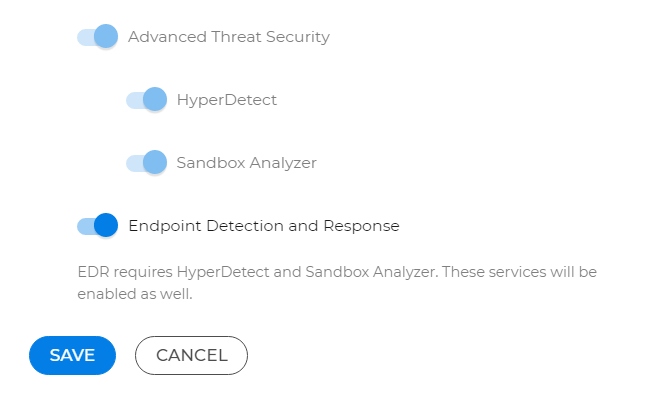 To enable or disable Exchange Protection, Encryption, and EDR Sensor (the first 3 add-ons on the list)
New installation
If it is a fresh agent installation, the add-ons can be enabled or disabled when creating the installation package.
1. Log in to the Bitdefender GravityZone console.
2. Go to Network > Packages > Add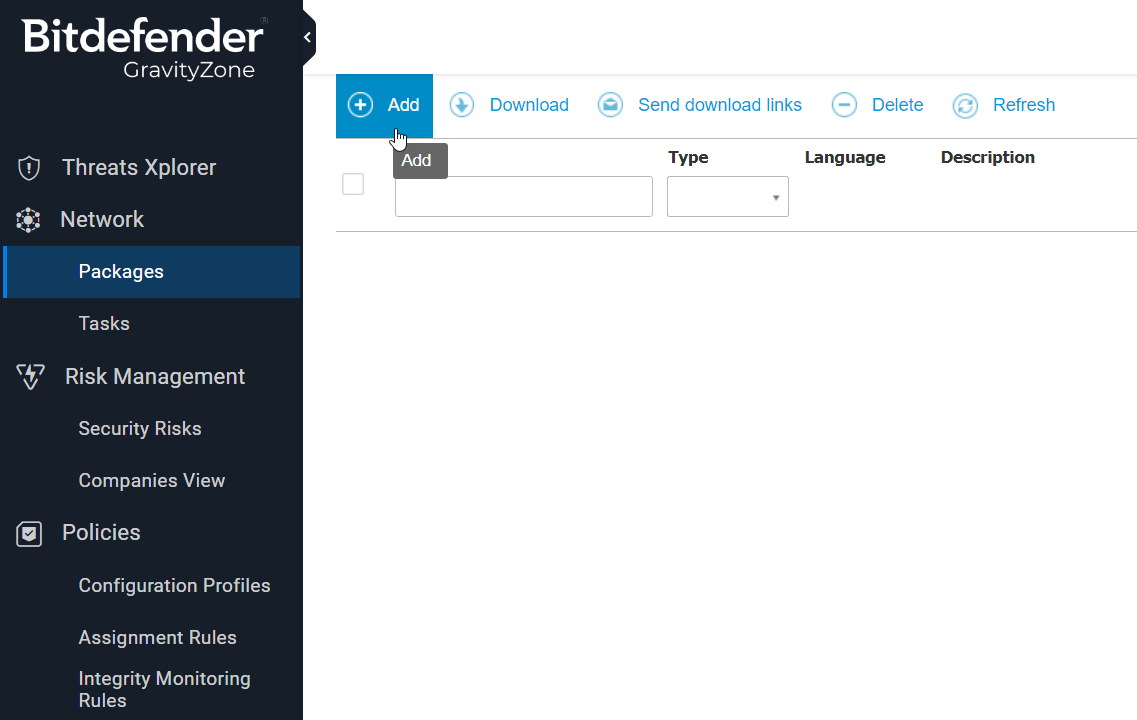 3. On the New Endpoint Package page, enter a name for the package, select the relevant modules and click Save.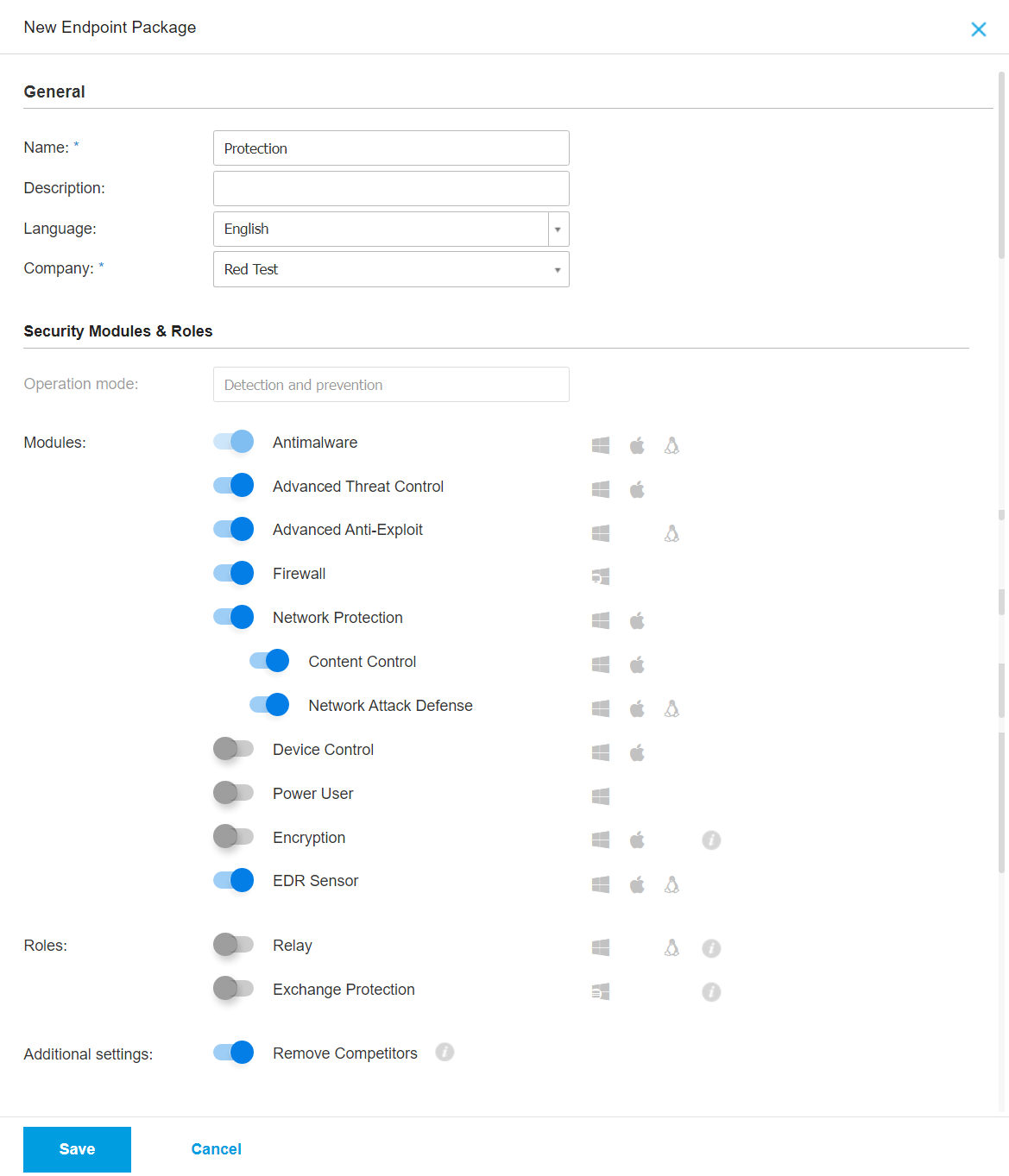 4. Download the full package as per computer requirements.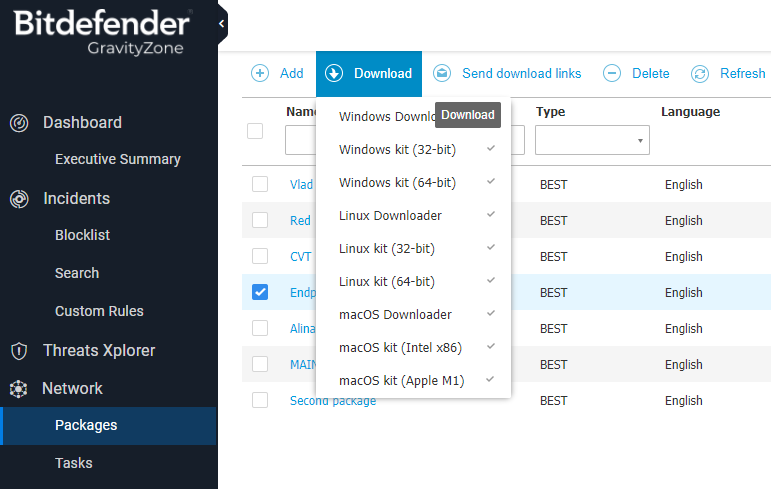 Or you can send a download link to the user by clicking on Send download links. Enter the email address of the user you need to send the download link to and click on Send.
NOTE: Use ; (semicolon) on your keyboard to close the email link.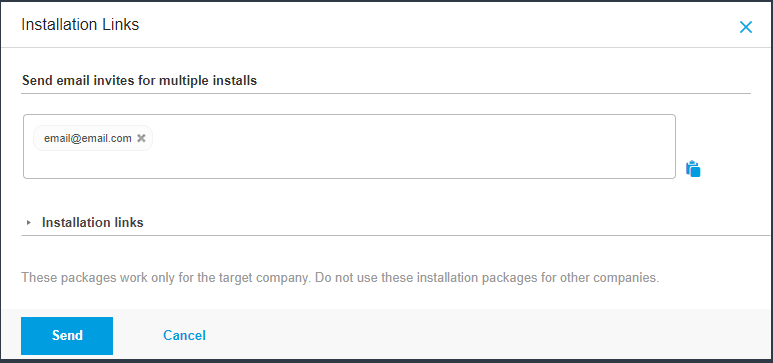 You can also use the Bitdefender installation method through Atera, check our article for more details: Install Bitdefender via Atera
The agent is already installed
If the agent is already installed with the base product and you need to enable/disable the add-on features, please follow the below steps:
1. Log in to the Bitdefender GravityZone console.
2. Go to the Network tab: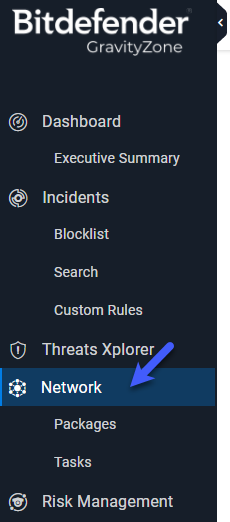 3. Under the relevant Company, expand to select Computers and Groups. Then select (an) installed agent(s) > Tasks: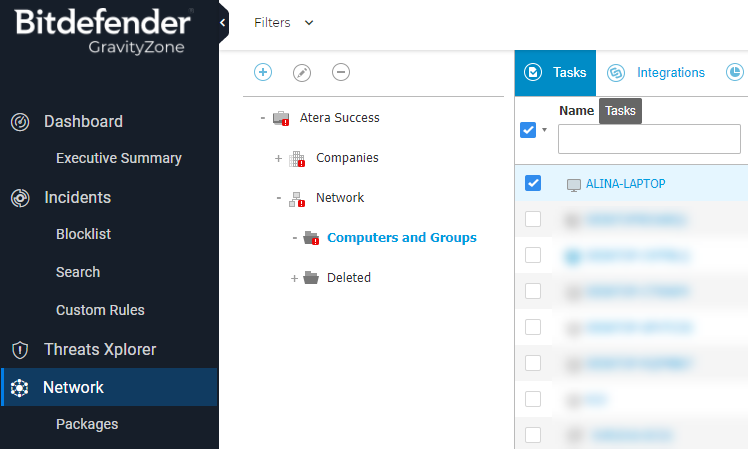 Or right-click agent > Tasks.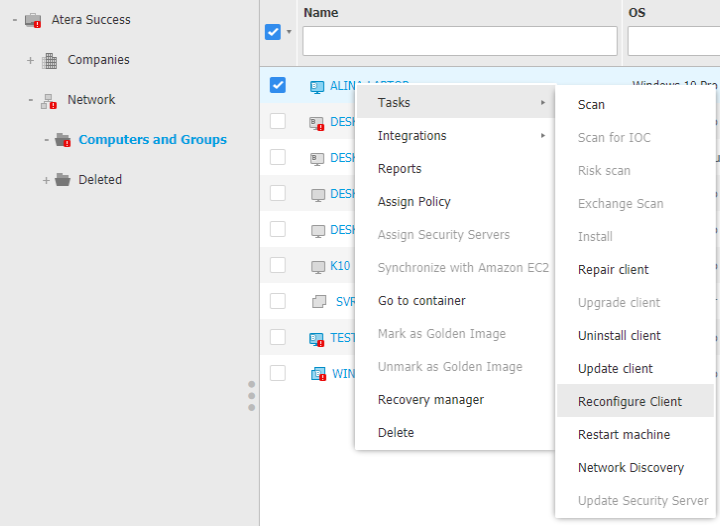 4. Select Reconfigure Client.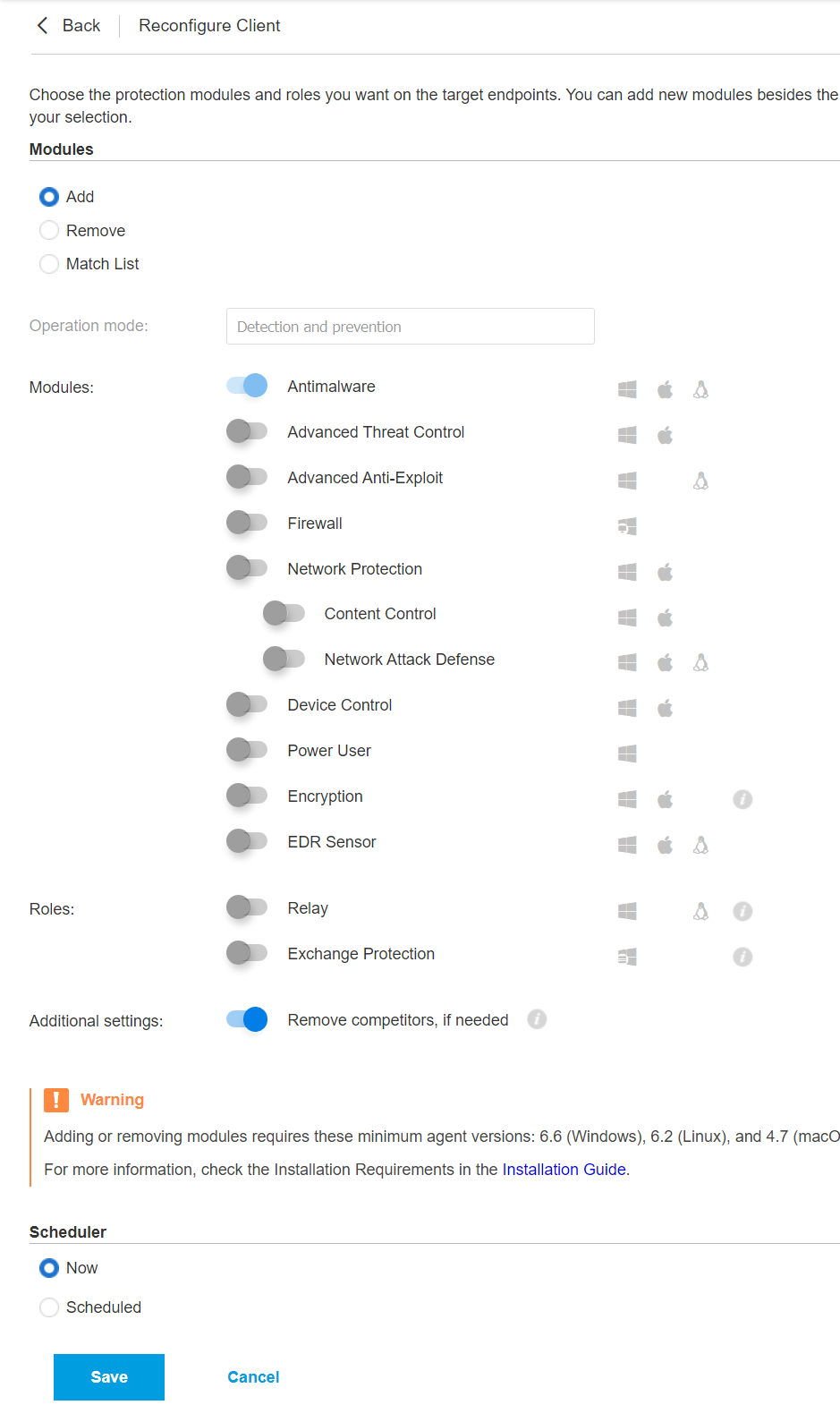 5. Select one of the following actions:
Add - Add new modules besides the existing ones.
Remove - Remove specific modules from the existing ones.
Match list - Match the modules installed with your selection.
6. Select the modules (add-ons) and roles that you intend to install or remove on the target endpoints.
7. Under the Scheduler section, choose when the task will run:
Now, to launch the task immediately.
Scheduled, to set up the task recurrence interval. In this case, select the time interval (hourly, daily or weekly) and configure it according to your needs.
8. Click Save. A confirmation message will appear.
You can view and manage the task on the Network > Tasks page.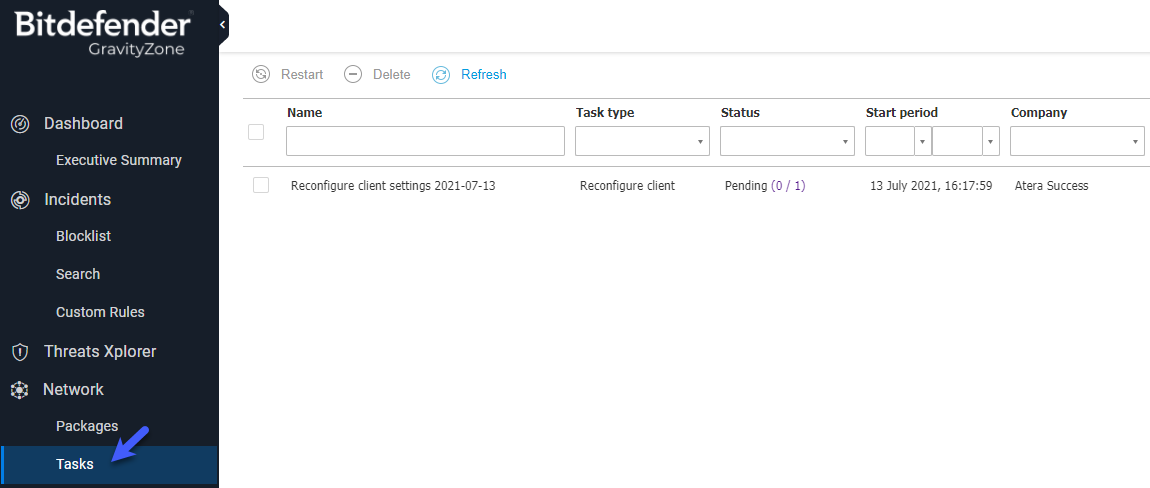 Note: To make use of the EDR add-on, alongside enabling it within the Company and installation package, it also needs to be enabled in the Policy (Policies > select the relevant policy > enable Incidents Sensor).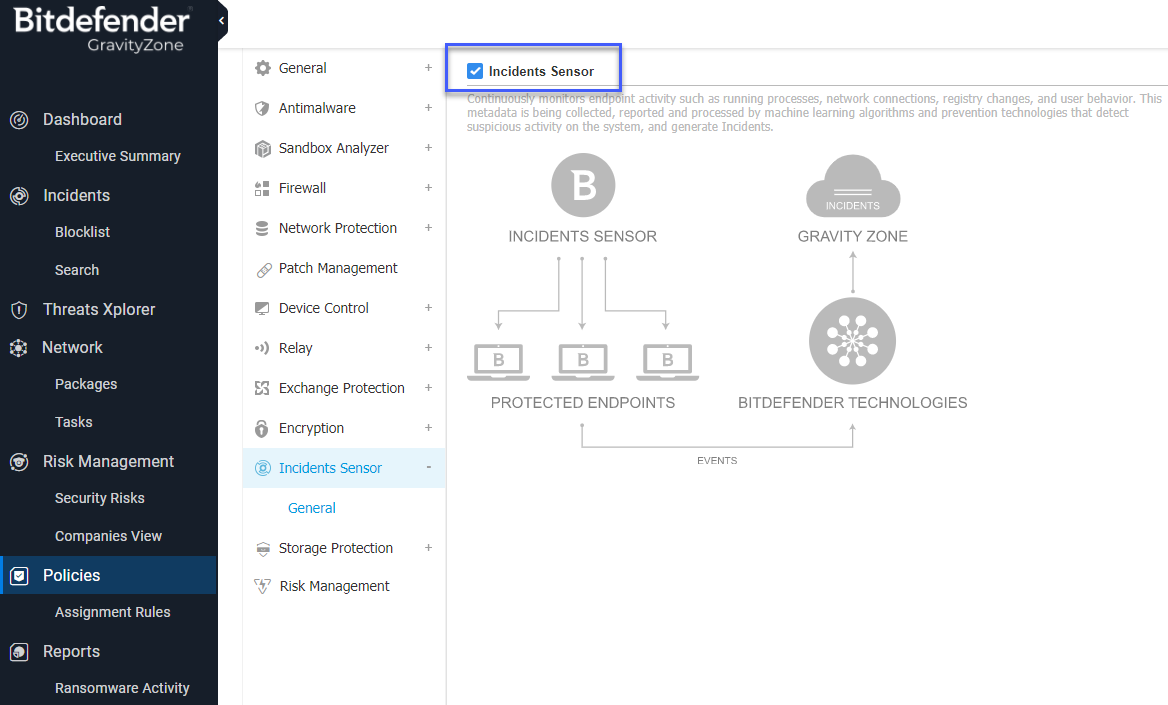 To enable or disable Advanced Threat Security (Hyper Detect and Sandbox Analyzer)
ATS is disabled by default in the Default policy — this can be found under the Policies tab > Default policy (default).
The Default policy is read-only, therefore, in order to edit it, you will need to either create a new policy or create a clone of the existing one. This is done by clicking on Clone Policy within the top-right corner pop-up:

Keep in mind that Advanced Threat Security includes Hyper Detect and Sandbox Analyzer; once you have the new policy created, these two modules require enabling or disabling.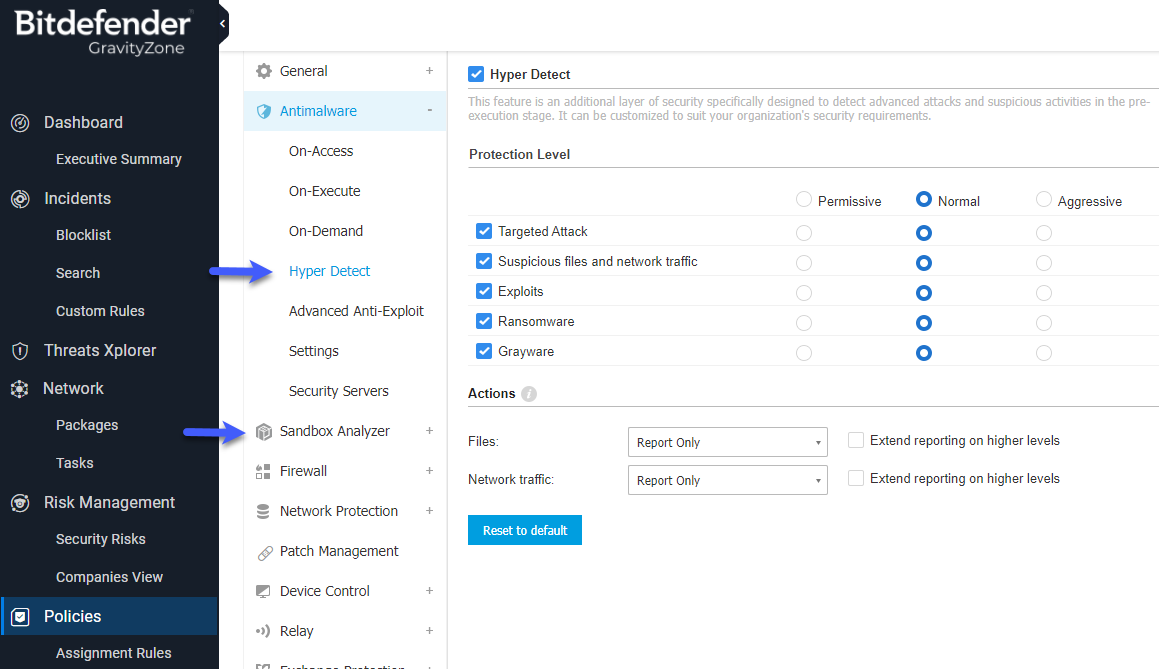 Once you make the required changes, click on Save.
Note: For Sandbox Analyzer to be turned on/off, ensure that the "Automatic sample submission from managed endpoints" is checked/unchecked:

Next, to assign the new policy to a Company or the entire account, go to the Network tab > right-click on the relevant company > Assign Policy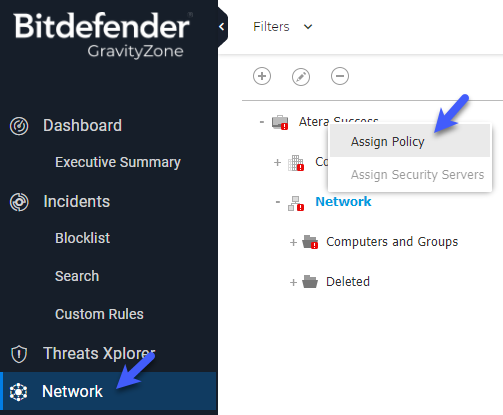 Email Security
Email Security is managed through the designated console, under the Email Security tab.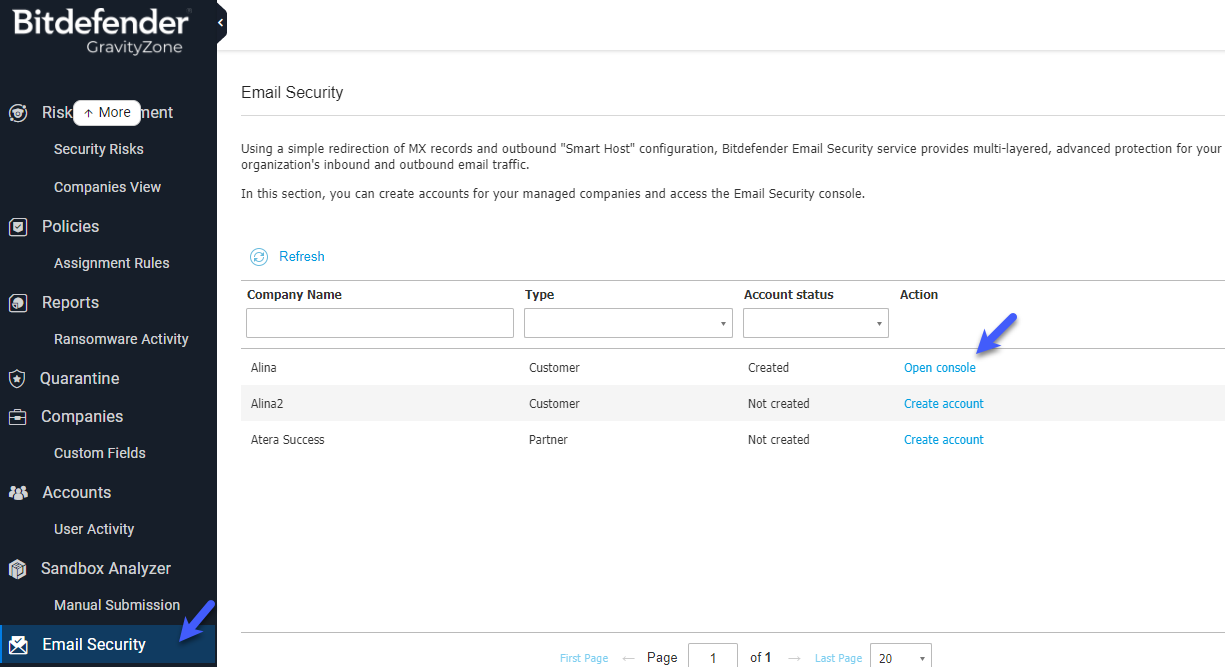 Note: To check which add-ons are enabled on which endpoints, you can generate the Endpoint Modules Status report.
1. Go to the Reports tab > Add: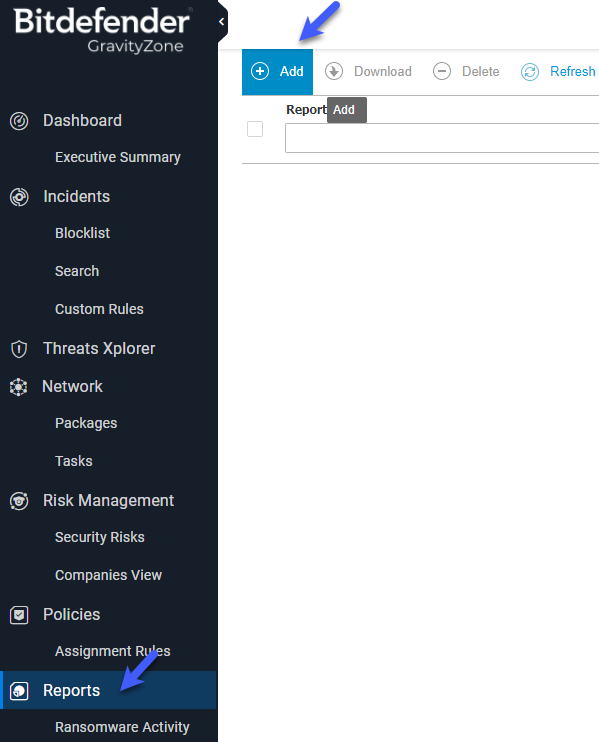 2. Select Endpoint Modules Status > Generate: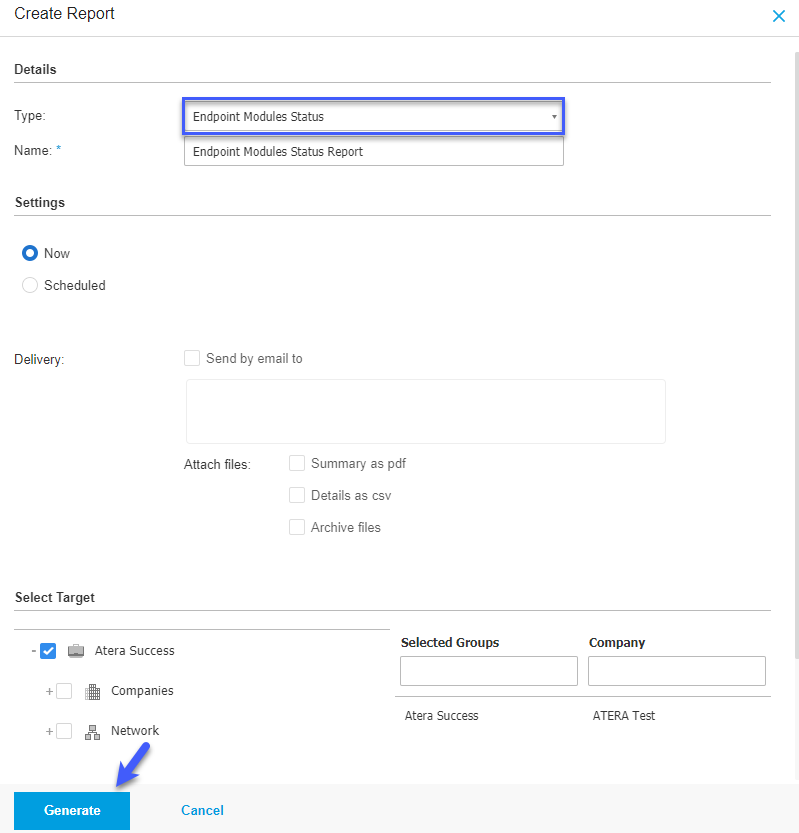 This gives you an updated report of what add-ons are currently enabled on your endpoints.
Important Note: For further information on troubleshooting the Bitdefender platform, please contact Bitdefender support
Sorry about that. Can you tell us why?