Ticket Automation Rules enable you to set actions that will automatically trigger when certain ticket actions occur (e.g., new ticket created, closed, updated). You can create as many unique automation rules as you like and the possibilities for their uses are endless, especially in conjunction with email templates. This article explains how to create an automation rule.
You can also learn how to set up commonly used automation rules and time-based automation rules
To access ticket automation rules:
1. From Admin (on the side panel), click Ticket Automation Rules.

The Ticket Automation Rules page appears.

2. Click Add New Rule.
The Add Rule form appears.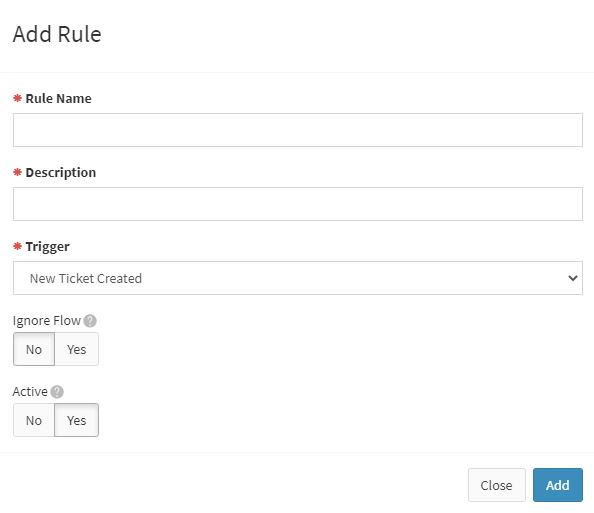 3. Fill in the form:
Enter a Rule Name.
In the Description field, enter a short description of what the rule does.
In the Trigger field, select the trigger for the action. Choices include New Ticket Created, Ticket Status Changed, Ticket Closed/Resolved, Ticket Assignment Changed, Low Ticket Rating Submitted, and Ticket Contact Responded.
Ignore Flow - This is applicable when there are multiple automation rules. The rule listed first on the page is dominant so if the rule contradicts or conflicts with other rules beneath it, then those rules will not apply. Selecting 'Yes' enables this rule to operate regardless of rule hierarchy and structure.
Active - Select 'Yes' to activate the rule.
4. Click Add.
The rule is created and visible on the displayed Ticket Automation Rules page.
5. Click the rule name to manage the Conditions and Actions.

The Conditions and Actions appear.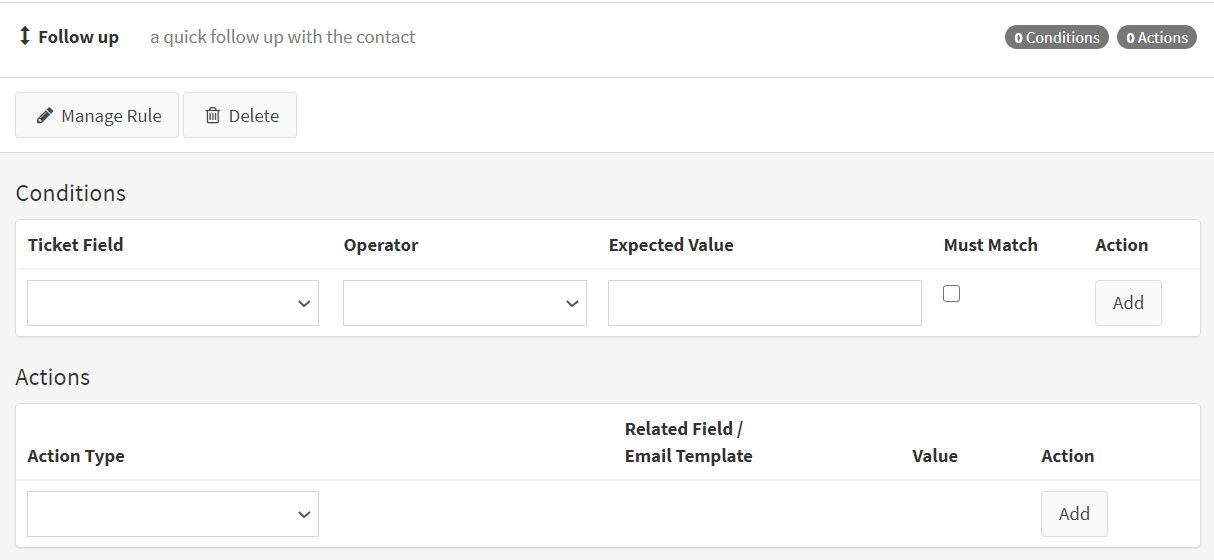 Note: Remember we already selected the trigger previously. We will now select the Conditions (optional) and Actions.
Conditions
Conditions can be added to customize the automation. Conditions can be based on: Activity Status, Business Impact, Contact Name, Customer Name, Customer Rank, Destination Email, Event Trigger Time, From Contact Email, Priority, Product Family, Source, Status, Technician, Custom Field (Learn more), and Ticket Title.
To add a condition:
1. Select a Ticket Field, Operator, and Expected Value from the dropdown menus.

2. Check the Must Match checkbox (ensures added conditions must be met), and click Add.
The Condition is added. You can add multiple conditions by repeating this process.
Actions
Actions refer to the action(s) you wish to trigger. Action types include: Set Field Value, Send an Email, Send an Email to Technician, Send an Email to Contact, Send Survey to Contact.
To add an action:
1. Select an Action Type, Related Field/Email Template, and Value (if applicable).

2. Click Add.
The Action is added. You can add additional actions by repeating the process.
The automation rule is now active.