Merging tickets provides the ability to merge one or more tickets into another ticket.
You might do this if you receive two or more support requests about the same issue from the same end-user.
In order to perform a merge follow the steps below: 
1. choose a ticket from the list and click on the merge icon.

The Merge Tickets window displays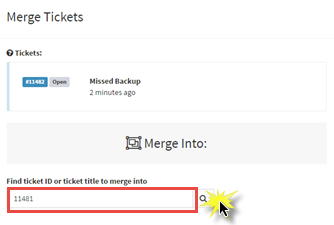 2. Search for the ticket you wish to forward all the data to
3. Select the ticket and click Merge

Note:
Ticket number 11481 is the main ticket, which will includes the info from
ticket  11482.