Webroot is an antivirus and cloud-based, threat protection software that stops threats in real time and secures businesses and individuals wherever they connect. This article walks you through the process of activating Webroot in Atera, creating Webroot sites, and installing Webroot on all your customers' devices. Atera, via Webroot, also offers full web browsing protection for all your customer's endpoints. With Webroot's SecureAnywhere DNS Protection, you can finely tune web access policies to prevent everyday web usage from becoming a major security risk.
Note: You will be billed based on the maximum number of installed devices you have during your billing cycle, regardless of their installation date or activity status. For accurate billing, please ensure that the Webroot software has been completely removed from each chosen device. This would similarly apply to every DNS-enabled site. For further billing information, see Atera Subscription Information
Activate Webroot
1. From App Center (on the sidebar), select Webroot.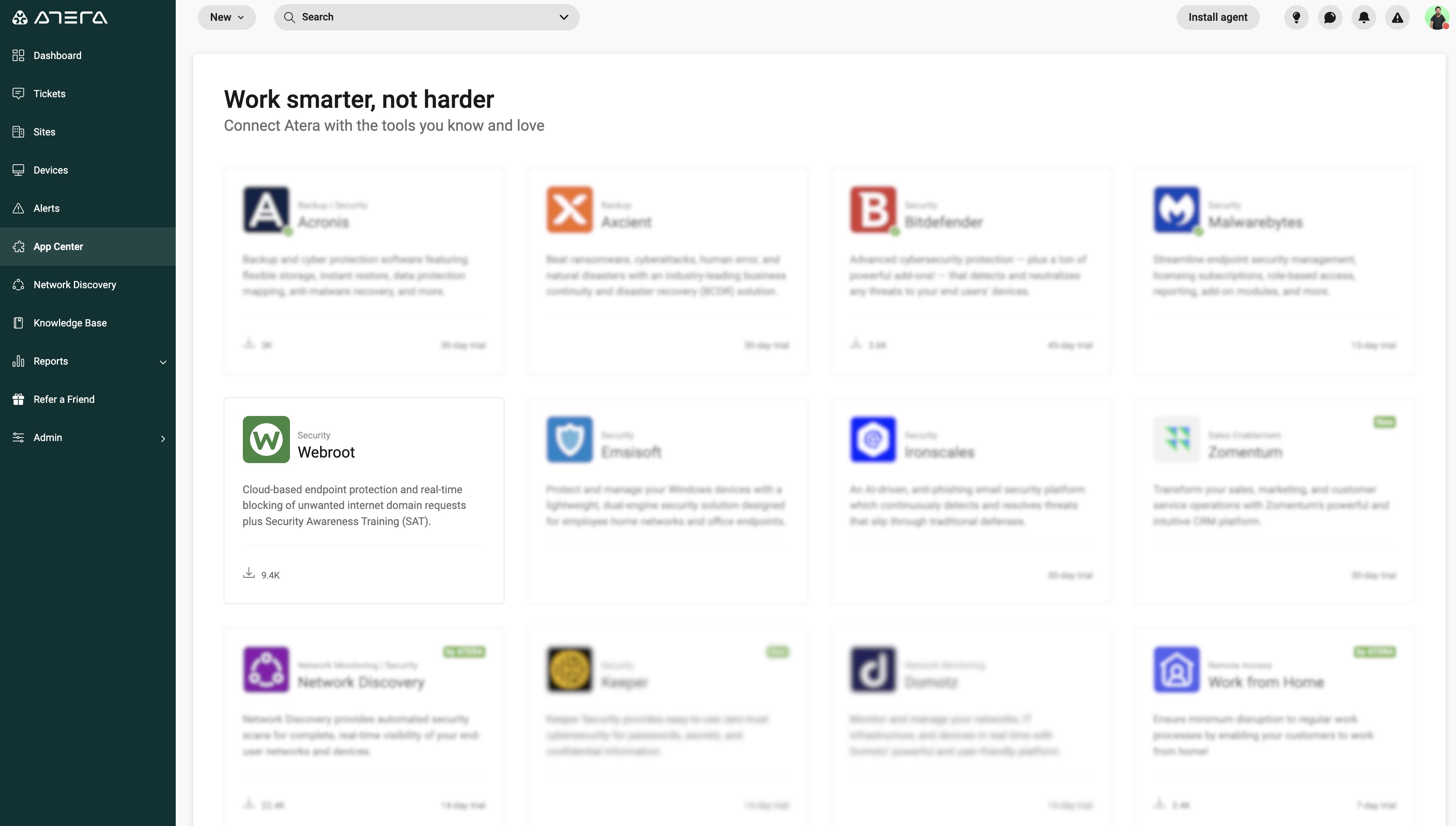 The Webroot page appears.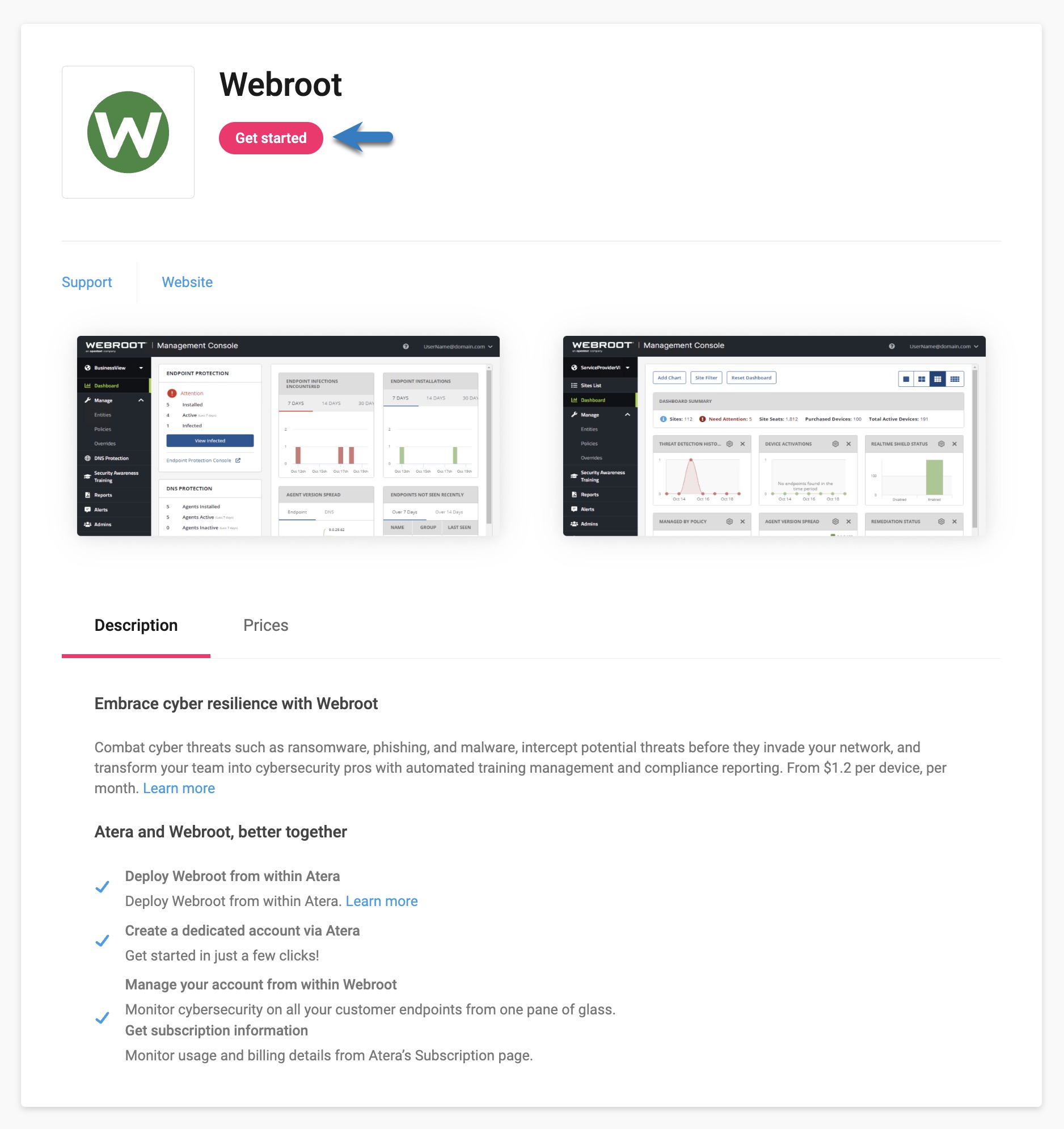 2. Click Get started. The Activate Webroot window appears.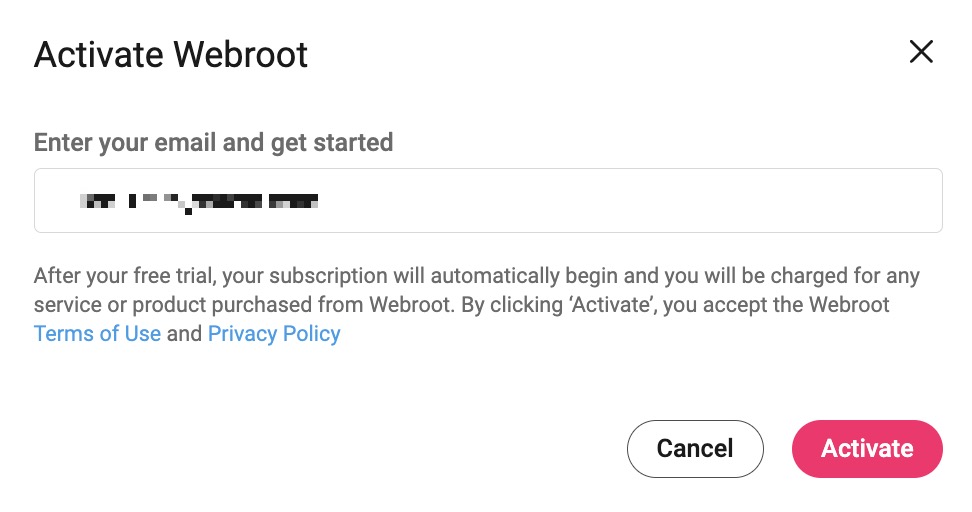 3. Enter your email address. Then click Activate.
You'll receive Webroot activation instructions via email within fifteen minutes.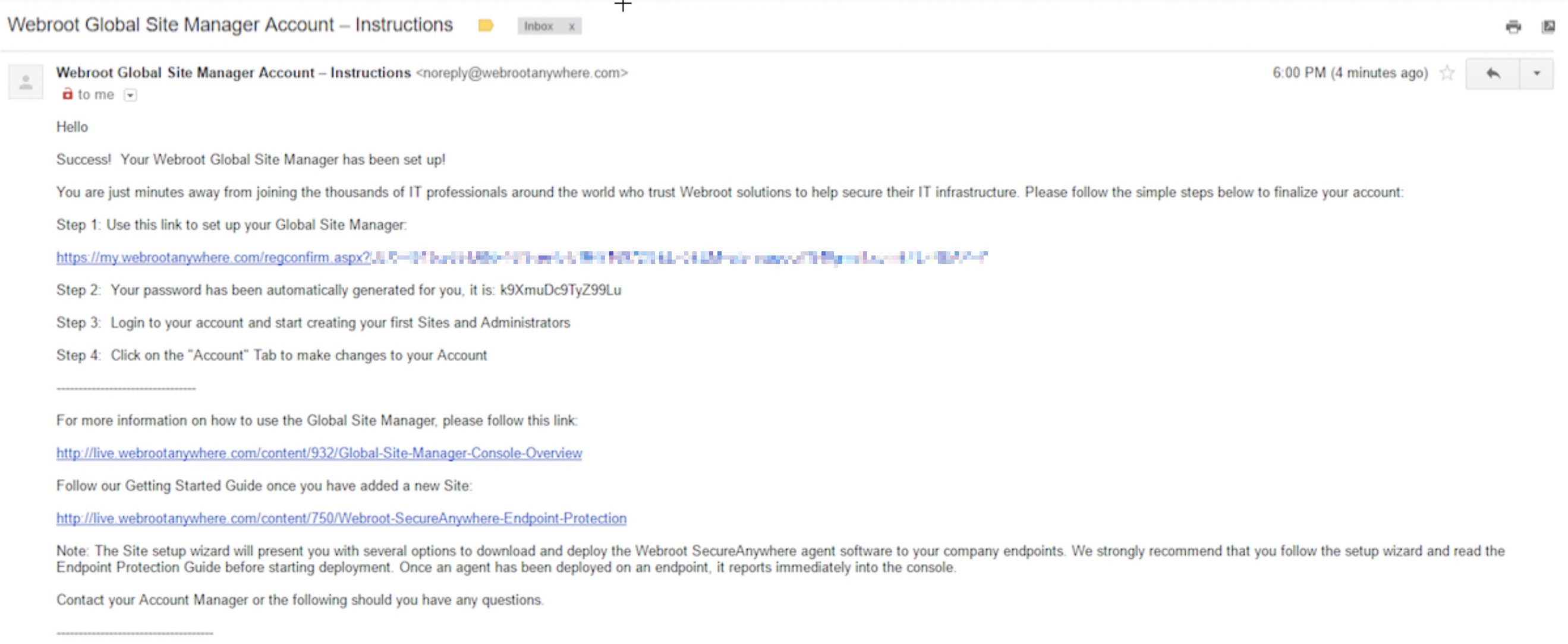 4. Follow the email instructions to activate Webroot.
5. Log in to the Webroot dashboard by clicking here
6. Change your password by following the instructions in the Webroot email.
Create a Webroot site
Follow the instructions below to ensure you create Webroot sites correctly so that Webroot functions as intended within Atera.
Note: We recommend creating a Webroot site for each customer. As each site in Webroot has its own installation key, creating a site for each customer will avoid potential issues when using Webroot with multiple customers.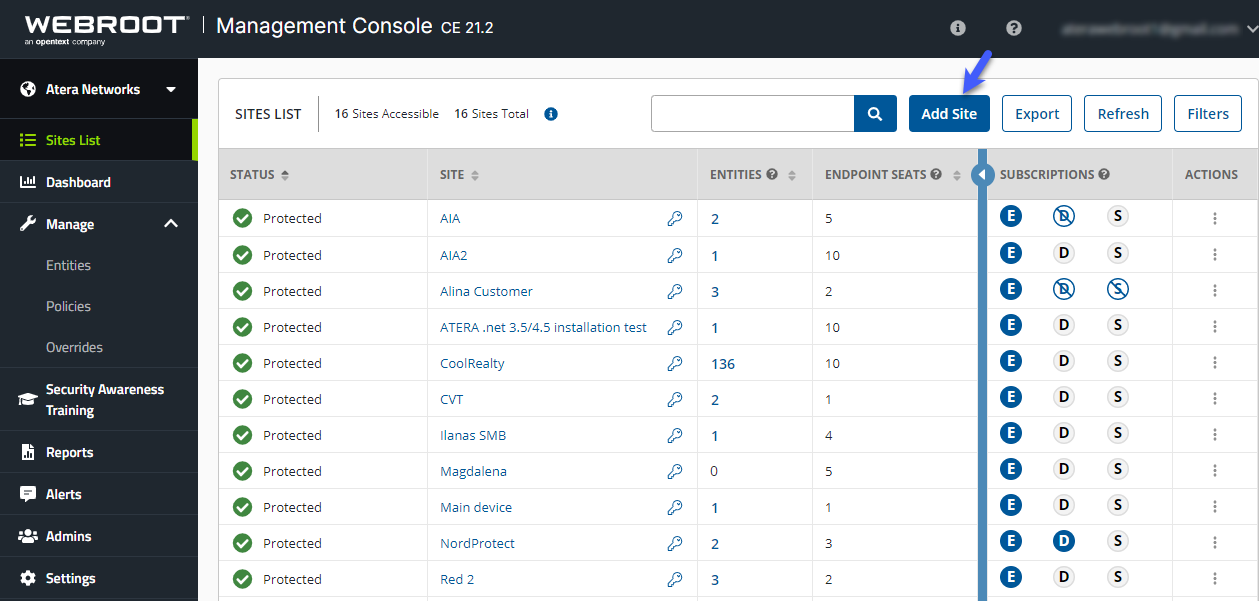 1. Log in to Webroot and under the Sites List tab, click Add Site. The Add Site page appears.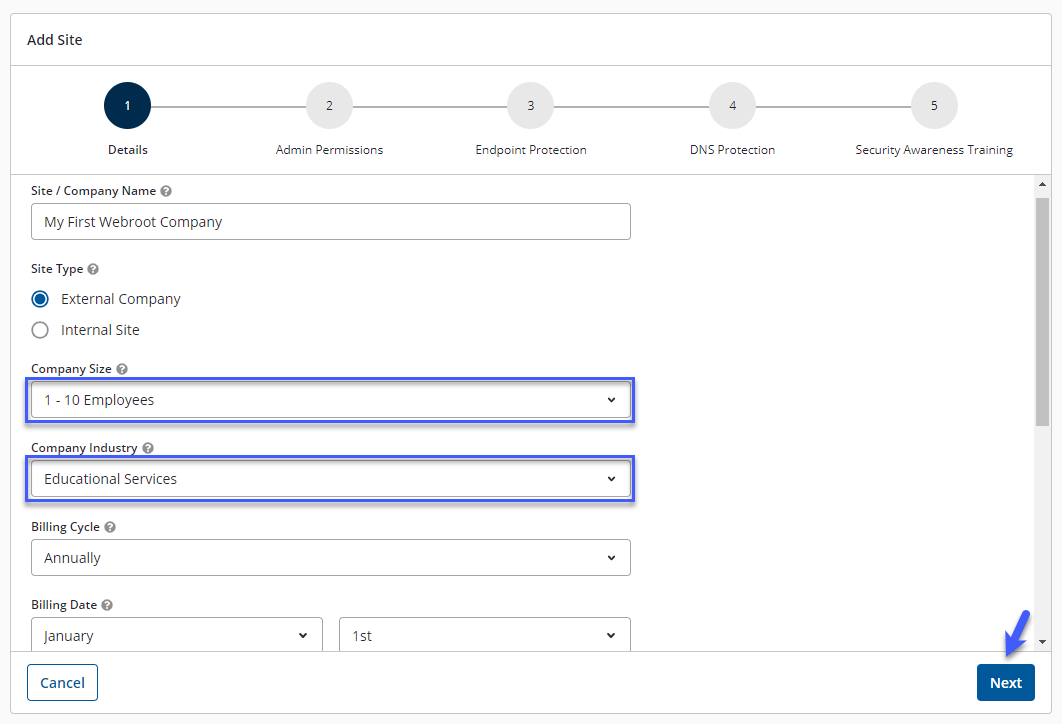 2. Enter the Site (Customer) details.
Note: We recommend picking a Site/Company Name that is identical (or similar) to the Atera Customer Name as this will make it easy to recognize the agents.
Mandatory fields:
Company Size
Company Industry
3. Click Next.
4. Review Admin Permissions.

5. Click Next.
6. Review the Endpoint Protection settings and click Next.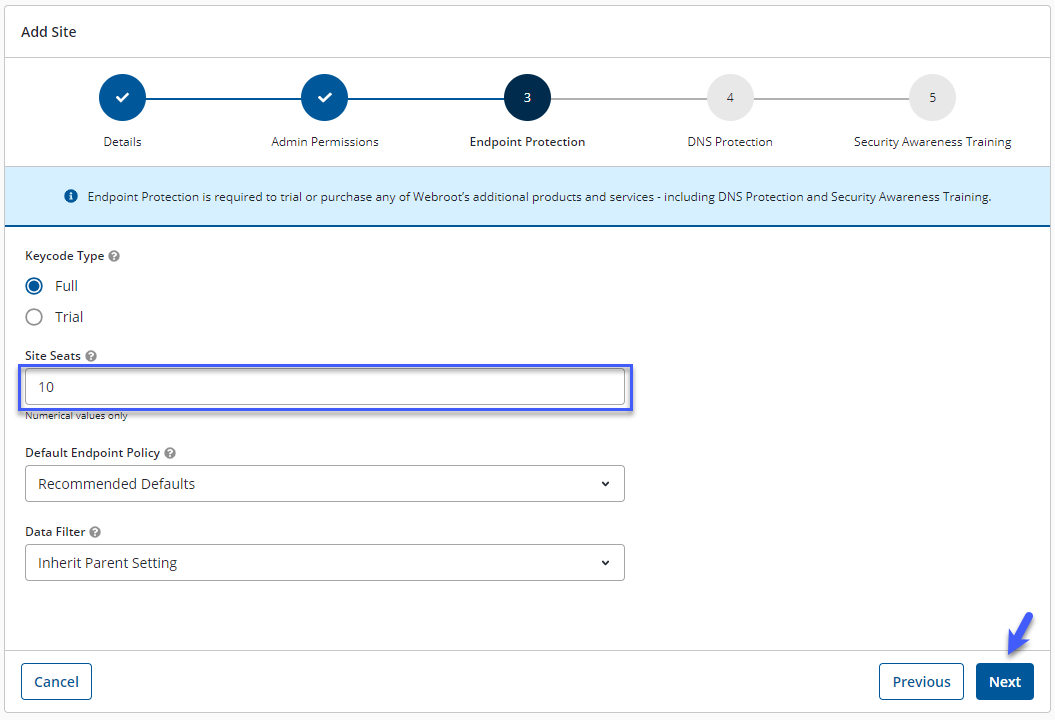 Mandatory field:
Site Seats (This field is for your reference only to identify how many seats each site will use and is not used for billing purposes)
Note: By default, the site is created with full capabilities, but you also have the option to create it as a 30-day trial by selecting the relevant option under Keycode Type.
7. Enable DNS Protection or leave it disabled, then click Next.

Note: Enabling DNS Protection on a site will incur additional charges. Learn more
8. On the Security Awareness Training screen, click Save.

The site is created. Repeat this process for each Atera customer who you want to be protected by Webroot.
Manage Webroot
Install, update, scan, and Webroot on your end-user devices via Atera.
Install Webroot on a Single Agent
1. Within Atera, go to the specific device's Agent Console page, then click Manage > More Tools > Webroot > Install.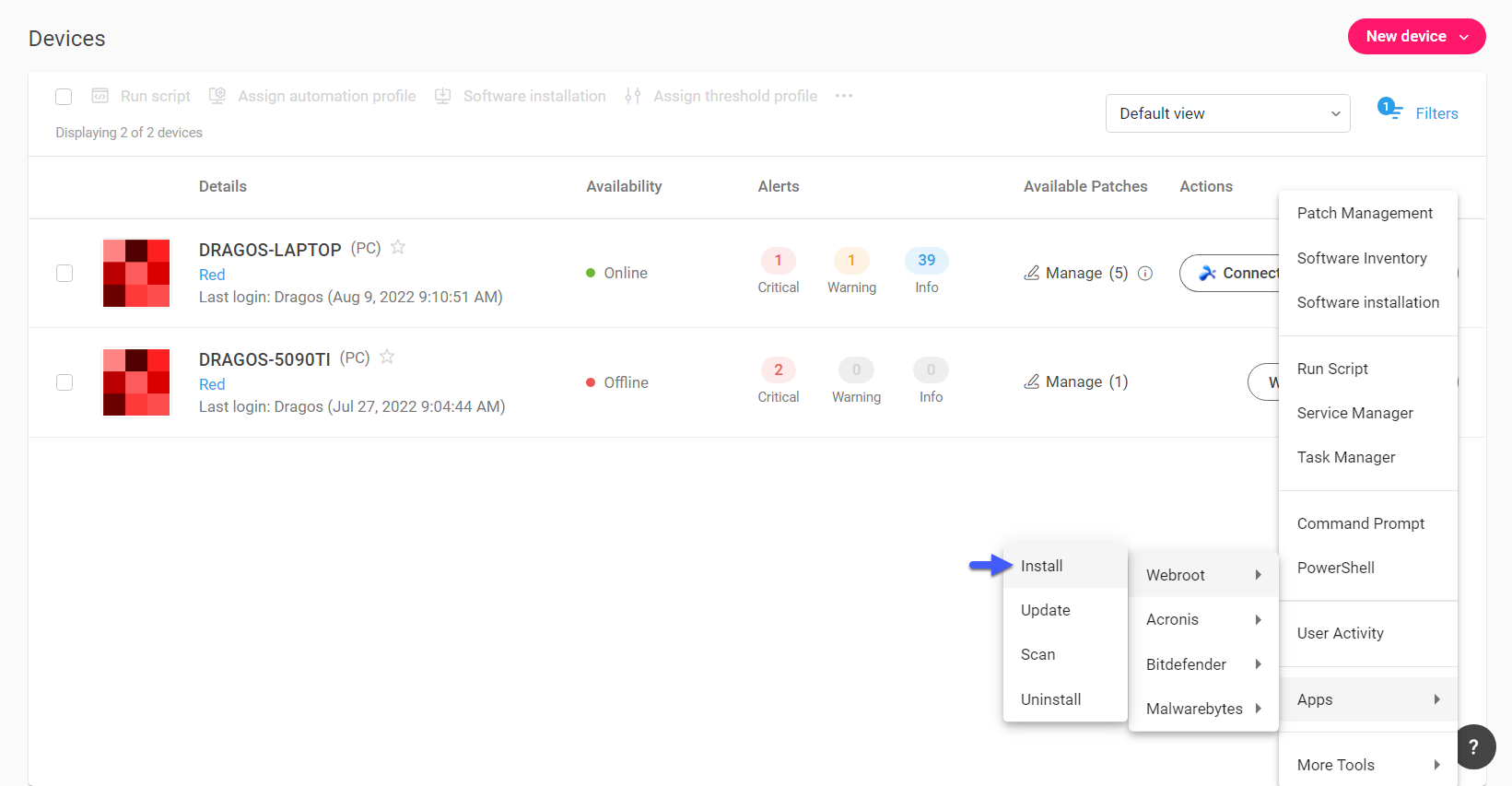 2. Enter your Webroot Key.
Note: Only the key that was generated by Atera is "authorized". For example CE90-ATERA-061D-1A40-4E5B.
3. Click Apply.
Note: The Webroot key should be taken from Webroot > Sites List.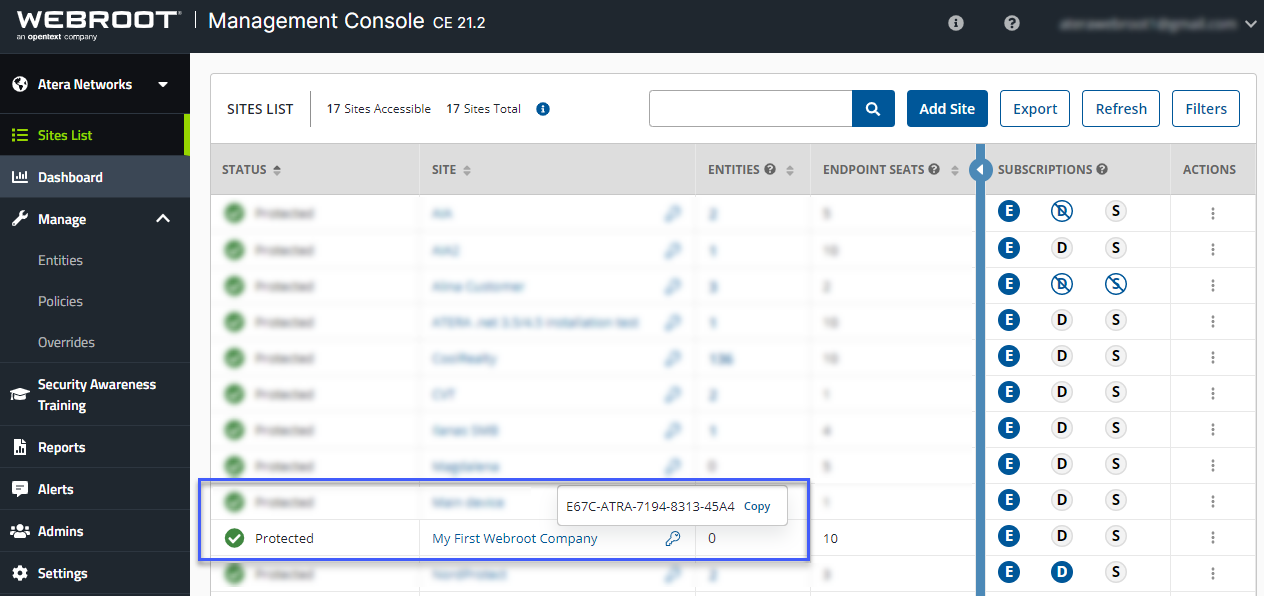 Optional actions:
Install Webroot on Multiple Customer Agents
1. From the specific customer's page, navigate to the Devices tab. Then click the Webroot Actions

icon.

2. Enter the Webroot Key.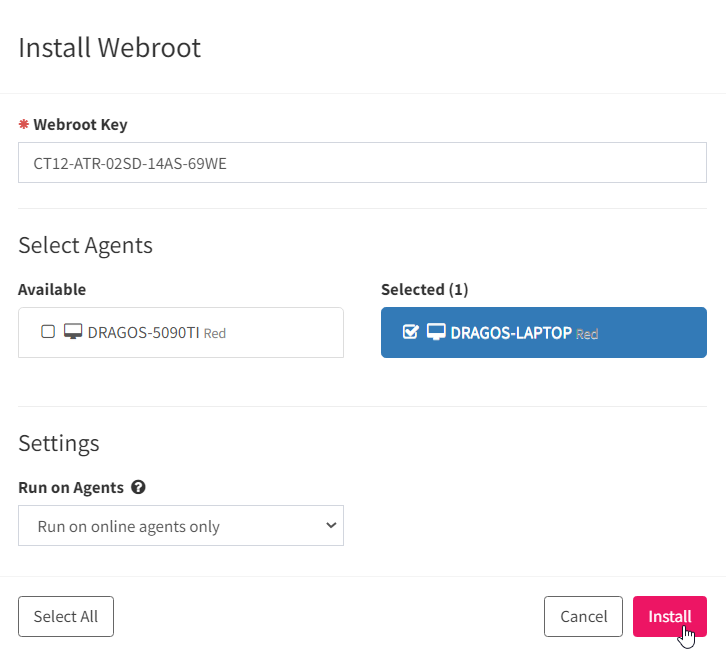 3. Select Agents from the Available list using the checkboxes (or Select All).
4. Specify the Run on Agents setting (Run scripts on online agents immediately or choose a later time to run the script on agents currently offline).
5. Click Install to install Webroot on the selected agents.
Note: Webroot can be installed via Atera on Windows devices only. To install Webroot on MACs, you can download the .dmg file manually and follow the instructions provided within the Webroot Management Console (Site > Endpoint Protection tab > Download Software).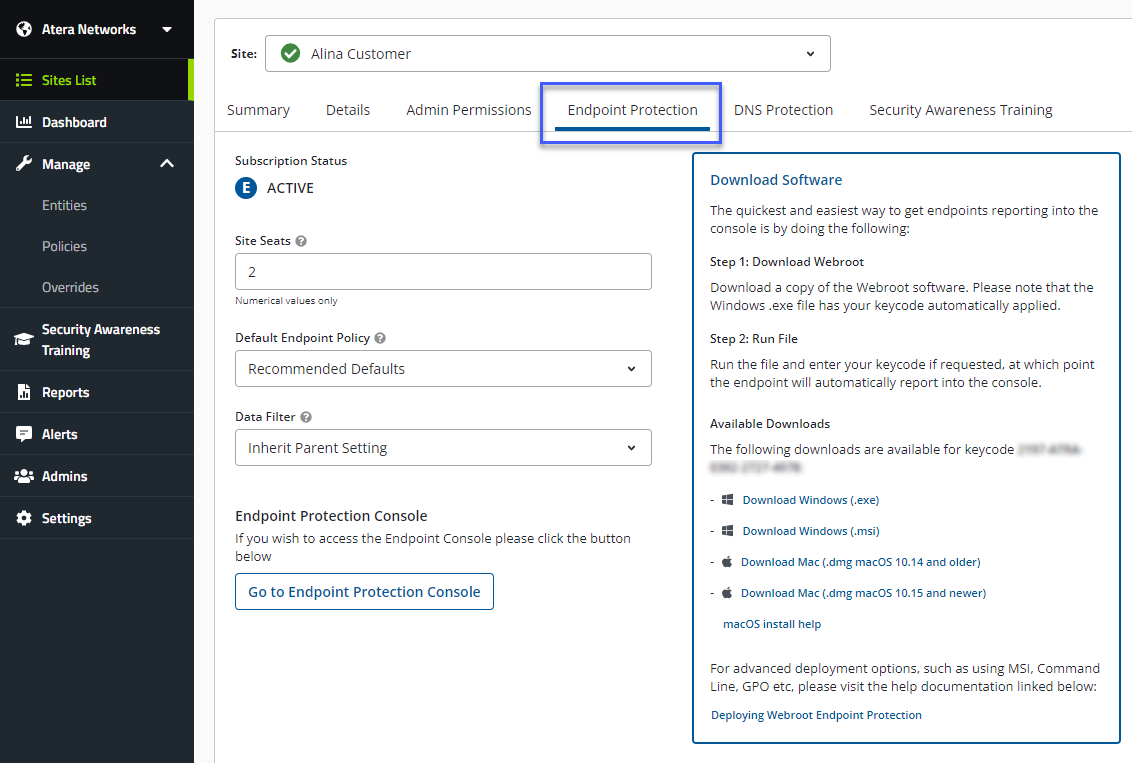 For more information, or for troubleshooting the Webroot platform, please contact Webroot support