Whether your customers work from home occasionally, on a regular basis, or need to transition during uncertain times, it is important to help them establish a remote connection to their work computers, from home. In order to ensure minimum disruption to regular work processes and optimum productivity, they will need a connection that works quickly, securely, and efficiently. Having a safe and reliable method for effectively working from home is crucial and can help ensure their continued productivity and success.
Atera's Work From Home add-on feature enables you to equip your customers with this essential productivity tool. This article explains how to:
The Atera Work From Home add-on feature must be activated in order to use this feature.
To activate:
1. Click Work From Home, on the side panel.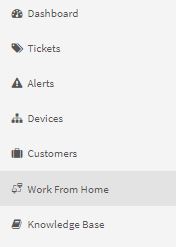 The activation page appears.
2. Click Try before you buy, for a 7 day free trial that becomes a subscription (unless cancelled).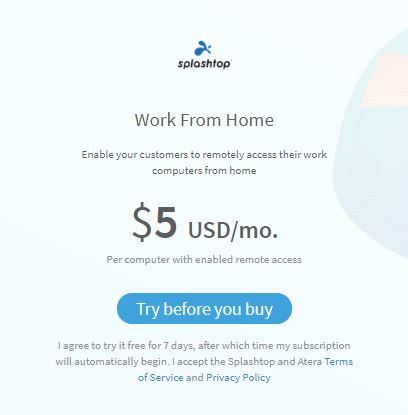 Notes:
After the trial ends, you will not be charged until you enable remote access on at least one customer device.
Remote access is provided through Splashtop, which is enabled in your system by default. This means the Atera agent, which is installed on all devices, includes the Splashtop streamer. If Splashtop has been disabled in Atera, you can manually enable it. To enable Splashtop: Go to Admin (on the side panel)> Settings > Remote access > Splashtop > Uncheck the Disable Splashtop Remote Connection box. Within 24 hours Splashtop will be fully enabled. Additionally, you will need to manually install a Splashtop streamer on each device you wish to enable remote access on.
See a video that explains the activation process.
Admins can enable remote access on all or some of the customer devices.
To enable remote access:
1. From Customers, on the side panel, click the specific customer.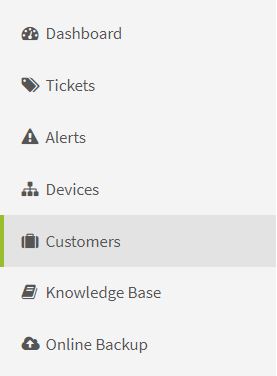 2. From within the customer, click the Devices tab, then the All tab.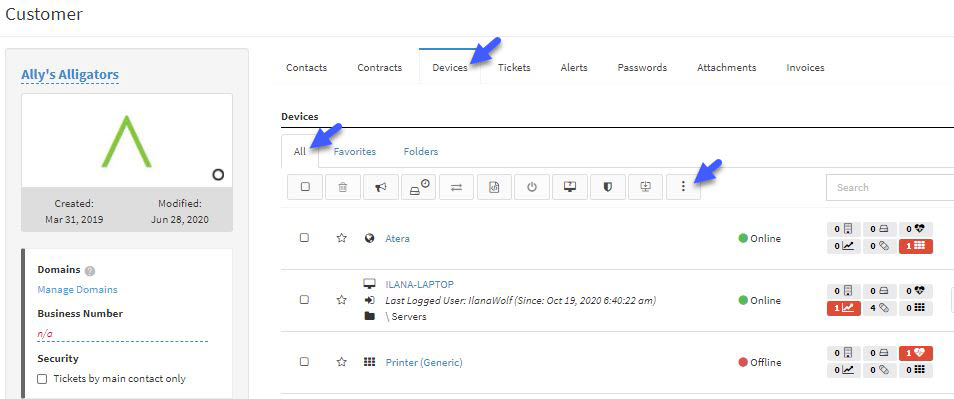 3. From the

icon dropdown menu, click Work From Home.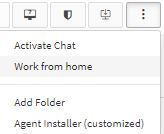 The Work From Home Settings screen appears.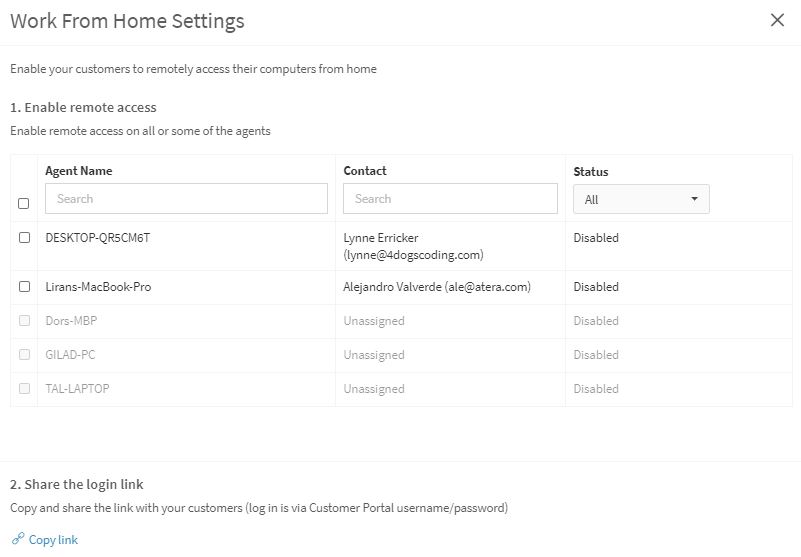 Note: Servers do not appear in the list of agents.
4. Select the agents (devices) on which you wish to enable remote access, and click Enable.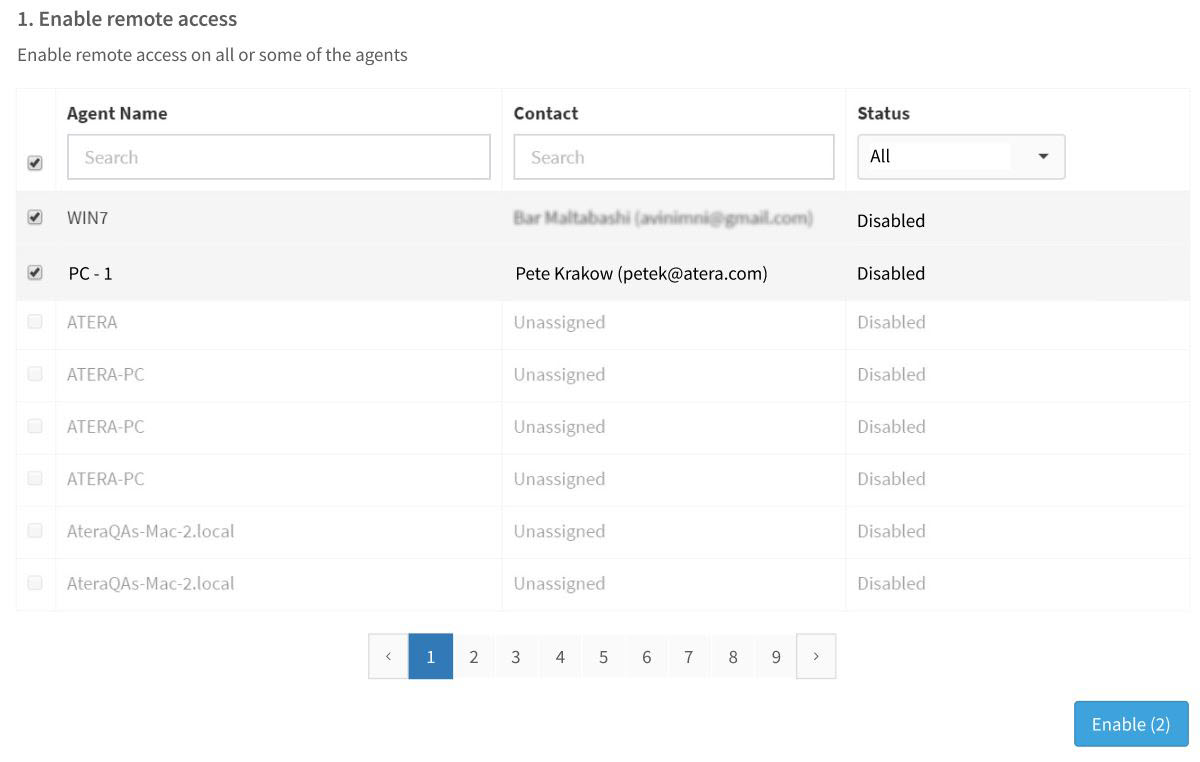 Remote access is now enabled on those customer devices.
Note: You can only enable remote access on a device that has a contact assigned to it. Otherwise, the Enable button will appear grayed out.
To assign a contact to a device (agent):
1. Go to Customers (on the side panel), and click on the customer. The customer's page appears.
2. Click on the contact (or create a new one). The contact's page appears.
3. Click Select Agent, to assign the contact to their agent/device. The Select Agent screen appears.
4. Click to select the applicable agent/device from the dropdown menu, then click Apply. The contact is now assigned to the agent/device.
Once the customer device is enabled, you will need to share the remote access link with your customer.
To share:
Click Copy link at the bottom of the Work From Home Settings page, and share it with your customer, along with their Customer Portal username and password.

Note: Your customer will get a login prompt, and will need to enter their Customer Portal username/password to access their computer remotely. You can set or change the password. They will also be instructed to download Splashtop, the first time they connect.
See a video that explains the login process (and share it with your customer).
Reset customers' phone number
In case the end-user enters an incorrect phone number when first using the Work From Home feature or they simply need to change the phone number to a different one, you can follow the below steps and allow them to start from scratch:
1. Access the main Customers page
2. Select the relevant Customer from the list
3. Go to the Devices tab > click on the

icon > Work From Home
4. Select the device assigned to the respective contact
5. Click on Disable and then Enable to reset the remote access and allow the user to start from scratch by entering a new phone number.
Note: The 2FA for Work From Home i.e. the security code received via SMS, is reset once every 7 days.
Remote print
Splashtop remote print allows you to print files from a remote computer to a local printer. You can print files from both remote Windows or Mac machines.
Note: Remote print only works during an active remote session.