Customize your ticket settings to boost your team's productivity. Configure the ticket timer, set your ticket rounding policy, decide which tickets can be seen on the Customer Portal, and more.
The Ticket Settings Page
The page includes many useful features for customizing and streamlining your team's work with tickets.
1. From Admin (on the sidebar), click Settings.

The Settings page appears.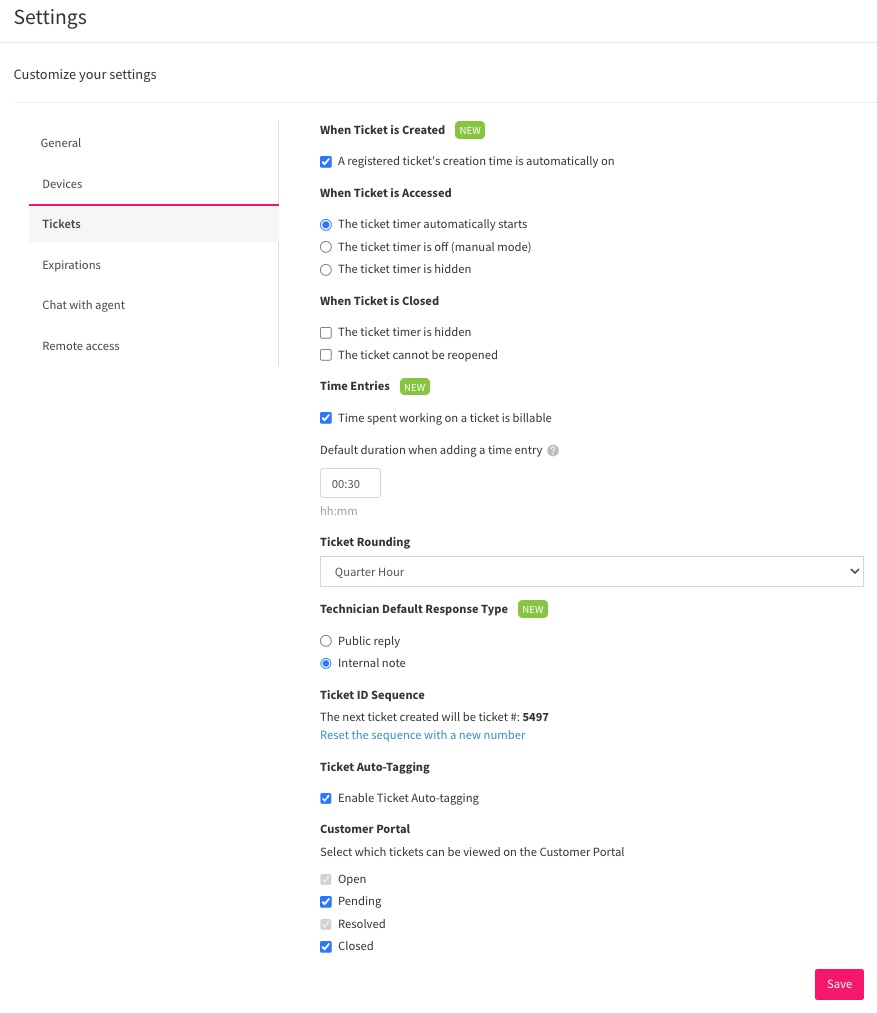 2. Click the Tickets tab to display the Ticket Settings page.
Ticket Timer Settings
The ticket timer records the time worked on tickets and starts when a ticket is accessed. You can tailor your settings to your needs and control exactly what happens when tickets are created, accessed, and closed.
Creating a Ticket

The ticket creation timer is on by default and is factored into the overall time worked on a ticket. You can disable it by unchecking the box.
Note: If disabled, you can still manually include the ticket's creation time when opening a ticket.
Accessing a Ticket

The ticket timer automatically starts: The timer starts automatically whenever a ticket is accessed. All work hours will be assigned to the ticket.
The ticket timer is off (manual mode): Technicians must manually press 'Start' and 'Stop' on the ticket timer banner when logging the time spent on a ticket.
The ticket timer is hidden: The ticket timer is hidden from the technician and disabled in the background. Time entries must be entered manually
Note: Only one option can be selected.
Closing a Ticket

The ticket timer is hidden: The ticket timer will be hidden once the ticket has been assigned a 'Closed' status.
Time Entries

The option to charge your end users for time spent working on a ticket is enabled by default. To disable this option, uncheck the box. You can also set a default time length for adding manual time entries to help your technicians save time when handling a ticket. The default can be anywhere between 1 minute and 24 hours.
For more information on billing, see Billing Module Overview
Ticket Auto-Tagging

Atera's auto-tagging system helps you direct your team's efforts where they're most needed by tagging a ticket based on keywords. For example, tickets containing the word "printer" will automatically be tagged with a "Hardware/Printing device" tag, helping you organize your tickets and assign the right technicians for the job. Learn more
Note: Keywords apply to both the title and the description of a ticket.

Ticket Rounding

With ticket rounding, you can round up the total time worked on tickets in increments of 15 minutes, 30 minutes, or an hour.
Note: The total time spent on a ticket per rate will be applied when rounding up. Learn More
Technician Response Type

Public reply: Both end users and technicians see ticket responses.
Internal note: Only technicians see ticket responses.
Note: You can always manually change the response type within a ticket.
Reset the Ticket ID Sequence

Keep all your ticket numbering consistent by manually setting a new numeric sequence ID. For example, if you use multiple ticketing systems, you can change Atera's ticket ID sequence to seamlessly carry on from your previous sequence. Learn more
Note: Any sequence ID number you choose will apply to all future tickets and must be higher than the current number in the sequence.
View tickets on the Customer Portal

Choose which of your tickets your end users will see on the Customer Portal. Learn more