In addition to enabling monitoring of your customers' computers and servers (via installed agents), Atera also enables monitoring of printers, RAIDs, routers, and other SNMP devices. This article describes the process of adding your customers' SNMP devices to Atera. Once added these devices can be monitored in various ways.
To add an SNMP device:
1. From the + sign on the top, right of the screen click New SNMP.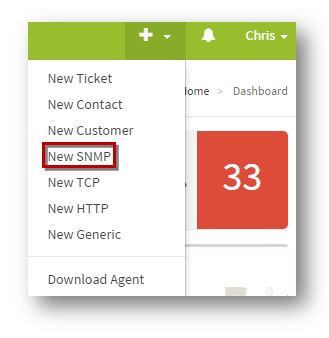 The New Device - SNMP screen appears.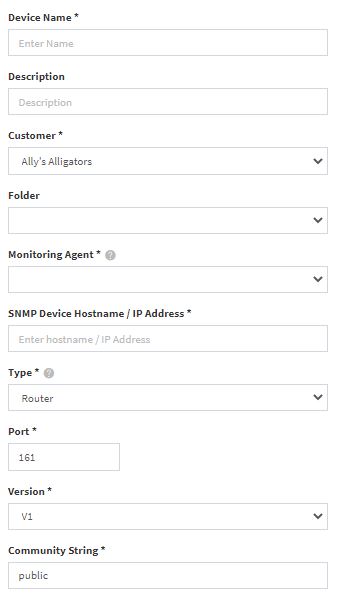 2. Fill in the fields:
Enter the Device Name
Enter a Description of the device (optional).
Click the Customer dropdown menu to select the customer you wish to assign the device to.
Select the Folder you wish to add the device to (optional).
Select the Monitoring Agent from the drop down list. This is the designated agent within the network that will monitor the SNMP device. Once selected, the online/offline status of the monitoring agent will be populated.
Enter the SNMP Device Hostname / IP Address
Select the Type of SNMP device from the dropdown menu.
Set the port number of the device in the Port field.
Select the Version number from the dropdown menu.
Enter the name of the Community String
3. Click Save.
The new SNMP device is added to the system. You are automatically diverted to the new SNMP device console page, where you can monitor and manage the device.
Note: Following the completion of the above, you can add the Object Identifiers (OIDs) you wish to monitor. OIDs are addresses used to identify parameters for monitoring purposes. Atera automatically adds certain OIDs for monitoring, however, you can modify these and also add your own Learn how to add OIDs in Atera.