Atera's ticketing system plays a vital role in optimizing and automating your IT processes. At the heart of this system is the Ticket page, which serves as a centralized hub for managing and resolving IT issues efficiently.
We're excited to announce the brand new Ticket page, featuring an enhanced user interface and improved user experience, specifically designed to elevate your ticketing experience. In this article, we provide an overview of the key features and functionalities of the new Ticket page.
Note:
The new ticket page is being gradually released...
Certain functionalities previously available in the old ticket page are not yet available in the new ticket page. These include starting a chat, marking tickets as spam, viewing a singular ticket's satisfaction survey, a dedicated section indicating which alert is related to the ticket, calendar integrations, and ticket tags.
You have the option to revert to the old ticket page at any time. Instructions for switching back to the old ticket page can be found here
Access the new Ticket page
1. From Tickets (on the sidebar), select your ticket.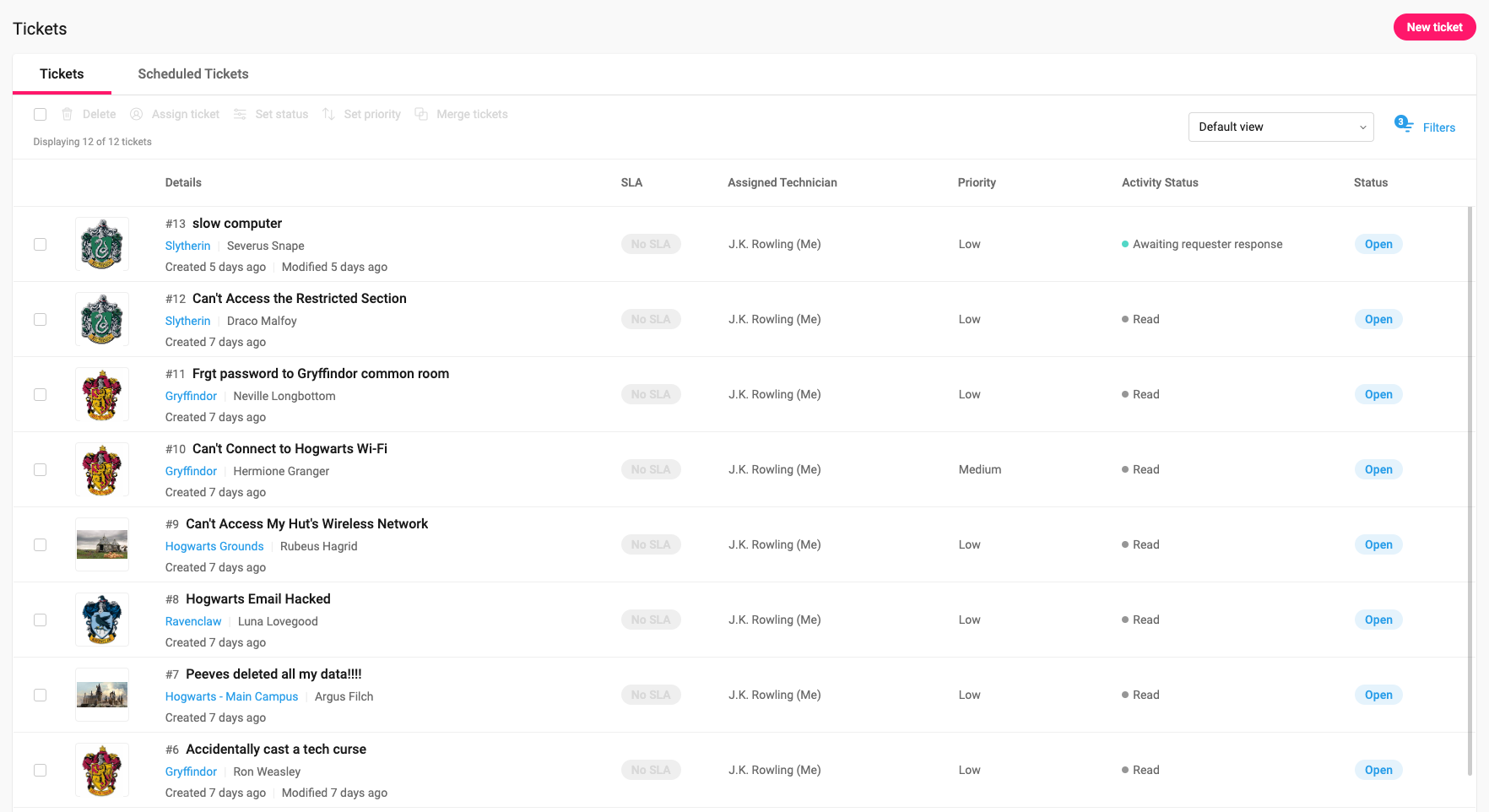 The legacy Ticket page appears.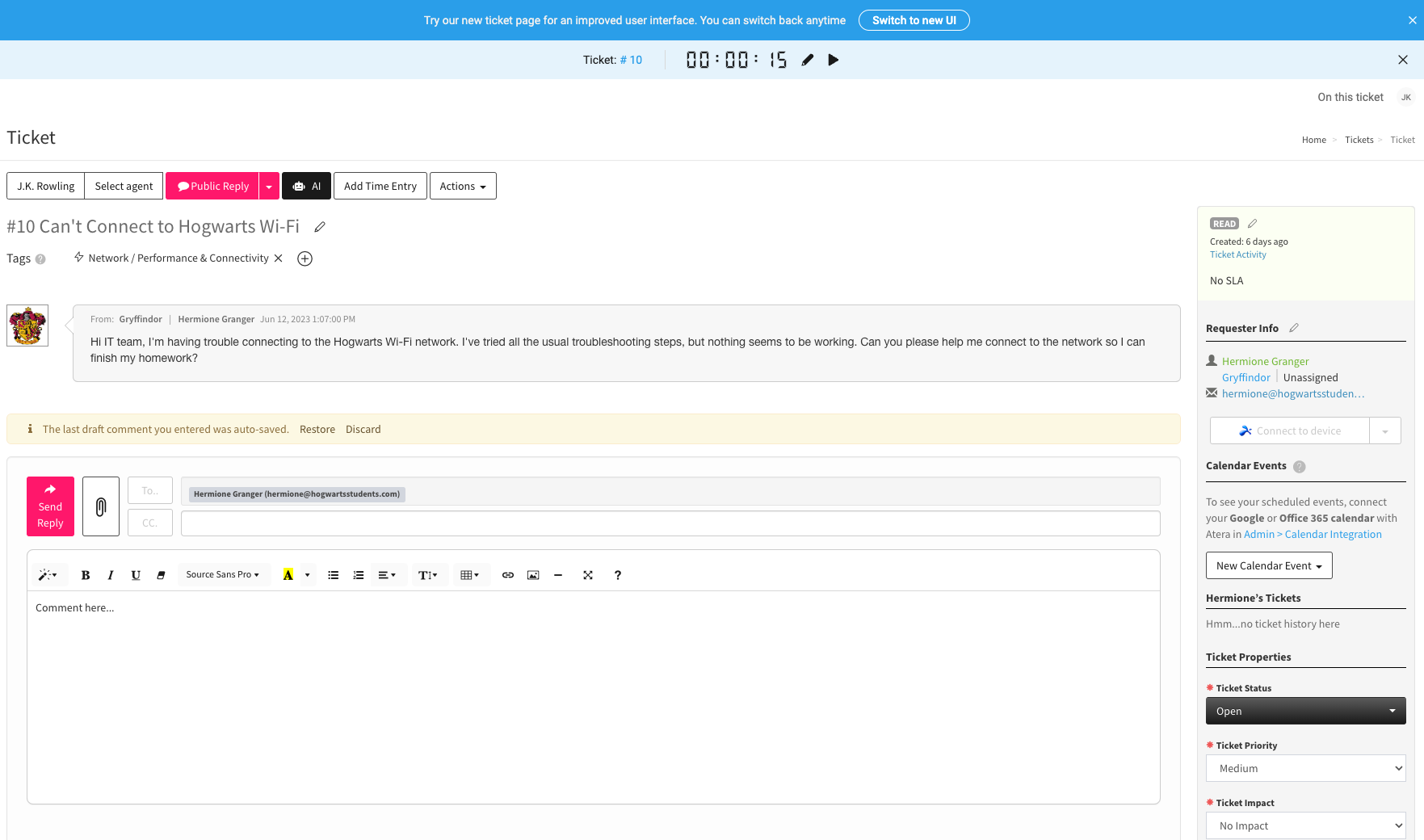 2. Click the Switch to new UI button in banner at the top of the legacy ticket page.
The new Ticket page appears.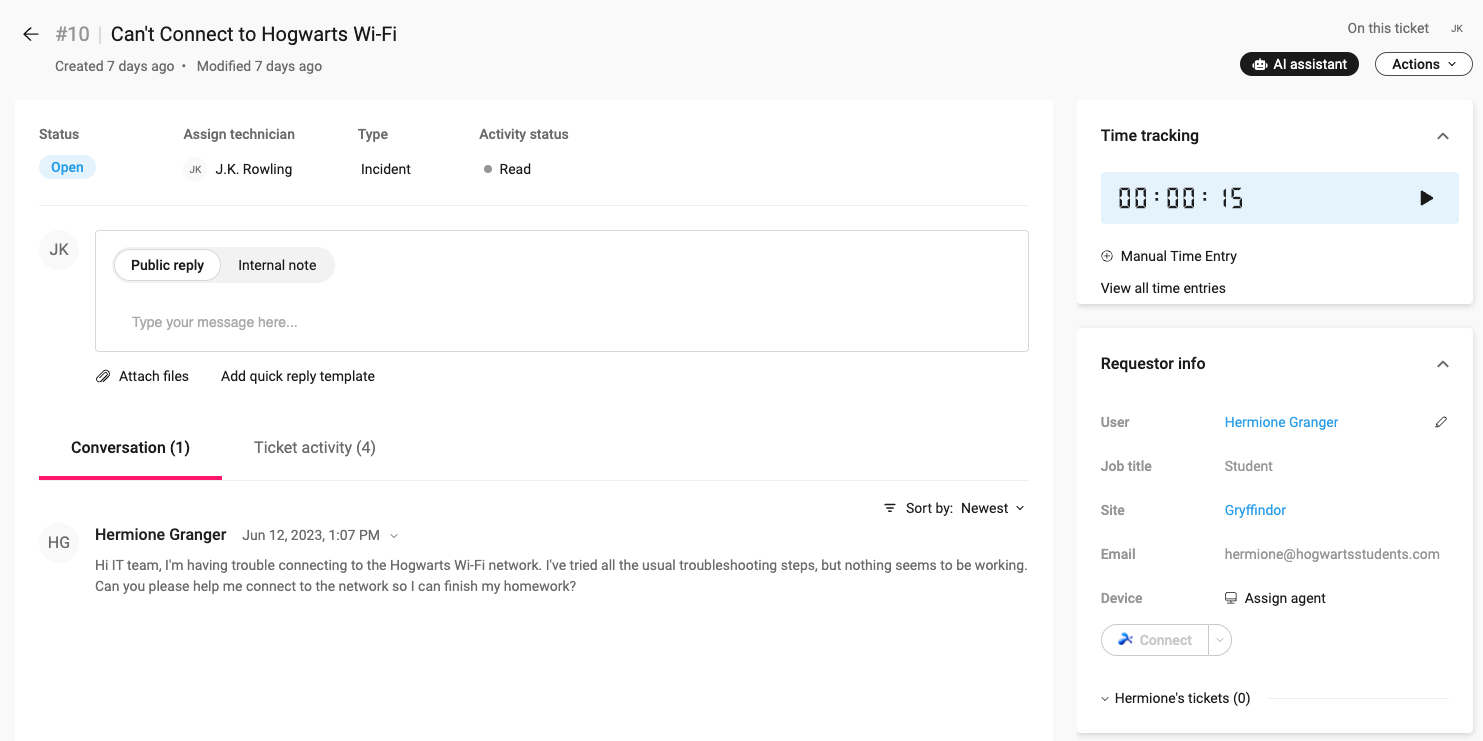 Ticket page overview
The Ticket page is your go-to place to communicate with end users and internal teams about any issues that arise. This is where you can easily view updates, manage a ticket's progress, track time spent working, and access a complete activity log. Here's a closer look at these key features:
View and edit main ticket details
Upon accessing the new ticket page you will see a section for the main ticket details. These fields are crucial for categorizing and tracking the ticket through its lifecycle.
Note: Changing the ticket details listed below will automatically save the changes; you don't need to click 'update' to apply these modifications.

Status
This field allows you to view and change the status of the ticket. Each status reflects a different stage in the ticket's lifecycle: The statuses are:
Open: A request has been opened and needs to be resolved. An open ticket may have already been assigned via Ticket Automation Rules, or it might be unassigned and awaiting a technician
Pending: The ticket is in progress, but the technician is waiting for an external event or response to proceed. While a ticket is in 'Pending' status, the SLA is paused
Resolved: The ticket remains in this state until the support manager confirms the resolution
Closed: The ticket has been confirmed as resolved and is now closed
Custom: This status is customized to fit your workflow. Learn more about custom ticket statuses
Assign technician
This field is for assigning or re-assigning a technician to a ticket by selecting from a dropdown of available technicians. You can also assign technicians to a ticket with Atera's Ticket Automation Rules
Type
This field allows you to categorize tickets, aligning with industry standards. These categories help in organizing, prioritizing, and managing tickets more efficiently. The available types are:
Incident: Any unexpected event that disrupts service or reduces service quality. Quick resolution of these incidents is key to restoring normal service operation.
Problem: The underlying cause of one or more incidents that are affecting multiple users at the same time. The focus here is resolving the root cause rather than the individual incidents.
Request: When a user needs a product/service, new hardware/software, access to tools, password resets, software licenses, etc.
Change: When a request is made for any change, modification, or replacement.
Activity status
This field reflects the current communication status of a ticket. It updates automatically based on the actions taken, but you can also manually override these from both the Tickets page and within the individual ticket itself. The available activity statuses are:
Unread: The ticket hasn't yet been read by either the requester or the technician.
Read: The requester or the technician has read the ticket.
Awaiting Requester Response: The technician has updated the ticket and is awaiting the requester's response.
Awaiting Technician Response: The requester has replied to the ticket and is awaiting the technician's response.
Communicate on a ticket
To communicate effectively within a ticket, you can use either a public reply or an internal note. Each time you update a ticket, your end user will receive an email notification. They can respond to this email, and their reply will be automatically posted to the ticket conversation. Additionally, your end users can view all ticket updates and reply via their dedicated Service Portal
Important notes:
Ticket comments sent via email or the Service Portal are limited to 64,000 characters. If a comment exceeds this limit, it will be truncated in Atera with an ellipsis.
Please be aware that there are some limits in place that may prevent the opening of tickets and comments in Atera. This includes restrictions on the size of email attachments, as well as limits on the amount of data that can be transported through our services.
You can set the default technician response type by going to Admin > Settings > Tickets, selecting 'Public Reply' or 'Internal Note', and clicking Save.

Public replies
Click Public reply in the toggle and compose your message in the provided text box. This message will be visible to the end user and can be used to ask for more information, provide updates, or inform them of the resolution.

To change the status of the ticket automatically when sending your reply, click the dropdown arrow next to the Send button. Here, you can set the status to Open, Pending, Resolved, or Closed. If you do not change the status, it will remain as it was previously.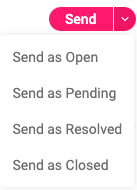 Cc end users and technicians
For public replies, you can easily include additional end users and technicians in the ticket comments by using the 'Cc' feature. As you begin typing in the 'Cc' field of the public reply, a dropdown menu appears listing all technicians and users. Selecting a name from this list will add them to the 'Cc' field, enabling them to participate in the conversation and receive all subsequent updates regarding the ticket.

Internal notes
For internal communication visible only to other technicians in your company, click Internal note in the toggle. These notes, highlighted with a yellow background for easy differentiation, are useful for sharing insights, seeking advice, or recording internal information pertaining to the ticket.

To change the ticket status while saving an internal note, click the dropdown arrow next to the Save button. Here, you can select to set the status to Open, Pending, Resolved, or Closed. If you do not change the status, it will remain as it was previously.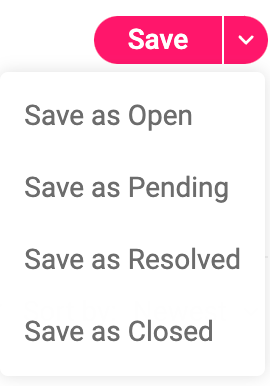 Tagg technicians in internal notes:
Within internal notes, you can directly draw a technician's attention to a ticket by using the '@ Notify' field.

When a technician is tagged/mentioned in a ticket, they receive a notification whenever an internal note is added. This notification, which includes a direct link to the relevant ticket and details about when the notification was created, will stay in the notification center for 7 days for easy reference.

Attach files
To provide more context or share relevant documents, you can attach files to your reply. Simply click on the 'Attach File' button and select the file you wish to include.
Quick reply templates
For recurring issues or standard responses, you can utilize quick reply templates. If you've already created templates, you can select one from the dropdown menu. Alternatively, you can create a new template directly from this section to save time and maintain consistency in your responses.
Conversation
The ticket conversation provides a threaded view of all communication related to a ticket. You can sort the ticket conversation by date, either viewing the oldest entries first or the newest. You can also filter the conversation to view only public replies, only internal notes, or both, allowing you to focus on the specific type of communication relevant to your needs at any given time.

Ticket activity
The ticket activity section provides a detailed log of all actions taken on a ticket since ticket creation. This includes status changes, priority changes, type changes, ticket merges, title updates, comment and note additions, user changes, and technician assignments, providing a comprehensive overview of the ticket's lifecycle.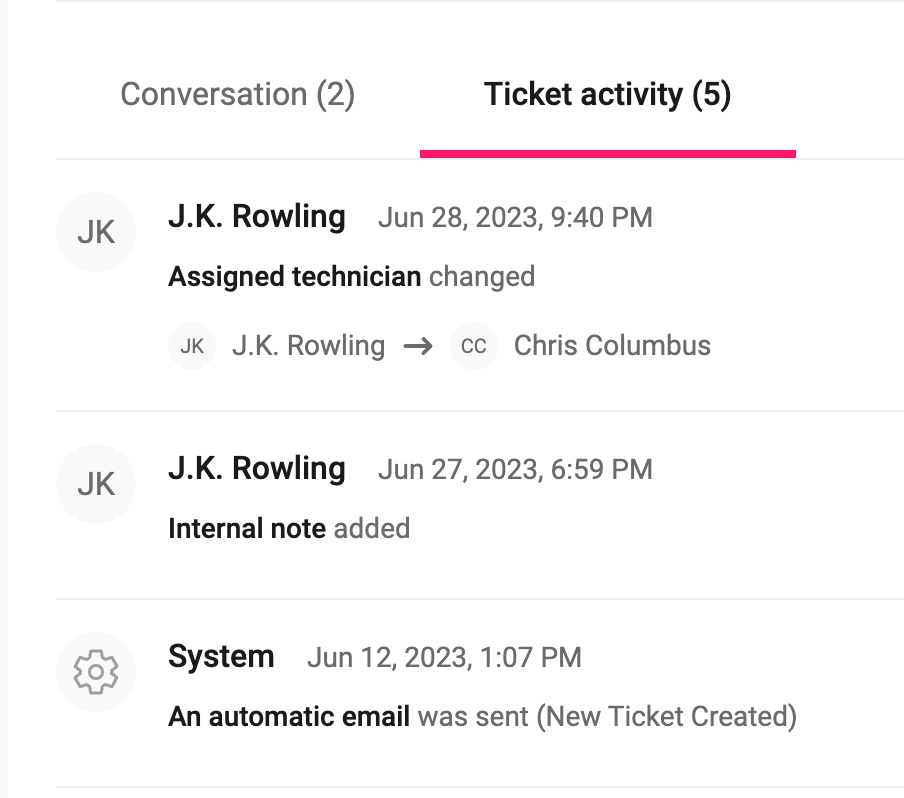 Collaborate on a ticket
Our platform supports real-time collaboration between technicians, allowing you to see who's currently working on a ticket through displayed avatars on the top-left of the ticket page. Up to five avatars (including your own) can be displayed simultaneously. If more than five technicians are working on a ticket, a dropdown menu will show the additional technicians. Your avatar is always positioned on the left and is separated from the others by a vertical line to provide a clear distinction between your own activity and that of your colleagues.
Time tracking
Our platform provides robust time-tracking capabilities to help manage your work more efficiently.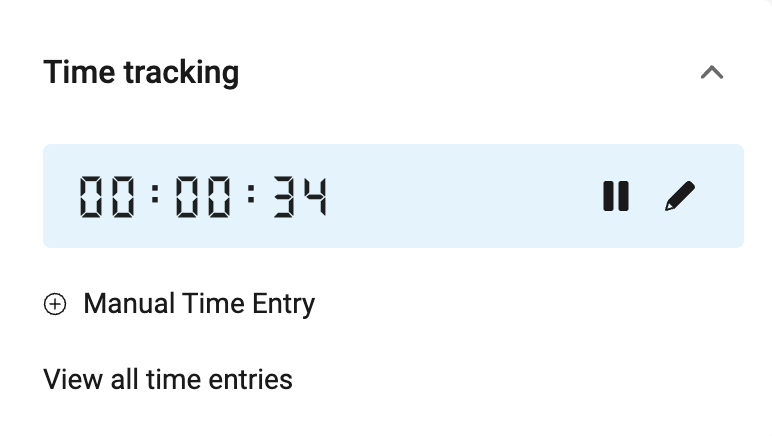 Automated time tracking
This feature enables you to track the time spent on each ticket in real time. Just click the play (

) button to start the timer when you begin working on a ticket and click pause (

) when you stop. You can also edit the time entry manually by clicking the edit (

) icon in case you've underestimated the time or forgot to stop the timer.
Note:
If you navigate away from the ticket page without stopping the timer, a ticket timer bar will appear at the top of any page you visit. This allows you to pause, restart, or adjust the time even when you're not on the ticket page. It also allows you to easily return to the ticket page itself with a clickable link.
The automated time tracker is set to run when you go into a ticket by default (this default setting can be changed by going to Admin > Settings, and adjusting the Tickets setting). Learn more about configuring ticket timer options
Manual time entries
In addition to real-time tracking, our system also supports manual time entries. This is particularly useful when you want to log time spent on a ticket after the work has been completed.
To add a manual entry, fill in the details (and click Show more to add more details such as start date/time, end date/time, rate, if it's billable, and technician). When you're finished, click Add.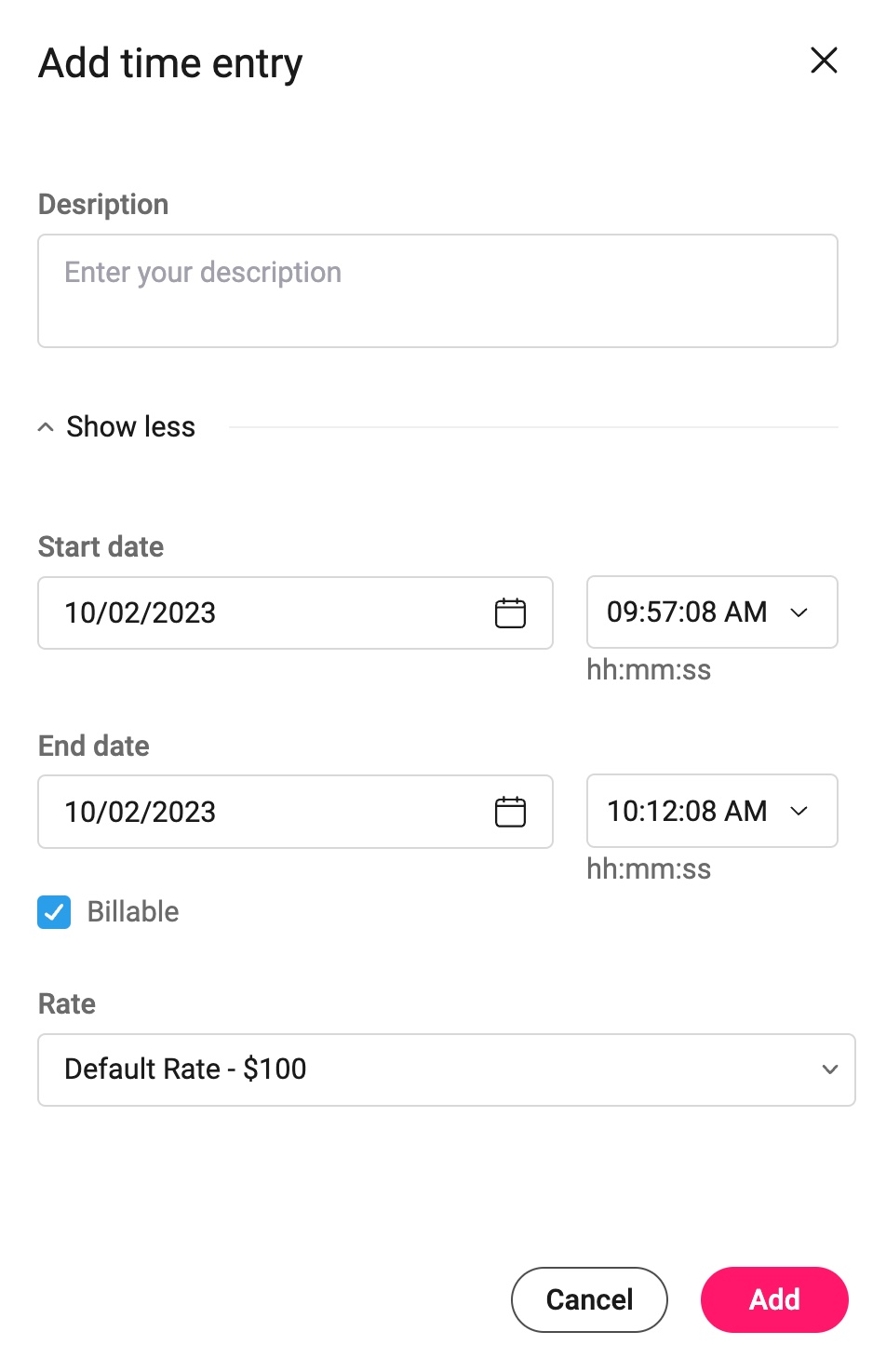 Note: You can set the default duration in your ticket settings (Admin > Settings > Tickets) or manually override the default here.
View all time entries
You can also get a comprehensive overview of all time entries associated with a ticket, including both automated and manual entries. This overview not only lets you understand the time expenditure on a particular ticket but also allows you to modify these entries directly. You can adjust existing time logs, add new entries, or remove unnecessary ones from the list.
Requester Info
This section provides crucial details about the individual who opened the ticket. It includes their name, job title, associated site, associated department, phone, mobile phone, and email address. This information gives technicians insight into the person they are helping, and can give background for the request.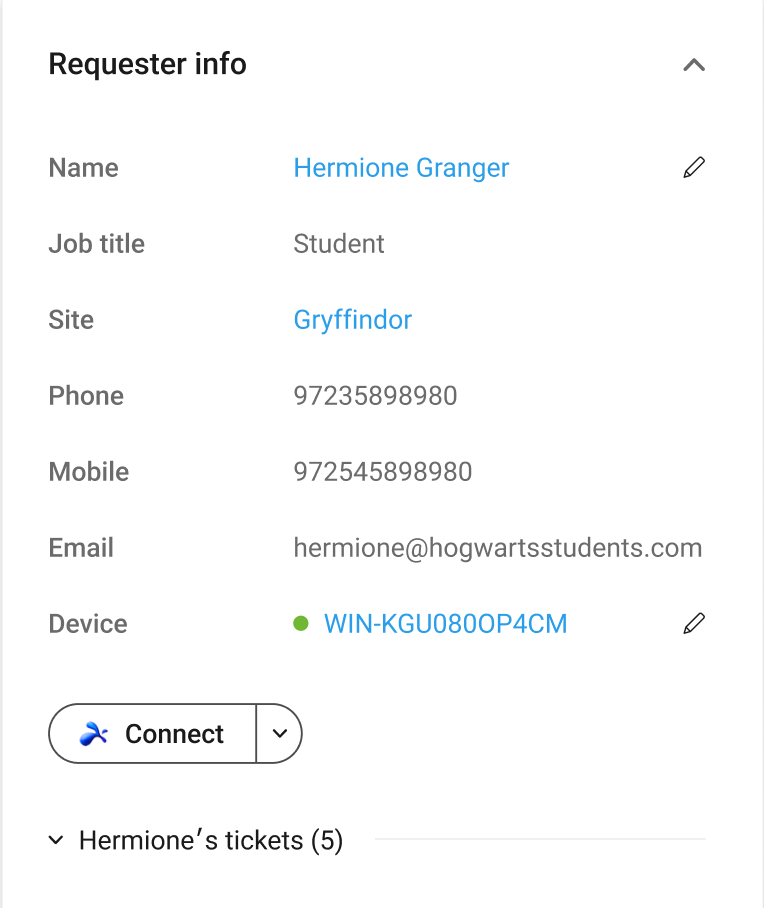 If a device has been linked to the requester, it will be displayed here. Technicians can remotely connect to the device from the ticket page for efficient troubleshooting. If no device has been assigned, you can conveniently link a device from this section by clicking Assign agent.

Lastly, the section includes the requester's last five opened tickets, offering valuable insights into the user's past issues or requests.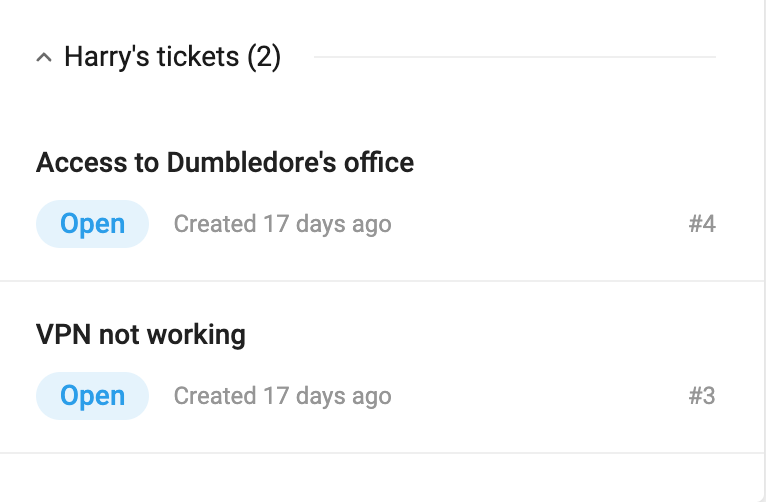 Ticket properties
The Ticket Properties section contains several fields that help classify the ticket, guide the response strategy, and streamline the ticket resolution process.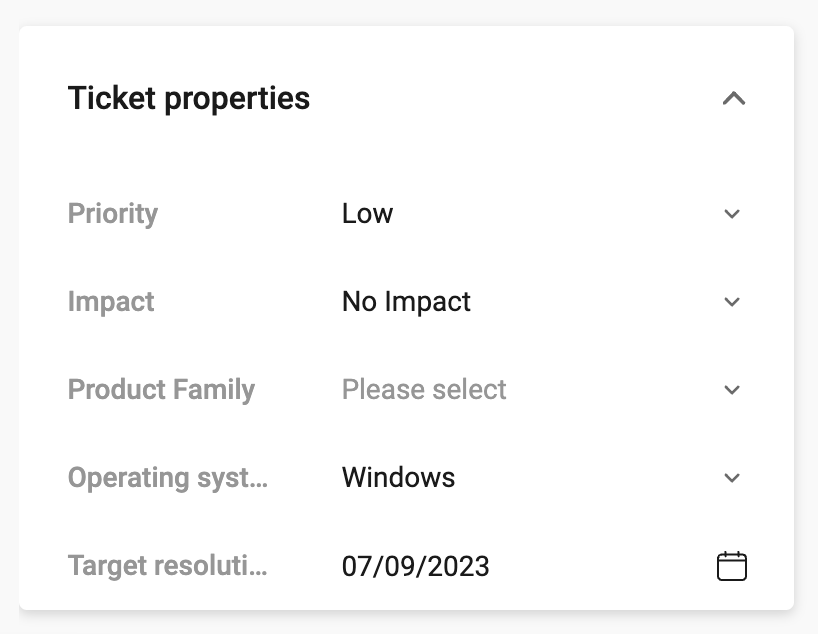 Priority: This field indicates the urgency of the issue and helps technicians prioritize their tasks. The priority levels are categorized as Low, Medium, High, and Critical.
Impact: This field categorizes the extent to which the issue affects the business or service, guiding the response level and resource allocation. The impact levels range from No Impact, Minor, Major, Site Down, Server Issue, to Crisis.
Product Family: This customizable field identifies the product or service associated with the ticket. It aids in routing the ticket to the right team or technician who specializes in that particular area. Learn more about the Product Family custom field
Custom: You can add customizable ticket fields of varying types to your ticket properties to better fit your workflow. In the above example, 'Operating system' and 'Target resolution date' are custom fields. Learn more about adding custom fields
Actions
The Actions dropdown menu at the top-left of the Ticket page provides the following set of operations you can perform on the ticket.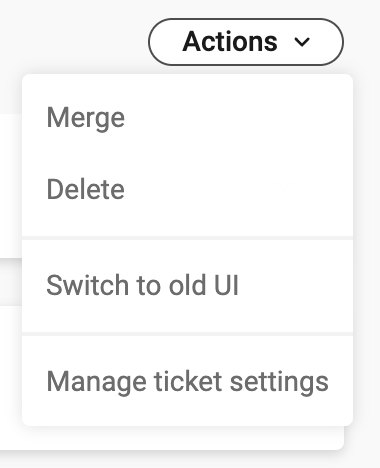 AI assistant
Atera's AI assistant, powered by OpenAI, is available on our new ticket page so you don't have to miss a beat in getting smart ticket resolution and providing excellent service.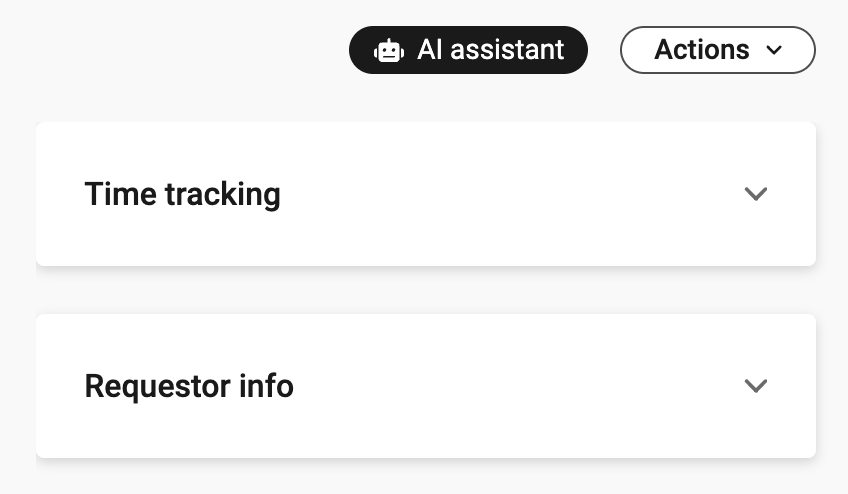 This sophisticated tool aids by summarizing tickets, suggesting tailored responses, proposing optimal solutions, and generating scripts for lightning-quick resolution. Simply click the AI assistant button at the top of the ticket page to start leveraging this advanced feature. Learn more about Atera's AI assistant